(There aren't as many photos as I would normally have in blog like this, but I didn't plan to do a write up. However, after seeing some of our Facebook photos, I started getting lots of questions so … here you go!!!)
Yes, you read that right, I celebrated New Years Eve at Universal this year. Allow me to explain how that came to be.
About 4 years ago we did NYE inside of Epcot. I'm glad I did, I don't need to do it again. In fact, I decided that I didn't want to celebrate inside a park anytime soon.
Last year we were lucky enough to have our Bay Lake Tower wait-list come through and celebrated NYE at the Top of the World! It was great fun and didn't have the crush of people like the theme parks would.
So for 2015, I totally missed the first couple days to book Bay Lake Tower and thus wait-listed two types of rooms (the max you can wait-list). Unfortunately, neither of those came through this time. What to do?! The only type of non-theme park event at Disney was at California Grill for $600/per person. Much more than we wanted to spend. We might have been tempted by the Countdown to Midnight Party at the Yacht and Beach Club (announced in December) if it had been announced much earlier plus initially you had to have a room reservation (which we didn't have).
About mid-October friends from the West Coast told us they were coming to Orlando and had gotten tickets to the Portofino Hotel (at Universal Orlando) NYE Party in the piazza. It sounded great. So, we purchased tickets and booked a room at the Lowes Portofino Bay Hotel. (Still secretly hoping our wait list for BLT would come thru).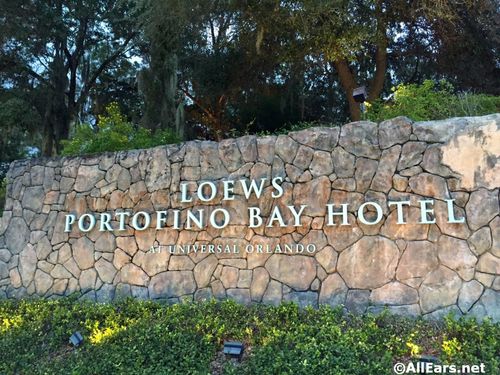 We have never stayed at Universal and thought this was a good reason to try. We already had Florida Resident Annual Passes so tickets weren't an issue. Booking at their equivalent of a Deluxe resort, we got not only 1 hour early entry to the Harry Potter areas each morning but we also got Universal Express Passes (think FastPass+ without having to plan).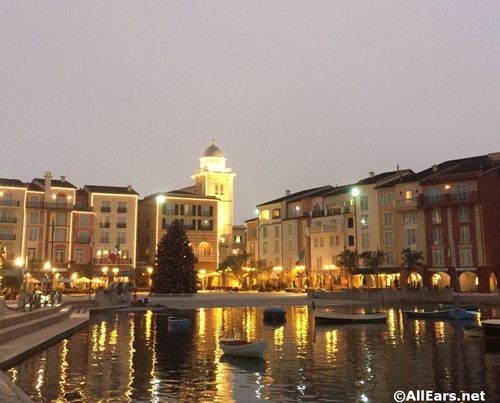 The Marina view room at Portofino was less than a Disney deluxe resort during regular season. The cost of the Universal Express Pass Unlimited for both parks for the 4 days we were there would have cost over $700! So when we added it all up, we thought it was a good deal!
So let's fast-forward to December 31st! We had our $149/each tickets for the Party in the Piazza – a wonderful area of the Portofino hotel overlooking the harbor. The theming was very well done! The party began at 8:30pm but you could check in and be seated around 8ish. Yes, there were assigned seats/tables – but listen to this.
About 5 days earlier we get a phone call from the resort confirming we were attending the party. Then we were asked if there were any others who had purchased tickets that we would like to sit with!!! Why, yes, there are two other couples. What are their names? Ok, I found them and we'll make sure you are seated together. I almost fell off my chair!!! Seriously!
We arrived got checked in, handed a wine glass and were escorted to our seats, a very nice table for 6! We were thrilled. There was time to wander around and check out the food and beverage offerings and get our photo with the ice sculpture.
At 8:30 all stations began serving. Think of it as a mini-party for the senses but with guaranteed seating.
The ticket price got you unlimited food, a large assortment of white and red Italian wines, bottled water and sodas. If you wanted beer or spirits, there was a cash bar. There were 2 bars (each with 2-3 bartenders) and there was never more that a few people in front of you waiting. Each of the restaurants at the resort had food stations set up. There were multiple stations on both sides of the table area serving the same items and again, barely any waiting for food.
A DJ played the entire night so if you wanted to dance you could go over to that area and enjoy~!
Everyone working the event was friendly and in a great mood. The folks clearing plates always asked if you were done before removing them. Tables stayed clean.
We all agreed the food was most excellent. The small plates included: short rib on toasted polenta cake, baby lamb chops (omg, I don't like lamb and these were amazing and so tender) with an herbed polenta, a seafood pasta, seabass, arranchini (rice balls with tomato sauce), very tender Prime Rib and a couple other things I can't remember.
And then the desserts — we were blown away by the dessert arranged for the party. All tiny bite size pieces of goodness so you could sample lots of items and not waste food! Plus there was a huge Bananas Foster station which we never made it to.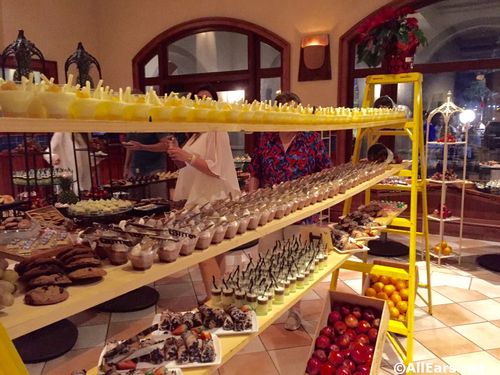 Around 11:30 party hats, noisemakers and lighted glow sticks (about 2 feet long) were handed out. Of course, there was a countdown and then a short fireworks display at midnight.
We all agreed this party was well worth the $149 price tag and would love to return sometime.
Thank you Portofino for a fantastic evening.