Sometimes it is good to be spontaneous. Last Sunday we were home working and friends said, "hey we are going to Jock Lindsey's Hangar Bar "– do you want to come?" And at first I'm like "oh I have too much to do, I don't think so". But then thought about several loved ones going thru really difficult health times and I thought.. you know what we can so we should.
Hence – Because we can day!
We had just been to Disney Springs the week before and in that short amount of time, roads have changed as has the entry into the garage. (Note to self – FOLLOW the signs LOL). Love the garages, the lighted signs and dots make it easy to find parking. Crowds were everywhere by noonish on Sunday. Why not, it was a beautiful day.
Deb Koma did a comprehensive review of Jock Lindsey's and I have to say I agree with just about everything she said.
The themeing is awesome (based on a pilot who appeared in Indiana Jones), as you would expect from Walt Disney Imagineering. It looks just like a pilot hangout you'd see in the movies. There are lots of hidden gems on the wall, nodding to Iron Man, Star Wars, and of course the story of Jock.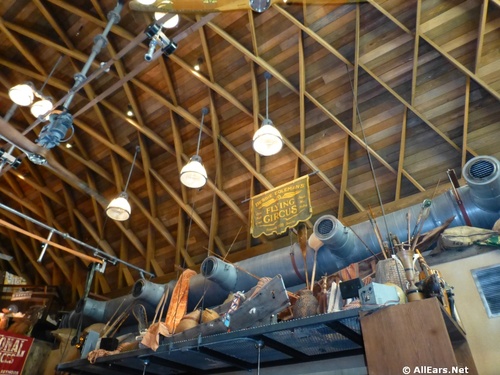 Our food was tasty, a little off the norm (but not so exotic you didn't want to try it) and flavorful. The small plates ranged from $8.99 – $14.99. We really liked the Tanis Tacos – A Lost City Specialty! Filled with Falafel, Shredded Lettuce, and Cucumber-Tomato Salad $9.49. Other popular menu items are the wings and sliders. Check out the menu HERE.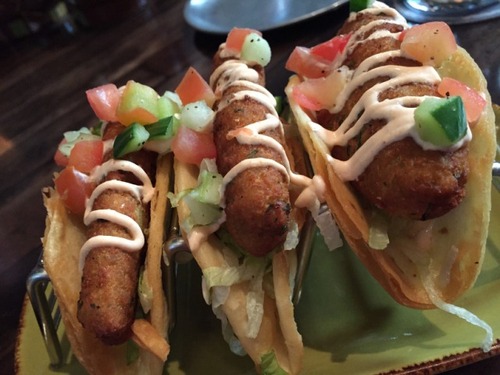 Service was excellent, thanks Courtney. She was attentive but not pushy and we didn't feel rushed. We were noshing on the food, enjoying our beverages and before we knew it over 2 hours had passed. We ran into several friends there who also were having a great time and enjoyed the food and atmosphere.
Place is small (150 seats for in and outside) . Indoor and covered outdoor seating. When we arrived there were no tables, within a few minutes a small area opened on Reggie the boat outside.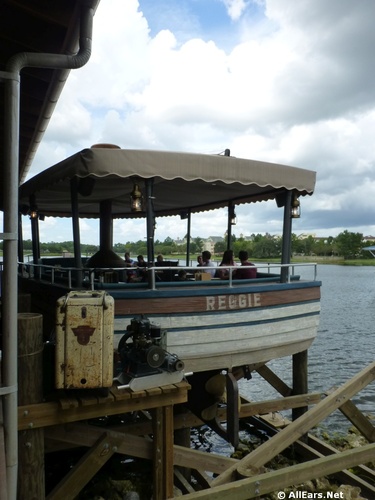 Another 10 minutes a table for 4 opened up outside. Next thing we knew our friends had found a great table inside. As Deb Koma said in her review "Since it's open seating, this leads to people being forced to hover over tables, waiting for others to finish up."
Music was lively BUT you could have a conversation without shouting – loved that!
Our bill for 2 glasses of wine, 2 margaritas, and 3 menu items came to $75 with tax plus tip. If you want to buy the special drink glasses they are $15 each.
I liked Jock's much better than Trader Sam's, but that's like comparing apples and oranges. For what Trader Sam's is – it works but I think only if you are with other folks and up for a loud evening (sitting inside). Trader Sam's is a much more interactive experience. You can read my review of Trader Sams's HERE.
At Jock's it was a more friendly, warm atmosphere. I'll certainly return here. It's a great place to "hang out". Not sure when I'll get back to Trader Sam's.