Aloha! Venturing out of Waikiki to Olina where Disney's Aulani, a very large ocean-front resort sits, took about 45 minutes by car. The only tricky part is H1 East becomes 93 and then you need to make sure you know which exit to take. Luckily, we guessed better than what the GPS said. My advice, ask the locals before you head out. Also, make sure you're on Oahu, HI before you even attempt the trek.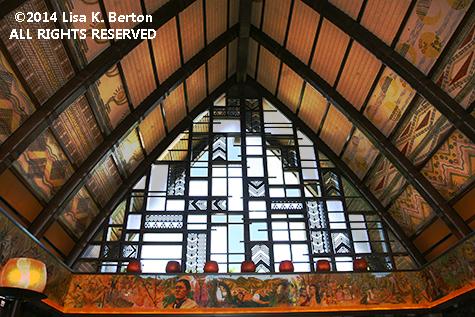 My mom's plan for the day was to meet with a Disney Vacation Club salesperson, learn more about Aulani, have lunch, shop, and poke around the resort. My plan was to gently nudge my mom into buying DVC. Long story short, she came really close. She got a phone call during the trip that detoured her mindset. And just the other day I asked if she was really planning to buy into DVC and she said she decided to invest in someone instead of something. That someone is me. Awwww.
I will say, Aulani is the only place that ever gave us flower leis the entire 10 nights we stayed in Oahu. We got some plastic shell leis at Hilo Hattie; they're nice but they don't smell pretty.
So, after the Disney Vacation Club fella showed us all room combinations, fed us cookies and water, and we made a pit stop, our parking ticket was validated for 3 hours. Yay!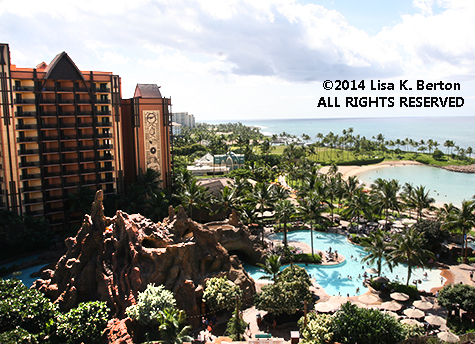 We set off to try eating at a counter service location so new that it wasn't on any of the maps. Ulu Cafe sits near the pool, diagonally across from 'AMA'AMA which is where we wound up eating because everything at Ulu Cafe was pre-made. If you have food allergies or dietary restrictions, you will have difficulty eating at Ulu Cafe.
'AMA'AMA is an open-air full service restaurant with a view of the magnificent Pacific Ocean. Normally I'm the one who has trouble finding something to eat but this time it was my mom whose order wasn't made properly. After 3 attempts, her chicken salad was prepared correctly and delivered by one of the most smug and non-Disney-like Cast Members I've ever met. Given my hundreds of visits to Disney Parks and Resorts, you know she really tipped the scale.

Menehune hide all over the resort.
While my mom settled the check, I ran off to find characters holding meet and greets on Manawa Island (pool area). Goofy was easily accessible. Mickey and Minnie were in a shaded area along a trail between pools. Luckily, I was able to get close to them without having to wait in line. Agh! Stop yelling at me. It's just like in the theme parks, you can take pictures from the side so long as you aren't in the way of people photographing their super model kids with the characters.
After the photo shoot, we headed back inside and contributed even more to Minnie's purse by way of Kalepa's Store aka the gift shop. Given that my mom behaved, I told her to pick out something for herself. She went crazy and chose a reusable bag for $5.00. Cheap date. I on the other hand got myself a hat, a t-shirt, 2 postcards, and a magic towel (wash cloth folded real small). For my cousin, I bought a hat. For some friends, I bought postcards. And for someone I have not yet decided on, a giant pencil with an equally huge sharpener.
You've probably heard about the daily 'IWA, a newsletter/activities list for guests. Before I could search for it, one literally blew out the hotel doors and against the poles holding up the resort map. The Force is strong in me. What a little gem. It told me what the DVC salesperson wouldn't. Like? Well, like the fact that we could see Mickey and friends. Yeah, my mom flat out asked if Mickey was around and he said no, Mickey was nowhere to be found. I don't much care for fibs.
Before you make a day at Aulani, remember these tips. Get directions. Get your parking ticket validated at 'AMA'AMA or by DVC (otherwise you'll need to pay upwards of $35.00). Get the daily 'IWA.
Pool use is restricted to people staying at the resort. A bracelet program is used and monitored to keep tabs on swimmers. We didn't try going to any programs so I don't know if day guests are invited or not.
Questions on visiting Oahu? Ask away while my memories are still fresh.
Come on over and "Like" my Facebook page or follow me on Twitter, my handle is lisano1.