I did not compare Disneyland to Walt Disney World much when I was in California last year. I preferred to enjoy the differences and the sameness of the parks. But (you knew it was coming) Toontown at Disneyland was far better than the one which was at the Magic Kingdom. Disneyland's Toontown felt like something out of Who Framed Roger Rabbit with the rides, gags, buildings and details. Even the water fountain featuring previously mentioned Roger caught my eye.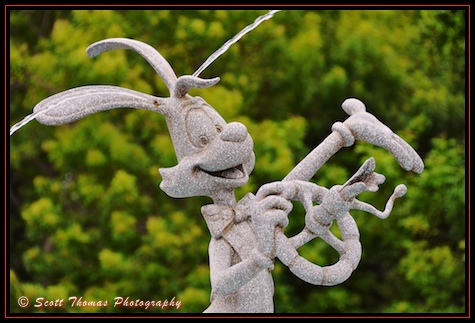 Roger Rabbit water fountain in Disneyland's Toontown.
Nikon D700/28-300VR, 1/160s, f/6.3, ISO 200, EV -0.3, 150mm focal length.
Lisa will be here on Thursday to share her Disney Pic of the Week about Toontown. I am guessing it will be from Disneyland, too.