Contributing photographer Jason of disneygeek.com sends us these photos from his trip to the parks on Friday, February 21, 2014.
A small kiosk by the Mickey and Friends Tram stop with Cast Members to answer questions.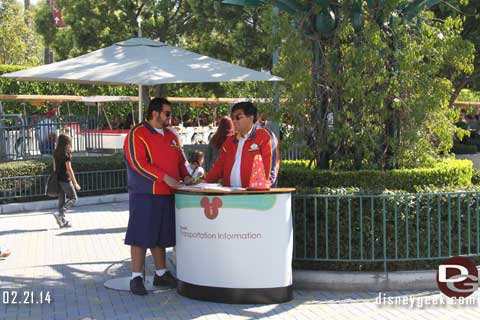 Taking the Monorail into the park. A look into the drained sub lagoon. Preparations for the work to get underway as some platforms/scaffolding are up.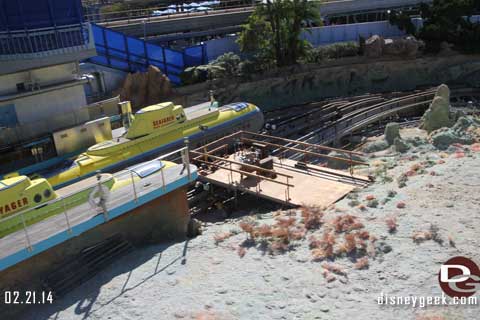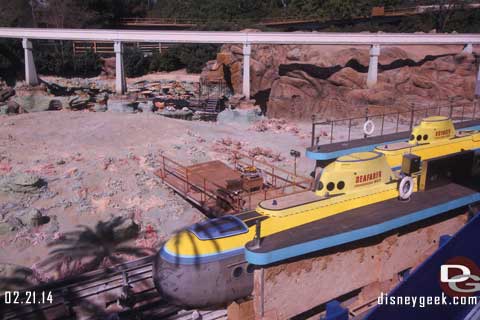 Over at Space Mountain there were several workers on the outside of the building. A couple working on the new structure on the top.
Sleeping Beauty Castle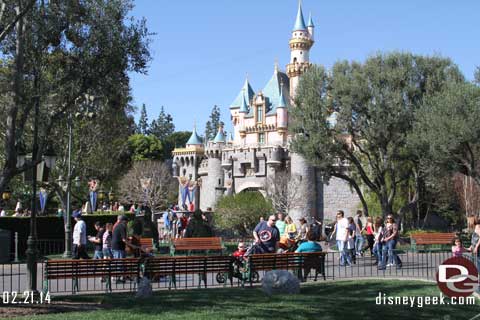 Big Thunder had trains cycling once again.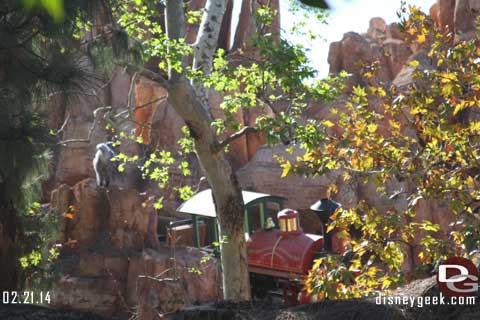 So far this year there seems to be no real off season. The park had a healthy crowd on Friday afternoon.
The Tiki Room display is gone from the gallery. Saturday a new steampunk-inspired one opens.
The main gallery area in the Opera House lobby was behind a curtain and you could hear them working behind it installing the exhibit. But the small display with the benches to the left in this pic gave a preview.
Inside several props/items from the Disney Channel movie Girl vs Monster.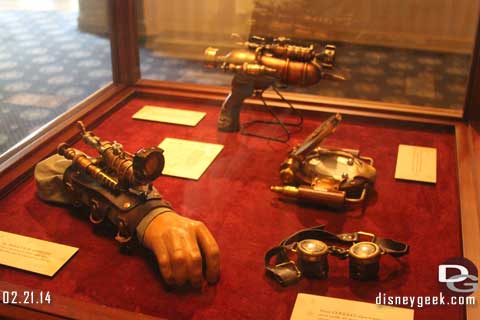 Next up DCA..
Aladdin has returned to the Hyperion.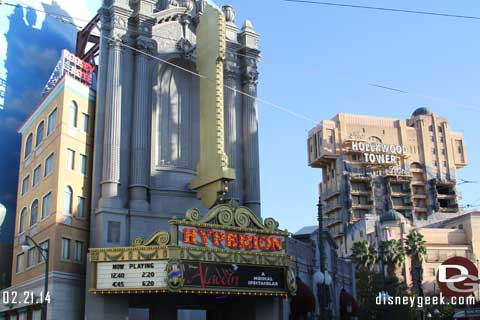 Had to hike up to the balcony. The other two sections were full already when I arrived.
My view.
Show time… some pictures from the show…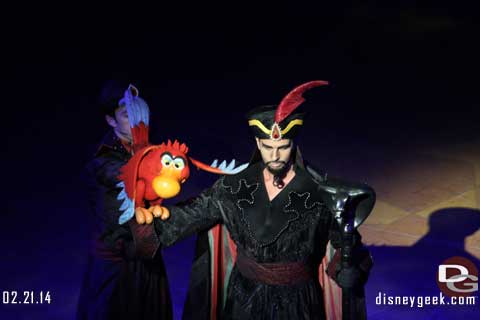 Don't you trust me?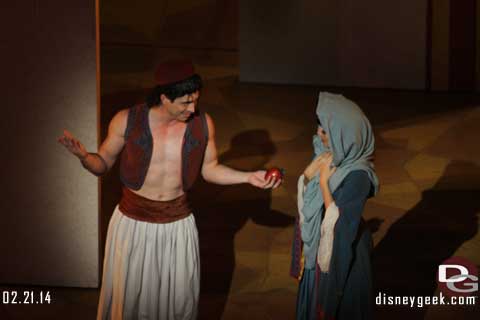 Genie Time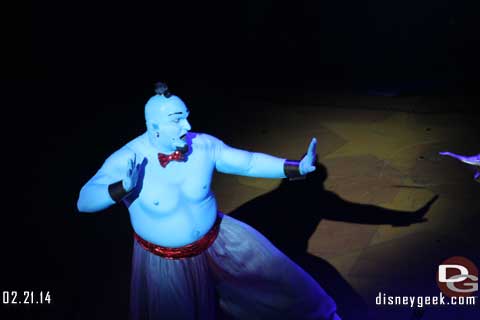 Lucky Bird
A Whole New World
Red making his way down Cross Street in Radiator Springs (Cars Land)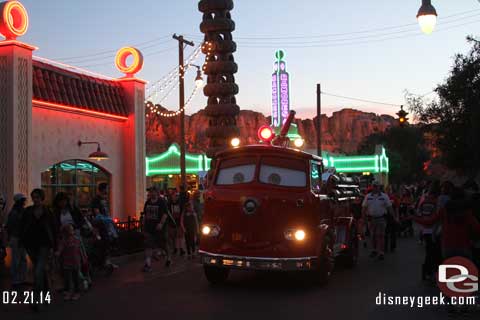 A couple random Cars Land pictures.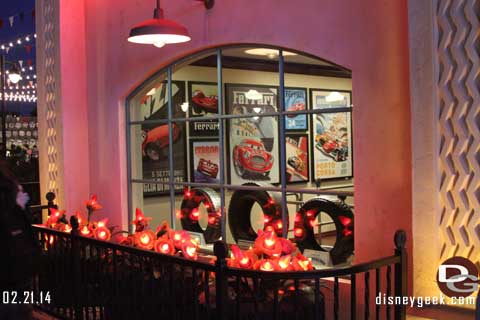 Elvis, Scot Bruce, was at the Tomorrowland Terrace (the food counters were closed tonight, but the entertainment still went on). FYI – Saturday the Beatles Tribute Band A Hard Day's Night is on the schedule.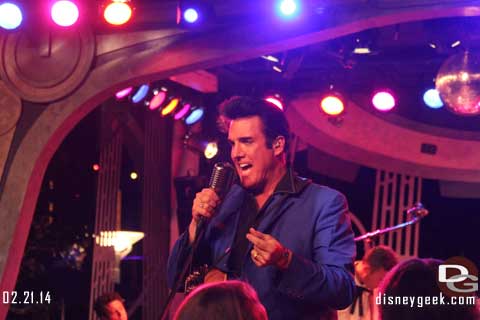 Walked through Innoventions. You cannot see much in the soon-to-open Captain America area.
Watched Remember from the Pirates Bridge. Most of the show was obscured thanks to the large trees.. the lasers during the Star Tours segment.
Time for Fantasmic. There was a problem with one of the new fountains so two of the new heads were off in the center.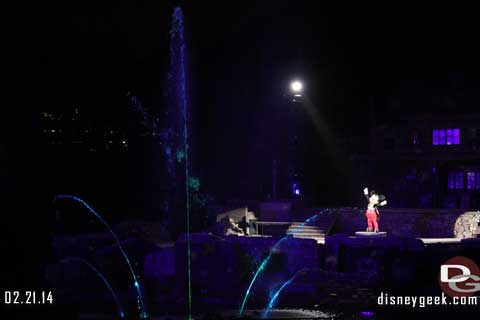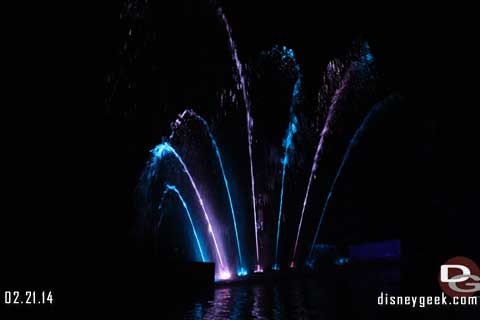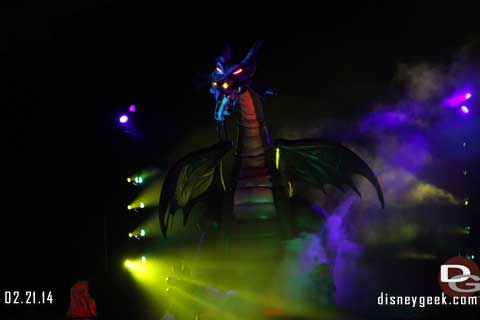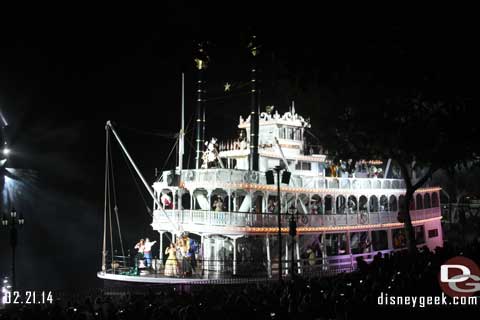 The fountain in front of La Brea Bakery is behind walls for some work.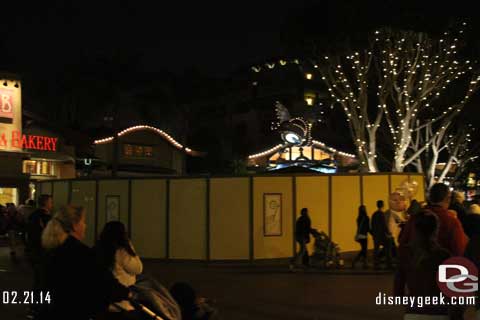 Starbucks is moving along. The sign is up this week.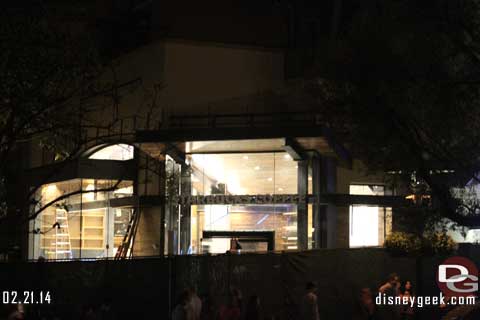 Hope you enjoyed this highlight tour of the Disneyland Resort. For additional photos and details from this trip you can check out the full Disneyland Update I posted on my site, http://disneygeek.com Also be sure to follow me on twitter @disneygeekcom for pictures from the parks.