It looks as though the creators of the Disney Fairies franchise have found a way to draw more interest in the already-popular, direct-to-DVD movies, perhaps especially from the young boys in the family. The fifth installment is titled "The Pirate Fairy," and what boy doesn't like pirates?
The latest movie featuring Tinker Bell and her friends is scheduled to be released on April 1, and Walt Disney Home Entertainment has been sharing more details recently. For starters, here's a synopsis of the story line:
"When a misunderstood dust-keeper fairy named Zarina steals Pixie Hollow's all-important Blue Pixie Dust, and flies away to join forces with the pirates of Skull Rock, Tinker Bell and her fairy friends must embark on the adventure of a lifetime to return it to its rightful place. However, in the midst of their pursuit of Zarina, Tink's world is turned upside down. She and her friends find that their respective talents have been switched and they have to race against time to retrieve the Blue Pixie Dust and return home to save Pixie Hollow."
Directed by Peggy Holmes, "The Pirate Fairy" stars the voices of Tom Hiddleston as Captain (James) Hook and Christina Hendricks as Zarina, and brings back Mae Whitman, Megan Hilty, Lucy Liu, Raven-Symoné, and Anjelica Huston.
Interestingly, "Project Runway" winner and fashion designer Christian Siriano was chosen to design Zarina's signature outfit. He told USA Today: "It's so cool to see how the animators bring the clothes to life-how a sketch comes to life in the animation world. You have to think about where she'd get items for her outfits. Old rings from a chest that she might have found, rope, a hairpin for a sword, leather from an old shoe for her corset, a lot of netting and cotton fabric from the ship's sail."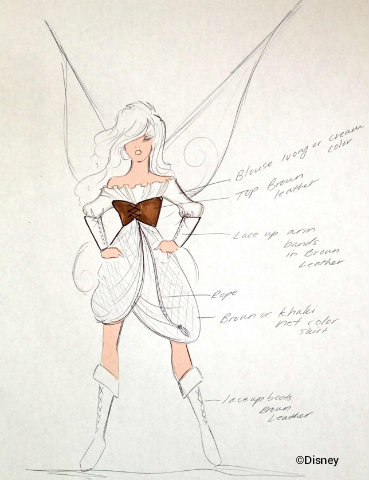 The soundtrack for "The Pirate Fairy" also boasts the work of a well-known artist. Natasha Bedingfield, who has been nominated for a Grammy, performs an original song called "Who I Am," and the album will feature her previously released track, "Weightless," as well.
The fourth movie in the series, "Secret of the Wings," debuted in 2012 and reunited Tinker Bell with the sister she didn't know she had.
"The Pirate Fairy" may have a presence at Walt Disney World, as well. Tinker Bell and one of her fellow fairies greet guests each day at Tinker Bell's Magical Nook in Adventureland. That set and the characters changed for "Secret of the Wings," so we may have something to look forward to this spring. Plus, I'm curious to see how the fifth Tinker Bell movie may influence the Pixie Hollow Fairy Garden at the Epcot International Flower and Garden Festival because the pixie-size houses and fairy topiaries are some of my favorite parts of the annual event.
"The Pirate Fairy" will be available to purchase on April 1 on a Blu-Ray combo pack and Digital HD. In the meantime, fans can watch trailers and play games on the movie's official site. Merchandise already has begun to reach the shelves at stores such as Disney Store and Target.