Lee and I have just come off a two-day cruise of the Re-Imagined Disney Magic. There have been a lot of changes, so there was a lot to try and cover in just two days!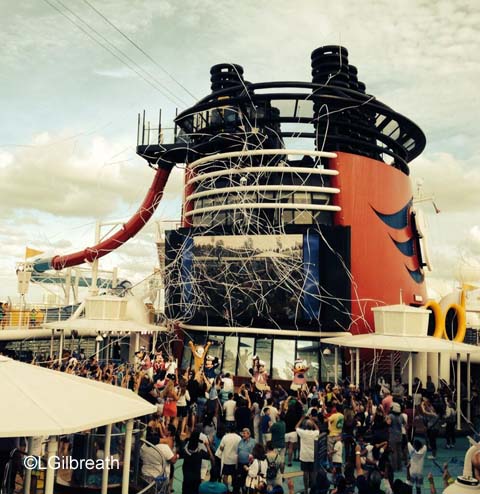 Disney Cruise Line considers the Magic their flagship, so rather than simply trying to re-make the Magic into the Dream class of ship, they chose to continue to innovate and bring something special to the Magic. While there are some new elements inspired by the Dream class, they developed new enhancements that are exclusive to the Magic, so the Magic retains its own identity.
I found it interesting that even when there were guest favorites that they really couldn't do because of size or structural reasons (e.g. AquaDuck) they still found ways to bring us something that was at least as much fun, if not more (AquaDunk).
As you may know, the first scheduled cruise of the Disney Magic (which we were supposed to be on) was canceled because it just wasn't ready. Despite that extra five days, there's still things that were unfinished, and there were some problems on board. As we were boarding the captain announced they were still "spreading pixie dust". We noticed a number of finishing touches that weren't done – things like missing blinds, masking tape that hadn't been removed, areas where touch-up paint was still required, faulty lights, missing trim, etc.
I will tell you that I was a little disappointed – from what Disney had said, it sounded like the Magic would be a brand new ship. But we saw a lot of areas that needed significant TLC: rust, damaged railings, and dinged up paint. And all of the carpet – I was very surprised that the carpet in the staterooms, the hallways and many of the stairwells and elevator lobbies had not been replaced.
There were some larger issues, also – a group of staterooms on deck 6 had toilets that didn't flush reliably for most of the cruise, and there were hot/cold water issues. Many of the stateroom TVs didn't work (ours didn't, but it was later fixed), and some staterooms were missing refrigerators and/or safes. In addition to the TV problem we had minor nuisances like a shower drain that was stuck closed, and a verandah door that didn't lock – and the handle pulled right off. Our refrigerator did not fit well into the (new?) cabinet and we had to twist it slightly to open/close its door. We saw a lot more technicians and work crews in the hallways and public areas than we usually do – they usually work at night.
That said, it was still a nice cruise, and these things did not really detract from our experience (though if I'd had a non-working toilet I might not feel that way).
So…
There are many things I could write about and many, many details to share about the Re-Imagined Disney Magic, but for this blog I'm going to focus on an overview of the enhancements and my overall impressions. I promise more detail later. Lee is working on editing some videos that will also provide additional visual detail – if a picture is worth a thousand words, how much more is a video worth? 🙂
The first thing Lee and I noticed when we were waiting to board the Magic is a modification to the stern – appropriately called a "duck tail". It's 22′ long, and adds stability and buoyancy to the ship to compensate for the additional weight added by features like the AquaDunk and AquaLab.
And speaking of the AquaDunk and AquaLab – those are terrific new additions. The AquaDunk is a body slide through a tube that extends over the side of the ship. It starts at the top of the forward funnel with a vertical "launch" where the where the floor literally drops out from under you and ends in a splashdown zone on deck 10. The drop may seem a little intimidating, but we didn't think it was that bad and the slide was a lot of fun – but it's over really fast. I'd definitely recommend that you try it once.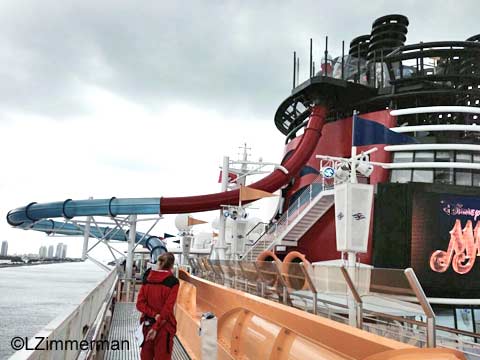 Another new water feature is the Aqua Lab on deck 9.` There's a version of this on the Disney Fantasy, but I think it's been much better integrated into the kids' pool area on the Magic, where it replaces the Mickey Pool. There's the Nephews' Pool (about 18″ deep) and the Lab itself where there's all kinds of devices that spray or dump water. A really fun place to cool off.
Right next to it in a shaded area is the Nephews' Splash Zone for kids three and under.
There's also a new water slide: Twist 'n' Spout. This is an open flume slide that corkscrews down from the aft funnel to deck 9. At the moment adults are allowed to ride it also, but that could change – I guess they don't want the adults taking over something that's supposed to belong to the kids? I think this is actually more fun for the adults than the kids because we're heavier and we go faster down the slide!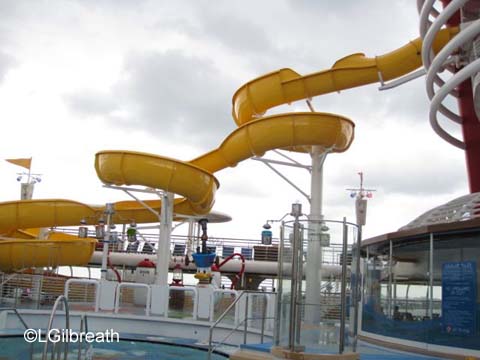 You can see Lee's video of the new water features, including his ride on the AquaDunk, below:
The first new thing that guests wlll experience as they board the ship is the new Atrium Lobby. It seems much more open and bright than before: one of the staircases was removed; the Helmsman Mickey statue was repositioned; and the hanging Chihuly glass chandelier was replaced by a very bright (and much shorter) crystal chandelier. The new carpet is lighter in color which also makes it seem larger. I have a before and after photo below.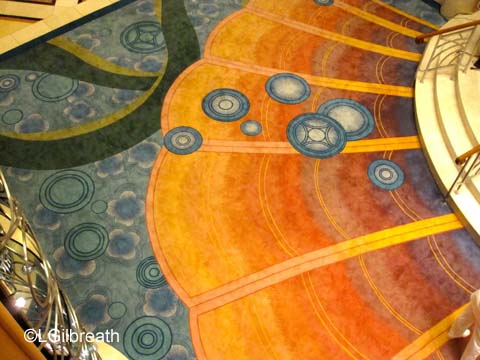 The kids' spaces on deck 5 were all completely re-done. "it's a small world" nursery replaces Flounder's Reef, and it's full of Mary Blair-style artwork – quite precious. And the attendants there could not WAIT to get their hands on some babies – in fact all of the kid counselors we talked to were overjoyed to have children back on board again.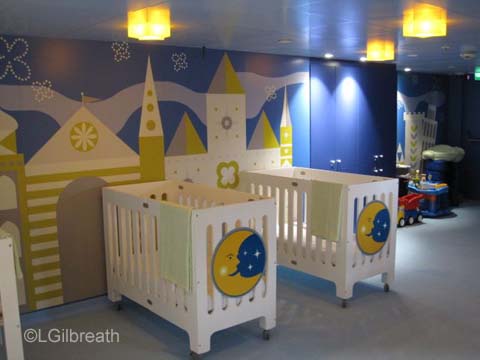 Oceaneer Lab and Oceaneer Club were completely re-done for the ages 3-12 set. These are so much fun – I think they make most of the adults (including us) want to be kids – or wonder why some of this cool stuff wasn't put into OUR spaces. Oceaneer Lab has a new pirate theme – there are pirate ship navigation simulators in addition to science projects, crafts and other activities.
We were intrigued by the Interactive Table (we think it needs a better name than that) which uses a very large touch screen table to play a variety of games, from driving contests to hockey, memory games, and puzzles. There were more than 15 different games.
In the Oceaneer Club is the new activity that we've been hearing about: Marvel's Avengers Academy. This is a two-day immersive experience where the kids become superheroes, and then have to work together to foil the bad guys. Captain America even makes appearances to help train and encourage the new superheroes. Being adults, WE did not get to experience this, but it sounds like SO much fun!
Lee's video shows the spaces, and an interview with Imagineer David Duffy, where he talks about the Avengers Academy in more detail.
Also in that space is Andy's Room, where things are sized to make kids feel like one of Andy's toys. There's all kinds of things under Andy's bed, and an adorable Slinky Dog slide from the top of the bed to the floor.
There's also Pixie Hollow, with a costume closet in Tinker Bell's teapot home.
In the Mickey Mouse Club section kids can play video games or play with the magnetic gears on the Wacky Wall. (That was harder than it looked.)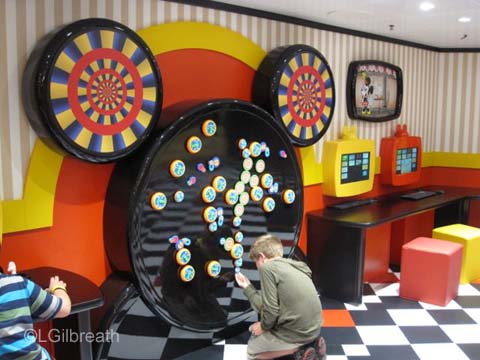 Almost all of the dining options on the Magic are new or updated – I think Lumiere's is the only restaurant that returns in its original form.
Animator's Palate was totally re-done – technology has changed a lot since the idea was first conceived and developed over 15 years ago.
When we dined here we had a little bit of a surprise – we'd been told that Animator's Palate would feature the Animation Magic show from the Disney Fantasy, and that's what we expected to see, but instead we experienced an all new show that was developed for the Magic: Drawn to Magic. It draws (sorry) on the original concept of Animator's Palate, where the restaurant itself changes as dinner progresses, growing both more colorful and more, well, animated. On screens all around the room we can watch the animation process as it progresses from simple shapes to sketches, animated sketches, and full-color animated sequences.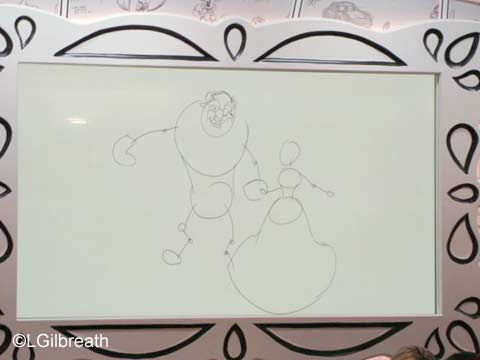 Favorite Disney and Pixar characters are featured, and, just as in the original show, the finale includes a procession of Sorcerer Mickey and all of the servers through the dining room.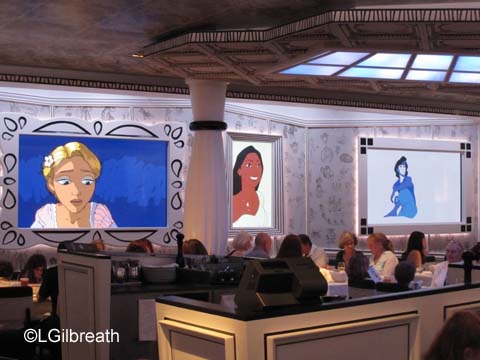 We both really enjoyed the show – it's quite different from Animation Magic, but more heartwarming. I think I'd still rather see/participate in Animation Magic, though. Once the Disney Magic starts sailing longer itineraries next year, Animator's Palate will feature both shows on every cruise.
In the video below we have most of the show, as well as images and video of the other restaurants.
Carioca's has replaced the Parrot Cay restaurant. I was happy to see this, because for whatever reason I just never cared for Parrot Cay. The new Carioca's is casual but elegant, and I thought the new decor, inspired by street festivals in Rio, was quite beautiful.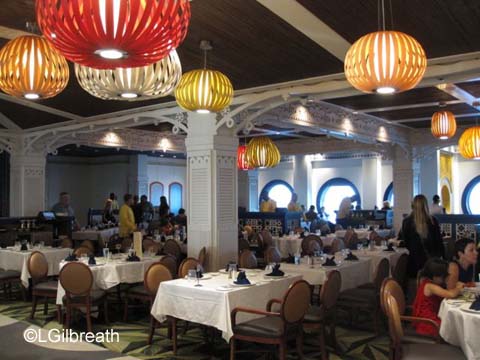 But my favorite thing about Carioca's is the new menu! Dishes inspired by ingredients and cuisine from all over Latin America, from Argentinian empanadas to Peruvian potatoes (pictured below), Cuban black bean soup, and Brazilian sausage. I'll write more in my food blog, but I had a very hard time deciding what to order…and ended up ordering three entrees just to taste them – and there were STILL three others I wanted to try! We both really enjoyed the new menu.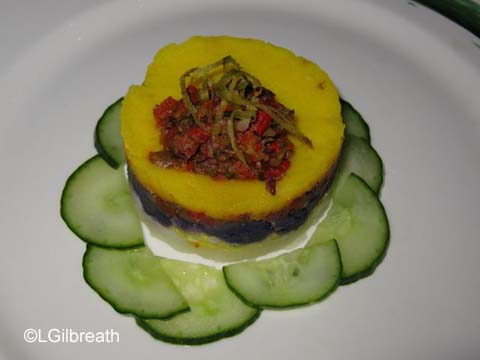 On deck 9, the new casual restaurant is Cabanas, which came over from the Dream class ships. It's more like a food court instead of a traditional buffet, where you go to different stations that feature different food selections. (Though unlike the Dream and Fantasy, this Cabanas does NOT have the aft stairwell/elevator located in the middle of the restaurant. For which I am very grateful.) For breakfast and lunch Cabanas serves this modified buffet, but they also offer table service casual dining on most evenings (typically every night except the first and last nights). The menu changes nightly, it's an abbreviated version of one of the other restaurant's menus. Right now that's Pirate Night, Animator's Palate, and Lumiere's.
On the Dream and Fantasy I've found the food in Cabanas to be a cut above that served in Topsiders and Beach Blanket on the older ships, and that trend has carried through to the Magic. I'd rather have breakfast in Cabanas then anywhere else – the food is good and there's a nice variety of it – all the traditional stuff as well as some healthier options. Lunch also has some very good choices – higher quality food than at the quick-service places but a lot faster than Lumiere's.
Cabanas expanded the former restaurant space and offers more indoor (air-conditioned) seating now. Outdoor seating is still available at the back and up on deck 10.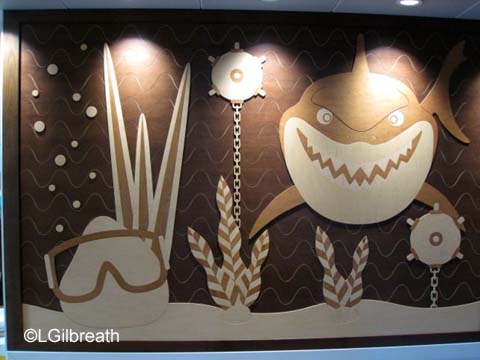 The quick-service dining has basically stayed the same, but most of the names changed. So you can still get pizza, burgers, fries, and chicken strips, and sandwiches, wraps, salads and fruit at Pinocchio's Pizzeria (same name), Pete's Boiler Bites, and Daisy's De-Lites, respectively. The ice cream station has been expanded and moved – there are three machines now. They also added Frozone, where smoothies and other frozen beverages are available for an additional fee.
The self-serve beverage station is still located on deck 9, port side, aft. It might have been rearranged slightly – I'm not sure about that.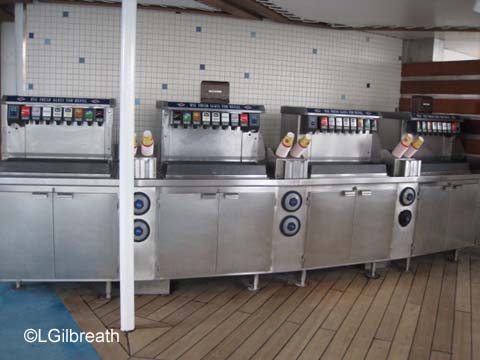 After Hours is the new adult entertainment district on deck 3. There's three different bars/clubs: Fathoms, O'Gills Pub, and Keys. In the interest of research we spent time in all of them. All of the bars have menus with various signature drinks, though they are all full-service bars and you can order anything.
Fathoms is the show/dance club. It's been beautifully redone with colors and lighting that suggest being underwater. The lighting changes to simulate both daytime and nighttime conditions. During show times it was pretty crowded, but both nights we went in about 9:00 and had the entire place to ourselves – just us and the bartender. Kind of fun having our own private bar!
There's a legend behind O'Gills Pub. O'Gills was a fish, and one day he rescued a leprechaun from drowning. The leprechaun gave him a wish, but instead of wishing for stuff or riches (or to be human), O'Gills wished to share a pint with his new friend. Awwwww…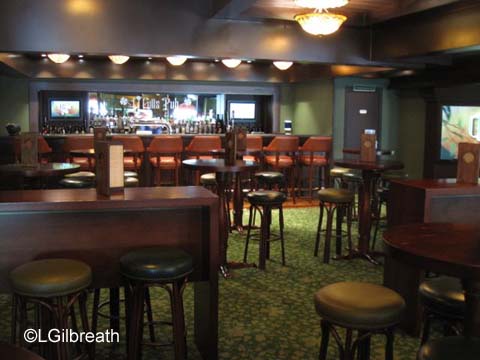 O'Gills is the sports and game bar – in addition to TVs all over the room there are some game tables and board games, too. The night we were in there a singer was performing, also. A couple of times each night they put out a small food buffet – things like veggies and dip, wings, chips and salsa, and they had a beef pie the night we visited. It's quite a large space and was not busy on a Friday night – we didn't go on Saturday night, where because of college football I expect it was a lot busier.
Keys is the third bar, and with a name like that, how could it be anything but a piano bar? It's relaxing but elegant (but they let us in anyway!). They had two pianists – one who simply played and one who played and sang. (I have to admit we enjoyed the former more than the latter.) It's the smallest of the three bars but it was also the busiest. Though the crowd tended to come and go, it was almost full at times both nights we were there. While it's not a champagne bar, it does offer our favorite Moet Ice Imperial champagne. We sat at the bar both nights and enjoyed talking to the bartenders and watching them work – they were quite busy.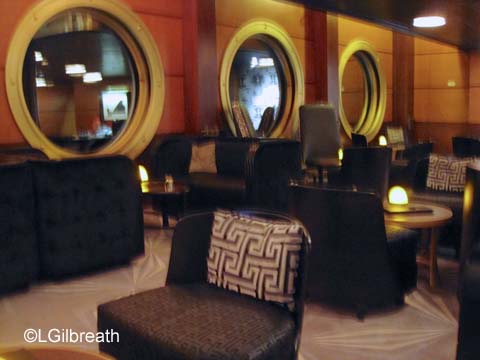 Senses Spa and Salon is the re-vamped spa on deck 9 forward. This area was expanded and offers additional treatment rooms, as well as some specialized areas like a new barbershop for men, teeth whitening, and the Chill Spa for 13 to 17-year-olds. They also offer some new services like hair coloring and acupuncture.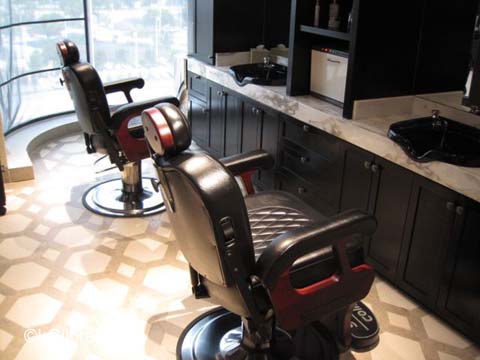 Lee and I took a tour of the spa on boarding day where we were able to see most of the facilities – he'll have a video on that. I booked a hot stone massage for Saturday, which was quite lovely and relaxing. I tried to talk him into trying the special shave/facial offered in the barbershop, but he wasn't interested.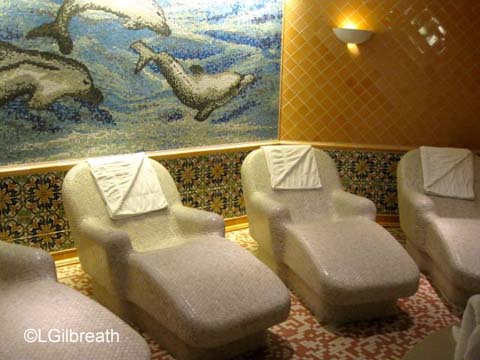 The staterooms are somewhat different, but I was expecting them to be completely redone. The furnishings, soft goods, and patio furniture are new but the bathrooms and carpet were not changed at all. The bed is a single mattress and no longer supports the split bed configuration – sorry, single travelers. 🙁 It's very comfortable, though. It's also been raised so that luggage fits underneath. I was hoping for on-demand TV, but that wasn't added.
Our stateroom had two very nice Disney Cruise Line robes and slippers in the closet, though I don't know if that is ship-wide, or due to our category of stateroom (5B).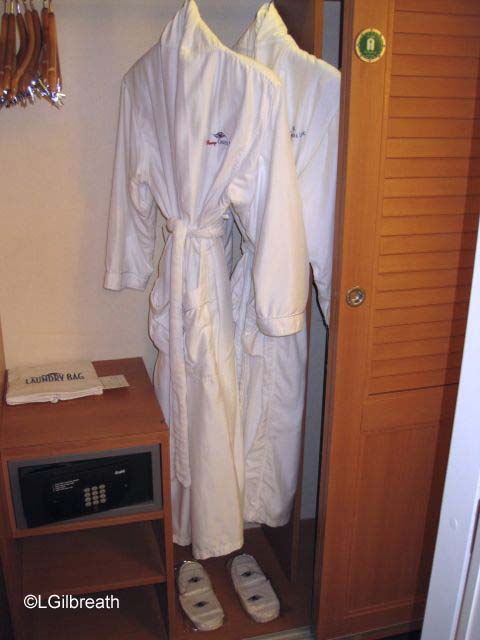 Well, this ended up being a lot longer than I intended it to be. But the Re-Imagining of the Disney Magic was a huge project and there's a lot to write about. There are so many details that I haven't touched on at all!
Even though there's still some work to be done, I thought most of the Disney Magic is better than ever and I am looking forward to sailing on the Magic again. I have to admit that the Magic is my favorite of the four Disney ships – while there are things I like about all of them, sailing on the Magic always feels like coming home.
Laura Gilbreath was an invited Media guest aboard the Disney Magic. Her opinions are her own.