It's the day before the Fourth of July and, if you're still on the fence about how you and your family will celebrate our nation's birthday, here are a few last-minute ideas for those who want to spend it with fellow Disney fans outside the theme parks.
Fort Wilderness Resort & Campground has a full day of events planned for Independence Day, and some are open to the public and other Walt Disney World guests, space permitting. The annual golf cart parade gives guests staying at Fort Wilderness the opportunity to show off their patriotic spirit and decorating skills, and others the fun of seeing an amazing show of creativity.
Participants must register by 5 p.m. July 3 at the Bike Barn for the parade that begins at 9 a.m. July 4. Golf carts will make their way from the Hitch-and-Unhitch area near the front of the campground down Fort Wilderness Trail to Pioneer Hall. Guests and visitors are welcome to line the route to see the procession. At 10 a.m., awards will be handed out at Pioneer Hall, and Goofy, in his finest Fourth of July attire, will be available to greet guests for an hour. Cast members told me that everyone is welcome to attend these events, if the campground is not closed because it has reached capacity. Other facilities, such as the pool and the campfire, are reserved for guests staying at Fort Wilderness.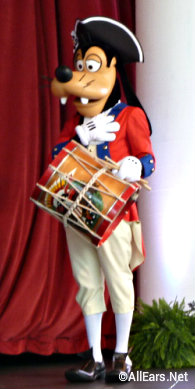 Of course, those with dining reservations also are welcome at the resort. In fact, a popular evening is to frequent a Fort Wilderness restaurant for dinner and then wander down to the beach for the Magic Kingdom's Disney's Celebrate America! A Fourth of July Concert in the Sky fireworks. This year, Fort Wilderness has added some activities for those waiting for the nighttime show. The Independence Eve Beach Party includes:
5 to 6 p.m.: Beach games
6 to 7 p.m.: Bingo
8 to 8:50 p.m. Beach Party Boogie
9 p.m. Fireworks
Last year, my family attended Mickey's Backyard BBQ, which is an outdoor meal with traditional picnic foods, a live country band and Disney characters. We enjoyed this experience at Fort Wilderness with friends, but it might not be everyone. (Check out my review here.) Afterward, we all watched the fireworks from the beach. The view is somewhat obscured compared to some of the other resorts, but that did not diminish our enjoyment.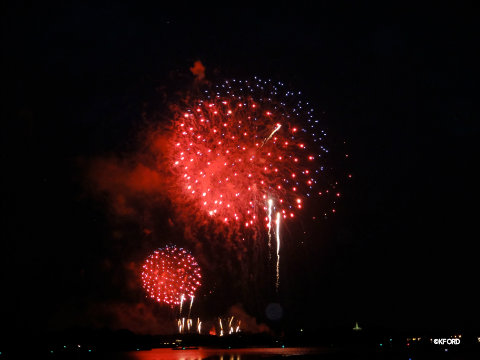 Other years, we have planned dinner and fireworks viewing at the Polynesian and the Contemporary. Here is a look at what they have to offer. All three resorts (plus the Grand Floridian) have the added bonus of being able to see the Electrical Water Pageant. At this late date, it may be tough to get a dinner reservation for tomorrow, but don't discount cancellations. Guests must cancel most reservations 24 hours in advance or pay a fee, so it's worth a call to 407-WDW-DINE. You definitely will need a reservation to get into the restaurants — standbys are almost unheard of — and to park at the resorts on such a busy day.
The town of Celebration, located in Disney World's back yard, is joining forces with MegaCon to host its first Sci-Fi Fourth of July on Thursday. The event begins at 5:30 p.m. with DJ Tami and performances by Oliver's Queen and Orlando singer and "American Idol" contestant Jordyn Kane. At 7:30 p.m., participants can compete in a costume contest to win prizes by dressing as their favorite movie-themed characters.
In addition, Celebration's Town Center will feature a KidZone with an assortment of inflatable games for kids and teens, such as a jousting area and bounce houses, face painting and more.
A patriotic celebration begins at 9 p.m. with a tribute to veterans, singing of the national anthem and a synchronized fireworks spectacular set to a Sci-Fi themed soundtrack. Admission and parking are free.