When looking at the skyline of Downtown Disney one of the most striking, and unusual, elements is a giant pineapple located on the West Side.
That pineapple belongs to Bongos Cuban Café, the creation of singer Gloria Estefan and her husband Emilio. I have walked past this restaurant countless times, impressed by the building's Old Havana-style architecture, and commented that this was a restaurant that I really wanted to try. For one reason or another, however, I always seemed to pass up Bongos in favor of one of my "go to" locations when it comes to dining in Downtown Disney. Just recently I finally had the opportunity to dine at Bongos, and I went there not really knowing what to expect. Bongos certainly does not receive as much hype or publicity as some of the other restaurants in Downtown Disney and when discussing it with family and friends it seemed as though no one that I knew had ever been there. After finally dining there, the only thing I can say now is "what took me so long?"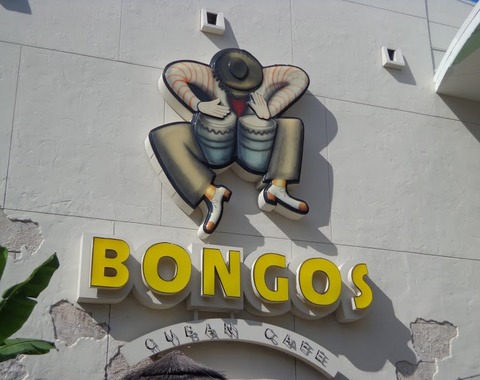 Overview:
Bongos opened at Downtown Disney in 1997 with a second location opening in Miami three years later. The restaurant was the brainchild of Gloria Estefan and her husband Emilio. Estefan is in the top 100 bestselling music artists of all time with hits like "Rhythm is Gonna Get You" and "Get On Your Feet" and has an estimated 100 million records sold worldwide. Born in Havana, Estefan's Cuban heritage is prominently featured throughout the restaurant's architecture, décor, and entertainment offerings. The latter is what really adds a sense of authenticity and excitement to the restaurant, as it takes on almost a nightclub feel on Friday and Saturday nights with live music and dancing from 11:30pm until 2:00am. With its multiple bars offering a variety of specialty cocktails, its distinctively Latin feel, and numerous indoor and outdoor seating spanning two floors, dining at Bongos will make you feel as if you have been transported to a Miami hotspot or even Havana itself.
Atmosphere:
One of the most striking aspects of Bongos is its immense size. Outside the restaurant's giant pineapple, imposing columns resembling the trunks of palm trees, and ample outdoor seating on its lower and upper balconies give the building a very impressive appearance.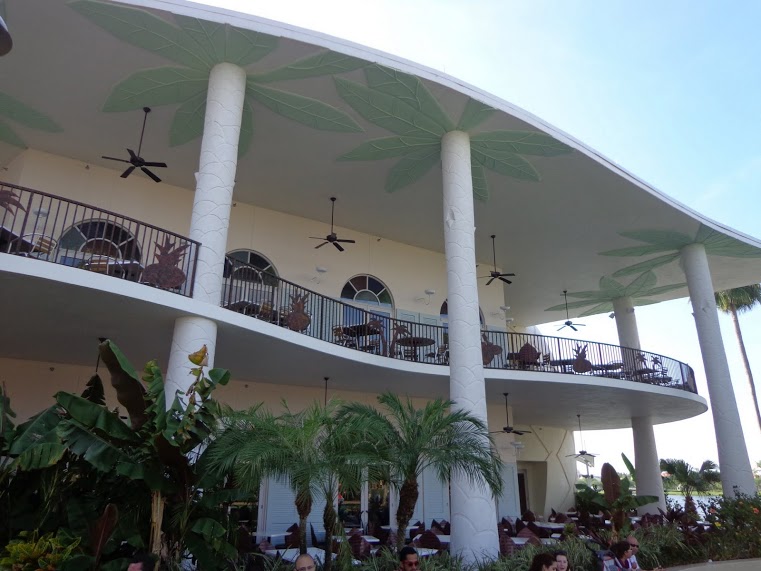 This sense of grandeur is carried into the restaurant as well. As soon as you enter you are greeted with a spectacular view of the restaurant's high ceilings, large windows, and grand staircase leading to its upper level.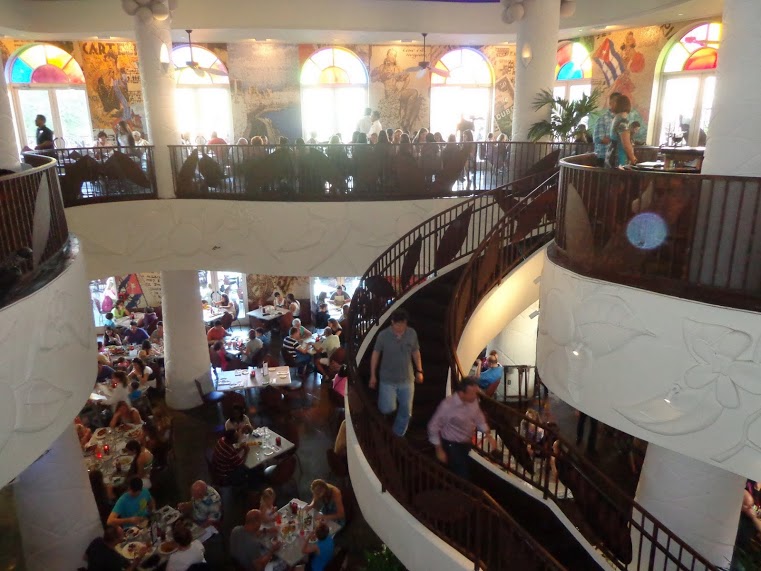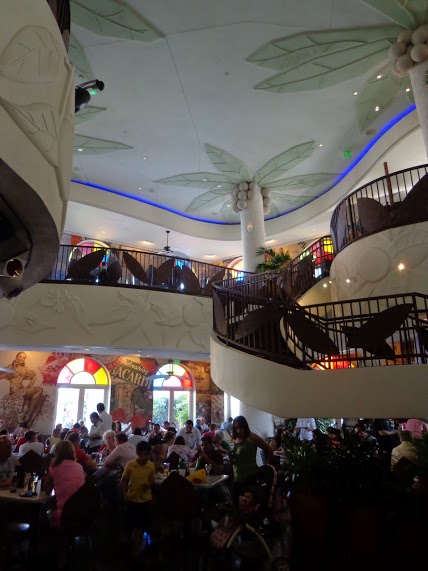 The restaurant's large size helps to give the dining room a very open and spacious feel, which is aided by numerous windows that let in plenty of natural light and offer great views of the lake.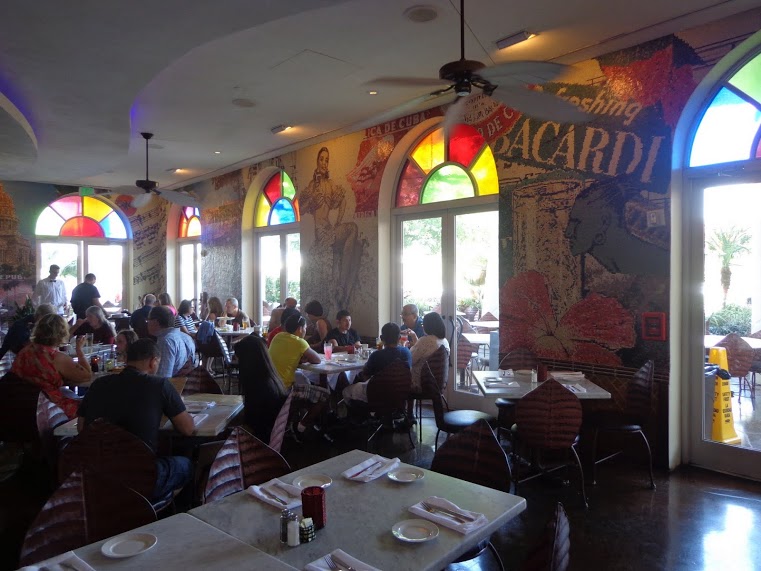 The restaurant's Cuban influence can clearly be seen in the colorful mosaics that cover the dining room walls. Highlighting tropical scenes of beaches and palm trees, Cuban flags, women in traditional Cuban garb, and Latin music, these mosaics are a clear reflection of Estefan's life and heritage.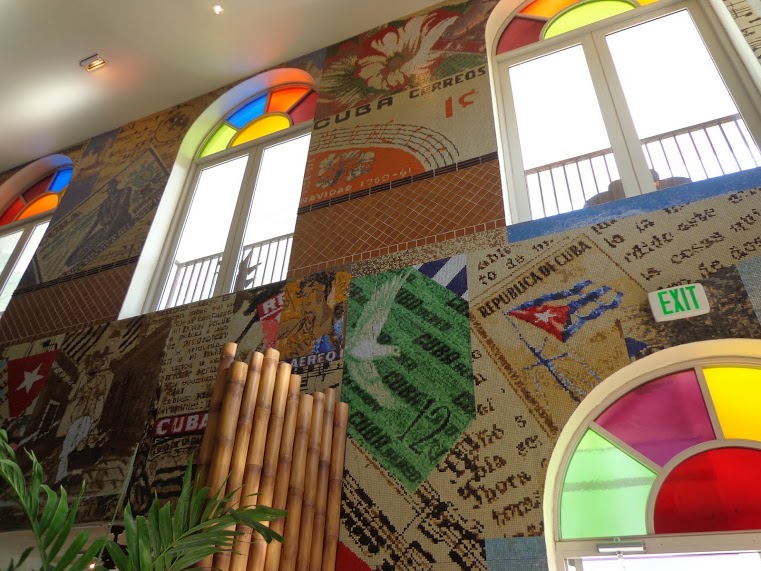 The overall Latin feel is enhanced by the large palm tree columns that are continued from outside and a motif of leaves and flowers that encircles the balcony on the upper level. The white stucco columns and ceiling present a dramatic contrast to the brightly colored mosaics on the walls.
Bongo's Havana influence can also clearly be seen in its ample outdoor seating. The balconies on the upper and lower levels are the perfect place to dine while enjoying the beautiful Florida weather as well as the impressive views. When there is live entertainment it is also pumped out onto the balcony so diners there can enjoy the music as well.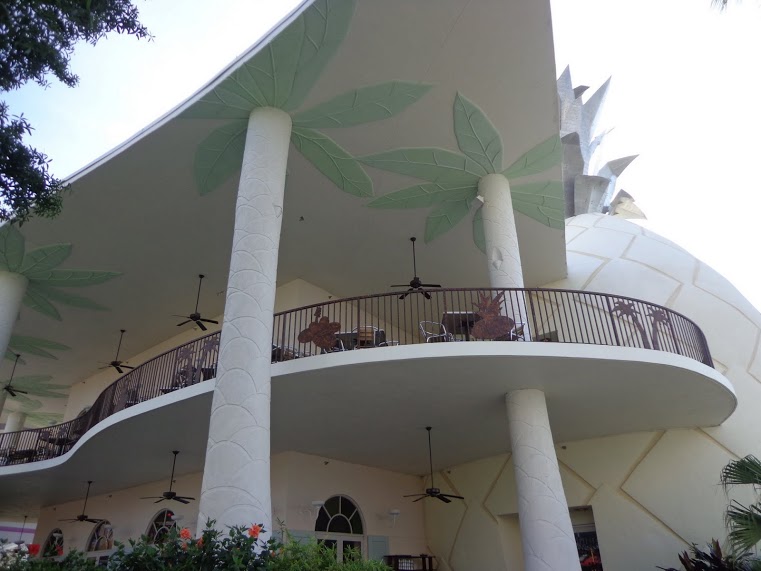 The restaurant offers several bars outside and inside on the lower and upper levels. As soon as you enter the restaurant there is a bar immediately to your right that features brightly colored stools that resemble large drums. You can also have a drink and dine inside the giant pineapple, with bars and additional seating on both the lower and upper levels.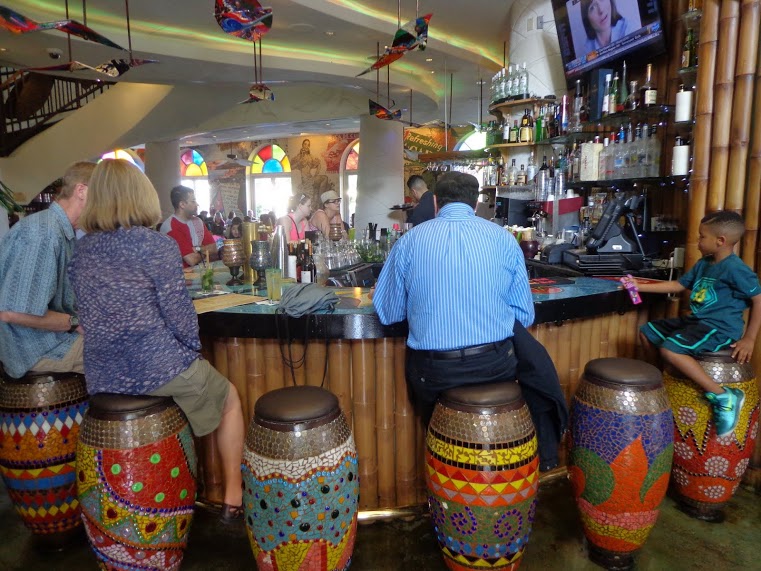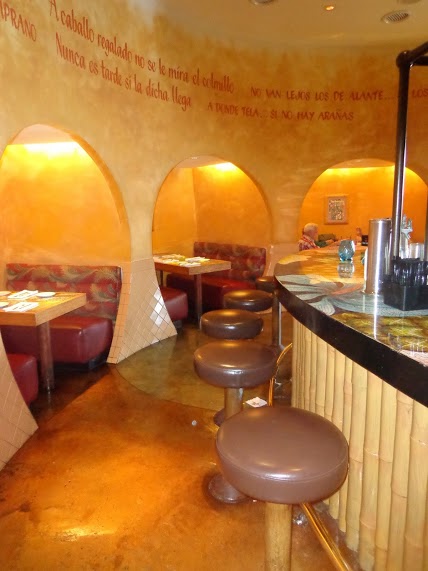 One thing that I did notice about the dining room is that as the night went on, and the restaurant became more crowded, it became very loud. I was not there to experience the live entertainment, but I can imagine that the lively Latin tunes would only add to this. I was actually seated inside the pineapple and felt that this more out-of-the-way, secluded location made for a more quiet and relaxing meal. If you enjoy dining with a lively atmosphere, Bongos is definitely the place for you. However, if you are looking for a more quiet dining experience I would probably recommend going for lunch when the restaurant is not as crowded.
The Menu:
Bongo's extensive menu is probably what impressed me most with the restaurant. This menu literally has something for everyone, from steak and seafood to chicken and pork. Featuring traditional Cuban dishes, with their names presented in both English and Spanish, you may have to spend a while deciding what you want to order. In fact, this is the area where I usually describe the menu offerings but there are far too many for me to do so. Instead, you can see the full version of Bongo's menu here and I will highlight just some of the menu items that my sever described to me as among the restaurant's most popular.
When it comes to appetizers two of the standout items are the Fried Stuffed Potatoes ($7.00) that come breaded and filled with minced beef as well as the Stuffed Plantain Cups filled with either shrimp ($9.00), shredded beef ($8.00), or minced beef ($8.00). For those who may have trouble deciding on just one appetizer there is the Bongos Combo ($23.00) that is meant to serve two or more and includes fried stuffed potatoes, pork tamale, fried pork bites, ham croquettes, and stuffed plantain cups.
For meat selections my sever highly recommended the Cuban Style Skirt Steak ($25.00) which is marinated for several hours and comes served with green plantains, white rice, and black beans. Other popular offerings are the Marinated Fried Pork Bites ($17.00) topped with grilled onions and served with sweet plantains and moro rice, Lechon Asado ($18.00) which is a slow roasted pork leg served with sweet plantains and moro rice, and the Cuban Style Breaded Steak ($16.00) which comes deep fried and served with sweet plantains and moro rice. There is also "The Cuban Tour" ($30.00) for those who might be a little indecisive. This dish includes samplings of roast pork, shredded beef, and shredded chicken, served with green plantains, white rice, and black beans.
My server commented that the restaurant's seafood offerings are the ones that are slightly spicier than the meat offerings. Among these are Fish Criolla ($20.00) featuring fish bites sautéed in a Cuban criolla sauce served with white rice and sweet plantains, Shrimp with Garlic Sauce ($25.00) served with green plantains and white rice, and the Zarzuela de Mariscos ($35.00), which is a fresh seafood medley sautéed in a Cuban criolla sauce served with white rice and green plantains.
If you are looking for a lighter fare, Bongo's does feature several sandwiches for lunch (available from 11:00am until 4:00pm). These include a traditional Cuban Sandwich ($10.00) with roasted pork, ham, cheese, pickles, and mustard on Cuban bread as well as a Midnight Sandwich ($10.00) which is prepared the same way but on sweet bread.
For an appetizer we decided on the Fried Stuffed Potatoes. While you might think this would be a very filling appetizer, the mashed potatoes were surprisingly light and fluffy, not to mention that there is more of the meat than there is potato. The potatoes came lightly fried so that they were a perfect golden brown color.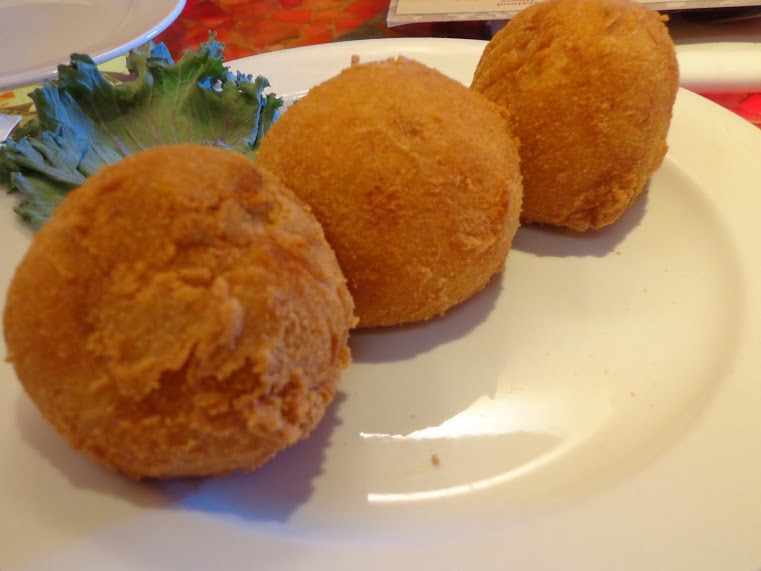 The minced Cuban criolla beef inside was not overly spicy, but did have a nice flavor that gave the dish a little kick. There were three of us and I felt that one of the fried potatoes per person was the perfect serving size starting the meal.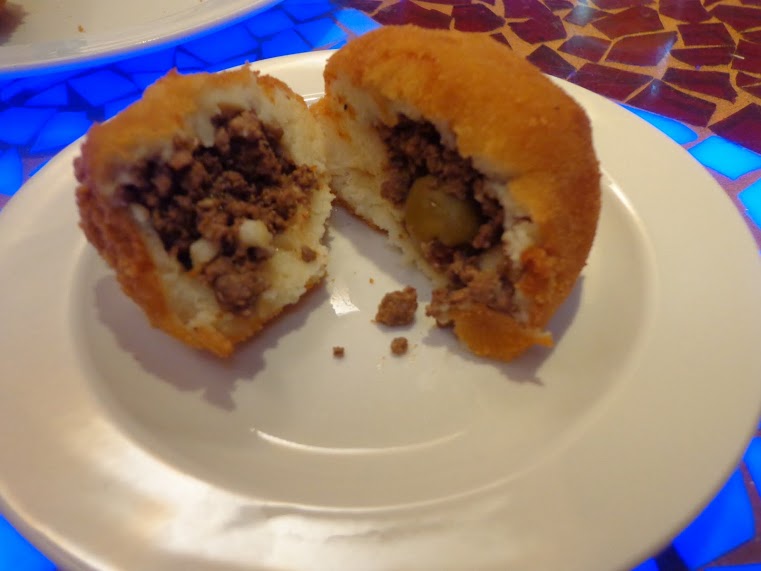 For an entrée we chose the Cuban Paella. The menu lists this offering as Market Price and, due to the nature of the dish, is served for two (or three). The price for two people was $75 and $100 for three, which may seem a little expensive, but you certainly get what you pay for in terms of both quantity and quality. The paella offers a little of everything, featuring lobster, shrimp, clams, mussels, fish, squid, chicken and Spanish sausage. When the paella was served I was immediately struck by two things: the presentation and the massive portion size. The paella came topped with a whole lobster and while it was the serving size for two people it could have easily fed three or four.
The paella came chock full of meat and seafood and had an incredible flavor. The preparation time for this dish is thirty minutes, which allows the rice to fully absorb the flavors of the seafood and meat as it is cooking. Even with so many different ingredients incorporated in the dish, I felt as though all their various flavors blended well together. While it was slightly spicy it was certainly not overwhelming. This is a very rich, heavy dish and, while we completely ate our fill, it seemed as though we barely put a dent in the dish.
In case the paella was not enough food unto itself, the dish came served with a side of green plantains. I had never had plantains before and the way they were prepared gave them a consistency, texture, and taste similar to French fries. The plantains came served round, flattened, and lightly fried. While plantains closely resemble bananas in appearance, I was informed by my server that in Cuban they are as common a side dish as a potato would be to us in the United States. The plantains came with a garlic-lime sauce, but this was far too strong for my taste.
Overall, this was an extremely flavorful and filling meal that showcased some of the authentic tastes, ingredients, and flavors of Cuba.
Service:
This was yet another aspect of Bongos that very much impressed me. Not being a restaurant owned by Disney I was not sure what type of service we would receive, but it certainly did not disappoint. With a menu featuring such a wide variety of offerings our server took plenty of time to explain some of the restaurant's most popular dishes as well as some of her personal favorites. She even went into detail about some of the various ingredients used in preparing the dishes as well as which of the offerings were more/less spicy. This was all very useful in helping us to decide which dishes we wanted to try.
Besides being very helpful with the menu, our server was also very personable. She was easy to strike up a conversation with and was just overall pleasant and in a good mood. This type of service also extended to the bartenders who prepared our drinks as we were waiting for our table and the hostesses who checked us in and brought us to our table. Overall, the service here is the same high quality that you would find at any other restaurant in Disney World.
Dining on a Budget:
While the paella is probably not something you would order if dining on a budget, Bongo's menu does feature more economical options. In fact, there are a good number of entrées under $20 and the portion sizes of the dishes I saw at every tables were very generous. Among these options are the Cuban Style Steak seasoned with garlic, salt, and topped with onions and parsley for $19.00, Marinated Fried Pork Bites for $17.00, Lechon Asado (slow roasted pork leg) for $18.00, the Cuban Style Breaded Steak for $16.00, Pollo Asado (slow roasted half chicken marinated in a lemon juice, garlic, and white wine) for $18.00, and Pollo a la Plancha (grilled chicken breast marinated in garlic and lemon topped with grilled onions) for $18.00. If you really want to save some money you definitely want to consider dining at Bongo's for lunch. Served from 11:00am until 4:00pm, the lunch menu includes several sandwiches that range in price from $8 to $12.
Bongos is on the Disney Dining Plan and is one table service credit for both lunch and dinner. The restaurant also participates in Tables in Wonderland, offering members a 20% discount.
The Overall Experience:
Bongos Cuban Café definitely exceeded my expectations. In the countless times I have been to Downtown Disney since Bongos opened in 1997 I had never dined there, but I can now say that it will certainly not take me as long before dining there a second time. One of the greatest allures of Bongos is its extensive menu. There are just so many options, and so many that sound very appetizing, that it makes you want to keep coming back in order to try something else. Its Cuban-inspired cuisine also makes Bongos unique among Disney restaurants, offering flavors and ingredients that cannot be found elsewhere in Disney World. In addition, its nighttime entertainment makes for a fun and exciting atmosphere in which to enjoy your meal. With its distinctively Latin feel, dining at Bongos will make you feel as if you have been transported to a Miami hotspot or even Havana itself. If you are like me and have fallen into the pattern of always dining at the same handful of restaurants whenever you visit Downtown Disney, Bongos is certainly worth a try. You will probably be pleasantly surprised.
See past restaurant reviews by guest blogger Andrew Rossi.
Check out Reader Reviews of Bongos Cuban Cafe and post your own too!