Here they are, the links to each part of the epic trip report including the prequel. If you missed an entry or want to relive my vacation with my friend Yoli, happy reading. Make sure you have sufficient light, we don't want you to hurt your eyes or worse, miss out on funny commentary.
Prequel – Newbie and the Geek Take Walt Disney World posted September 5th
Prequel – Reservations posted October 10th
Prequel – Obsessed posted November 21st
Prequel – Ready posted January 23rd
Disney's Animal Kingdom posted Feb. 13th
Magic Kingdom posted Feb. 20th
Disney's Hollywood Studios posted Feb. 23rd
Downtown Disney and More posted Feb. 27th
Epcot posted March 6th
Islands of Adventure and Universal Orlando posted March 13th
Epcot, Again posted March 20th
Disney Resorts and Celebration posted March 23rd

Magic Kingdom, Again posted March 27th
Our final full vacation day's activities were up to Yoli, my crazy friend and part of my CA posse. After a few days into the trip she was undecided as to whether Epcot or Magic Kingdom would win out for the coveted 7th park day. It was while we were enjoying our 2nd visit to Magic Kingdom that Yoli declared Epcot as the winner and benefactor of our third visit. I was thrilled because Epcot is my favorite park at Walt Disney World and my pal loved it for all the same reasons.
We set out early in preparation of conquering the must see or must see again attractions, have time to soak in atmosphere, and have plenty of time to pack. Memories are a bit hazy but here's all that we can recall and are willing to confess.
Having tried the "sissy" version of Mission: Space as Yoli called it, she was determined to attempt the regular ride. Off she ran. I followed behind and took some time to enjoy the Jammitors, grab a few photos, and mingle with the children to whom the musicians were handing out stickers. Yeah! You know I got one, too.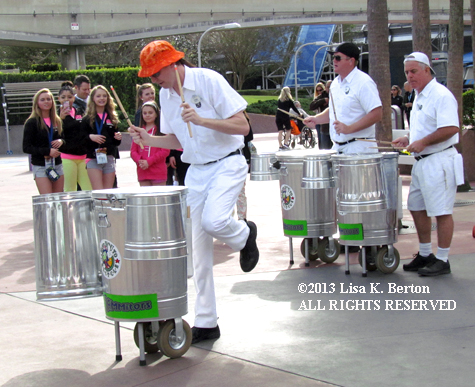 Come on, shake your body baby. Do the conga. I know you can't control yourself any longer.
She came out of the attraction and was fine for the most part. Yoli said I would never be able to handle the original ride That's fine by me. I can also skip the toned down ride and be perfectly content.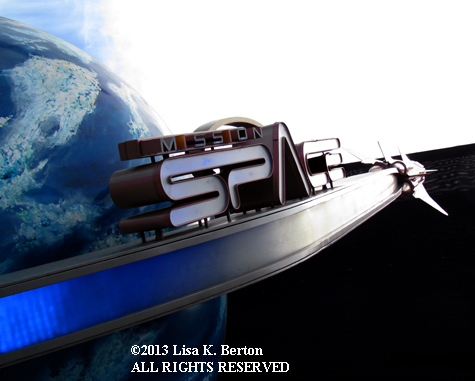 Blast into the stratosphere or the gift shop. They're both exhilarating in their own right.
We headed back to The Land in search of a short wait for Soarin'. The line was still too long for our taste so we grabbed FastPasses, got breakfast at Sunshine Seasons, played with phones, and finally got to ride. We had a good time but prefer the building and themeing found at California Adventure.
Off in the distance stood Club Cool. "Yoli, do you want some sodaaaaa?" She said no. "Are you sure you're not thirsty?," I asked. Nope, she was fine. Torture is fun. We took a Friendship Boat over to World Showcase. Italy is where we spent a good amount of time shopping and watching Sergio (sans name tag) do his schtick.

Romeo? Romeo! Where are you? I am sick and tired of waiting for you. Ask for directions, already!
Yoli ordered lunch at Liberty Inn. I got my food from Yakitori House and traveled all the way back to America, up hill both ways, on foot, to eat with my friend. It's amazing how many people watched as I carried my tray of teriyaki chicken. Were they hungry? Had they never seen an explorer before? Was there a warrant out for my arrest? No. After lunch we split up for a few minutes. When I returned to American Adventure, Yoli was videotaping Voices of Liberty. I'm glad she got to see them perform, she gets all mushy over anything patriotic. We watched American Adventure the show, co-hosted by Ben Franklin and Mark Twain. Think about it. That's really freaky. Twain wasn't even born until 1835 and Franklin died in 1790 and yet there they are, together. I have just one question, was it the DeLorean or the phone booth (air guitar riff)?
As we were passing through France, we happened to glance inside Chefs de France and saw Remy doing his little dance on the fruit and cheese plate. He was so cute. I can't even begin to tell you how long I've wanted to see Remy and never made a reservation because there's nothing on the menu I think I can eat. Ooh! I was wicked excited. Yoli liked seeing him too. Lucky Newbie.
We watched Impressions de France again because the last time we were surrounded by talkers who didn't comprehend our disconcerting glances. It was much better this time around. Oui. We wrapped up our tour and started heading out but I remembered that VISA cardholders can get a free 5×7″ with characters, something we kept missing. Into Innoventions, we found the location and only had to wait a couple of minutes while 2 other parties had their fun. Holy crap! Yoli must have jumped sky high when she saw we had Mickey Mouse and Pluto entirely to ourselves. A Character Host and PhotoPass Photographer were on hand to help. They were very friendly and took lots of photos. Honestly, Yoli was on Cloud 9. The same gigantic smile and look of wonder that came over her face the morning we walked into the Magic Kingdom was out in full force. She said it was the perfect ending for our over a decade in the making journey.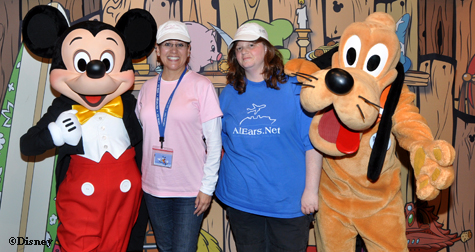 A great time with an incredible friend.
Before we could hit the road, we had to pick up the print. While waiting we rode Spaceship Earth again. Yoli konked out in the back seat. I told you, she can sleep anywhere. The photo was ready when we returned to the store. Yay! We said our goodbyes to Epcot and schlepped back to the car.
Our evening included 3 games of air hockey in the resort arcade. I won the first match, Yoli won the second, and we tied on the third. We had dinner in the food court. Lots of packing was accomplished but we had plenty of time to finish before leaving for the airport so we didn't have to stay up very late.
A quick recap of our 11 night spectacular spectacular.
Animal Kingdom
I am never going anywhere near Expedition Everest again. I no like it. The PhotoPass lady with Russell and Dug was mean to us and said we couldn't take any photos unless we got in line even though we just wanted a quick snapshot of the characters. She's lucky I didn't yell "SQUIRREL!" Oh wait, I did.

Kilimanjaro Safari vehicles. Buy one get one half off.
Disney's Hollywood Studios
I loved meeting Caleb at The Great Movie Ride because he had actually read this blog series. We had an awesome time at 50's Prime Time Cafe and the food was great, too.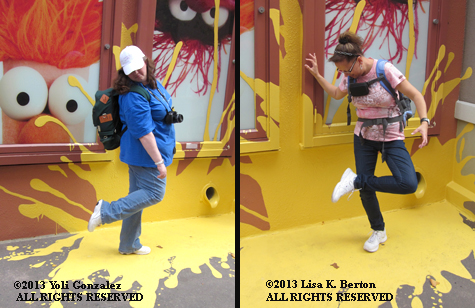 Dorks.
Universal Orlando and Islands of Adventure
Watching Yoli make her way through The Wizarding World of Harry Potter was like seeing the opening scenes from That Girl. She was everywhere. I had a huge problem with guest services and my dietary restrictions prior to arriving at Three Broomsticks. Thankfully, the restaurant's chef and manager sorted things out but the communication gaps and lack of actual assistance up till that point was unacceptable.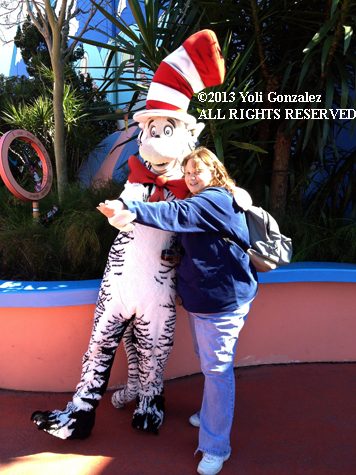 Let us stance as if to dance and take a chance with crepes from France.
Disney Resorts, Celebration, and Downtown Disney
I'm darn proud of hitting so many resorts in one day plus Celebration. Next time we can visit 8 more. Too bad the weather didn't allow us to fly in the hot air balloon. I'd love to see HGTV film an episode in Celebration with Drew and Jonathan Scott.

As we rode the monorail over a few parking lots, I noticed that most of the cars were silver, black, or red. Write your own joke.

Forget shouting, when I want Yoli to show up, I sing Menudo songs.
Epcot
I love everything. This was a great park for us to find Cast Members with the same names as ex-Menudos. Ooh, and getting our World Showcase passports stamped was fun. I still need to adhere the rest of the stickers.

The shirt seen 'round the World.
Magic Kingdom
Between finally seeing The Three Little Pigs and other characters and the Fantasyland expansion, I was super happy.
One of Yoli's most memorable moments was the night my feet hurt so much that I could barely stand. I was in the midst of physical therapy for both achilles. We were in our room and I decided to try and wrap my feet in hot wash cloths because every therapy session started with heat. Well, it got cold quick so my friend, the awesome dependable person that she is, took it upon herself to run back and forth from my bed to the sink with hot wash cloths. She'd wrap my foot then run back, soak a washcloth and wrap the other one. This went on for a good 5 minutes or longer until I said, it was alright, it probably wouldn't work. My therapist later gave me a speech that I should have called him for instructions on what to do. Seriously, how awesome is Yoli for doing all that. (and the crowd goes wild)
I'm going to close this series with 2 things. The first is to let you know that Yoli and I are hoping to take a Disney Cruise or visit Disneyland Paris in 2014. Disney is sailing out of Puerto Rico late next year and it would be the perfect place for a few Menudo fans to go on another shopping spree. We want our other Menudo/Disney fan friends to join us. They know who they are.
Lastly, the video of Yoli first walking into Magic Kingdom. Remember, she's a Californian so comparisons are expected.
Thank you for reading my trip report. Hey Yoli, I had an incredible McTime. Whaaaaa?
Exclusive Newbie and the Geek content is only available on my Facebook page.