Disneyland, The Happiest Place on Earth and Walt Disney World, The Most Magical Place on Earth are both fantastical dreams come to life. Through the imagination and hard work of Walt and Roy Disney, legions of Imagineers, construction workers, designers, architects, plumbers, electricians, Cast Members, and countless others, we are able skip our way into Disney Parks. Everyone wants to have the greatest vacation ever.
If we love Walt Disney World and Disneyland so much then why do we mistreat them? We're all human and we can easily put a drink down for a moment to tie a shoe or search thru a handbag for towelettes, and then wander off and forget all about the $2.59 soda. It happens and I'm not pointing a finger at those forgetful moments.

An empty cup is usually a sign of intent versus a full or half bottle or cup. Found at the exit from the Haunted Mansion at Disneyland.
Unfortunately, there are a large number of Guests who don't use the readily available trash cans and recycling cans located all over the parks, resorts, and everywhere else on Disney property. I find the situation exceptionally scary.

How many times have you had to edit a photo or move your traveling companions aside because a trash can was in the shot? They're everywhere for our convenience.

A lollipop stick in the queue for the Jungle Cruise at Magic Kingdom. I found lollipop wrappers in the queue as well.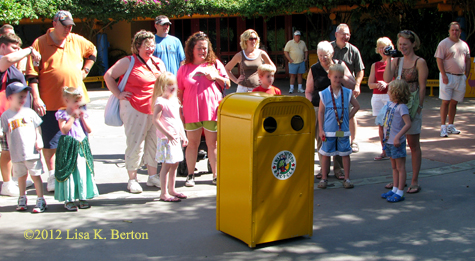 Pipa, the talking recycling can at Animal Kingdom's Conservation Station entertains and educates kids and adults alike about the importance of recycling.
Nationally, cigarette butts account for one-quarter or more of the items tossed onto streets and other roadways, San Francisco and other cities report. – The New York Times, Leslie Kaufman, 5/28/2009.
"…cigarette butts in the landscape bed off our patio." – Review of Disney's Boardwalk Inn, Trip Advisor, Dutchess2245, 10/15/2012
"The transition to become smoke-free will allow Disney to better accommodate the increasing number of guests requesting non-smoking hotel rooms, DiPietre said.
The ban follows a 2000 measure that restricted smoking throughout Disney's theme and water parks, limiting smoking to designated areas, DiPietre said.
Guests caught smoking after the ban could face cleaning surcharges as high as $500, DiPietre said." – USA Today, Jim Ellis, 5/3/2007
Smoking is allowed in designated areas complete with ash trays. Those who choose to smoke are accommodated so there's no reason to find cigarette butts anywhere other than in an ash tray.

Found in Epcot's China pavilion
Not all trash is found on the ground or even at eye level. I saw this plastic bottle sticking out from the high wooden beams that help support Sunshine Tree Terrace in Adventureland. Tossing bottles or any other object to land on or get stuck on something isn't funny. It's disrespectful.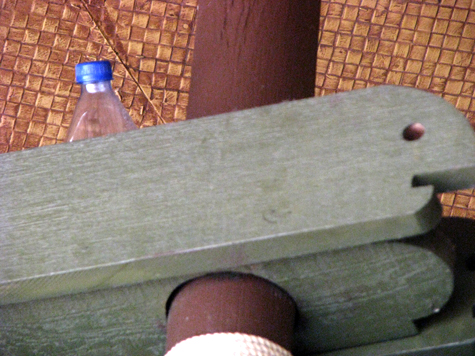 I have often picked up bottles, cups, napkins, and other trash and thrown it away. The biggest cleanup I did was after a family threw french fries and ketchup packets all over the floor. Mom, dad, and the kids decided that this was the way to clean the table at Disneyland's Golden Horseshoe. I was disgusted.
When I lived in CA, I considered (and still do) Disneyland my home away from home. It was "my park" just like California natives consider it to be their park. There's a feeling of pride, security, and family when you are consistently in the same place. I bet Floridians and even those of us who visit Walt Disney World often have those same feelings. So let's set a good example and keep our Disney Parks clean. How embarrassing would it be if Mickey Mouse fined you for littering?!
You can find me on Facebook.