Do you like ghost stories? Well then, come closer and listen as I make up a spooky story about Disneyland's Haunted Mansion.
Back in the 1960's, many years before my parents met, Walt Disney began building the Haunted Mansion in Anaheim, CA. As construction began on the house, strange noises could be heard in the distance. These sounds came and went like the wind. One day, a construction worker had had enough of being distracted by the spooky sounds and went to find out from where they came. Armed with a glue gun, he faced his fears and when the noise became louder and closer he screamed out to his fellow workers, "It's just the gosh darn Santa Ana winds throwing dirt against boulders."
Now you know…something.
This statue of a young boy with his head in his arms sits near the Haunted Mansion's entrance. He is permanently ashamed that he referred to Donald Duck as Daffy Duck! Learn from his mistake or the same could happen to you.
Oh, I made up 2 stories. Good for me!
Return if you dare. Sinister Scott will unveil his Haunted Mansion photo on Thursday.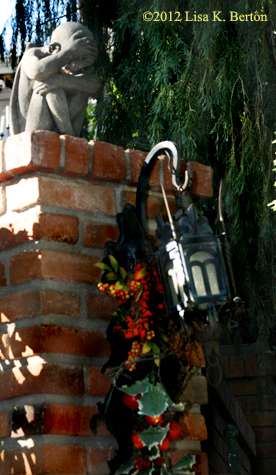 Keep up with me via my Facebook page.