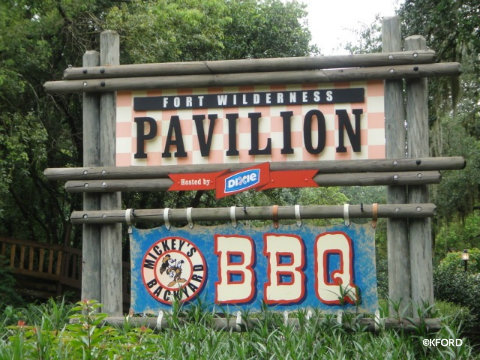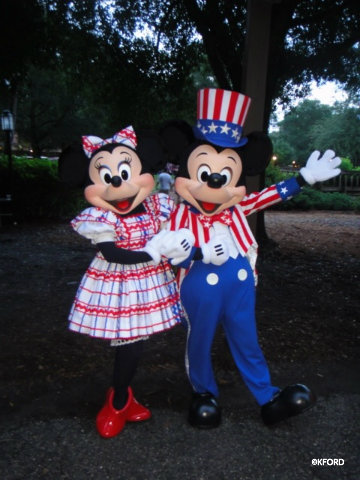 Heading to Mickey's Backyard BBQ for the first time on the Fourth of July, I was a little skeptical about how the Fort Wilderness dinner show would play out — especially for my kids, who have experienced other similar dining experiences elsewhere at Walt Disney World.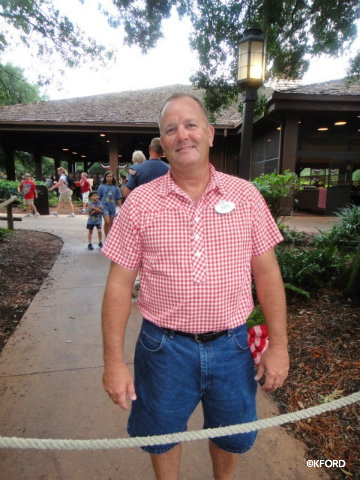 Many of those other dinner shows were the subjects of glowing online reviews, and my family and I usually had an idea of what to expect before we showed up for the first time. Not so with the Backyard BBQ, though. In fact, what little information I could find online even contained several negative comments about the food and the experience.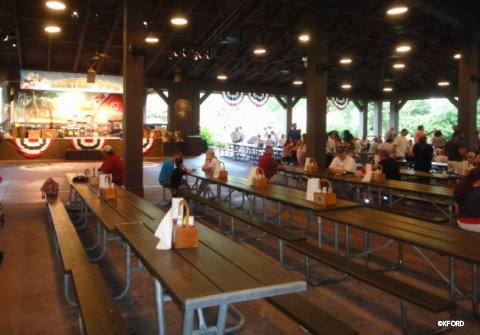 But all seven people in our party had a great time, and there were no complaints about even the smallest detail. We took AllEars.Net readers' advice and arrived about an hour before the start time. Although this did mean some standing around, it also allowed us to be near the front of the line for our choice of seats. (There is a playground near Pioneer Hall, so the kids could burn off some energy and break up the wait.) Cast members even walked the queue, serving drinks.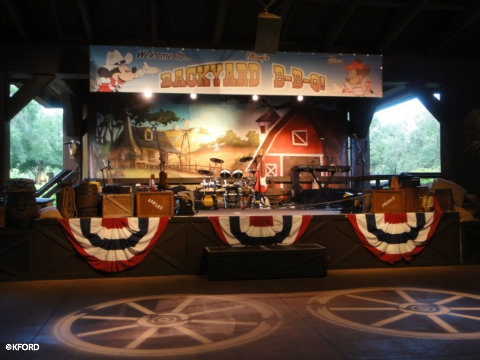 When it was time to enter the outdoor pavilion, cast members took groups of 20 to 25 guests and led them to picnic tables with benches. No stampede at this rodeo! We requested a table in the front, bordering the main dance floor. Cast members assured us there were no bad seats in the pavilion, but I do think our location was perfect for our two families. It allowed the elementary-school-age kids to come and go on the dance floor, in view of the adults who were eating and hanging out.
As soon as you are seated, cast members invite you to visit the buffets. There are four lines serving the identical menu, so we never really saw a long queue form. Guests can choose from BBQ chicken, pork ribs, hot dogs, hamburgers, macaroni and cheese, tossed salad, potato salad, cole slaw, corn bread, baked beans, corn on the cob, watermelon and ice cream bars. Lemonade, ice tea, beer (Bud Lite) and wine (red, white or blush) are included, too, in this all-you-care-to-eat dinner. The food remains available almost until the end of the 90-minute experience. Everyone in our party enjoyed the meal, and we actually found the food to be even more flavorful than we expected, given the venue's outdoor setting and the food choices. (Those with special dietary concerns can request ahead of time to be served meals that meet their needs.)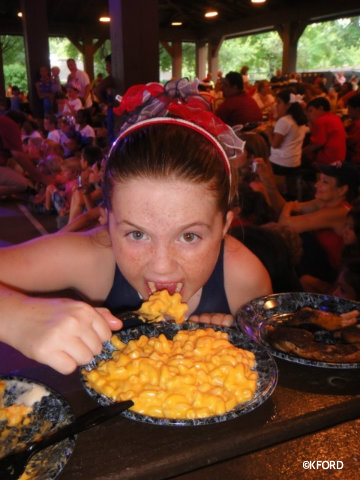 Live entertainment begins shortly after everyone is seated. This means the dinner experience is loud, so if you are sensitive to noise, you might want to reconsider. We had to shout to hear each other, but that didn't bother us at all. There was too much going on to have an in-depth conversation anyway. The live country-western band was good, playing popular and patriotic songs. A cowboy performs rope tricks and even invites a few lucky kids in the audience to join him. Plus, there is line dancing to well-known favorite songs.
Throughout the evening, Disney characters are circulating among the diners. They dance with the kids and pose for photos. If they are not on the dance floor, Mickey Mouse and his pals might even sign autographs. Please know that this is not like other Disney World character meals; the characters do not come to each table, so you are not guaranteed to see each one. I'm told that the usual characters at Mickey's Backyard BBQ are Mickey, Minnie, Goofy, Chip and Dale.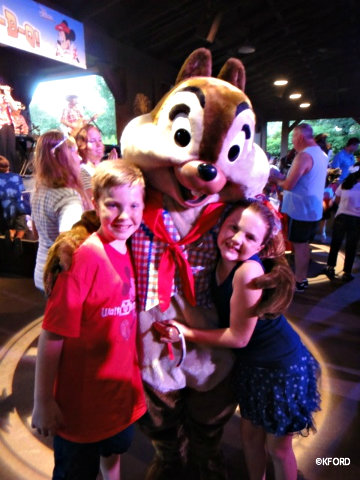 For our Fourth of July dinner show, we also saw Donald Duck, Pluto, Phineas and Ferb. The characters were decked out in their Colonial-era threads, though they usually wear western get-ups. Another difference for the holiday was that Mickey and Minnie stayed outside the pavilion posing for photos the entire time. They did not join the festivities on the dance floor, which they normally would do.
All-in-all, we enjoyed Mickey's Backyard BBQ immensely. Perhaps the guests who did not have a good experience were ones who had different expectations for the meal and the dining ambience. But make no mistake: This experience is not comparable to an indoor character meal. It's an outdoor, casual picnic with rollicking entertainment to delight youngsters and get everyone out on the dance floor.
For our celebration of the Fourth, the experience was as summertime-appropriate as the Mickey ice cream bars the kids enjoyed for dessert afterward.
Prices, which include tax and gratuity, are $54.99 for adults and $31.99 for guests ages 3 to 9. Mickey's Backyard BBQ is open seasonally.