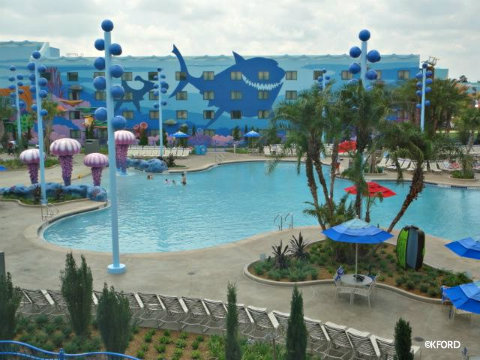 Walt Disney World resorts are known for their recreational offerings, and the new Art of Animation hotel is no exception.
The centerpiece for the new hotel that is themed around four animated movies — "Finding Nemo," "Cars," "The Lion King" and "The Little Mermaid" — is The Big Blue Pool in the Nemo courtyard. At 12,000 feet, the pool is the biggest on Disney property, excluding the ones at the Typhoon Lagoon and Blizzard Beach, and it is designed to be enjoyed by guests of all ages.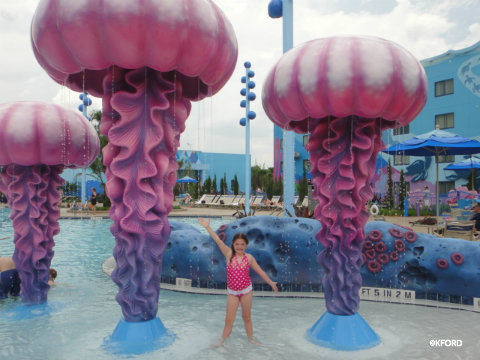 A zero entry at one end allows swimmers of varying abilities to wade in gradually. In the shallow water there, kids can splash under the dripping-water tentacles of four pinkish-purple jellyfish structures. The deepest area of The Big Blue Pool is the center at 4 feet, 9 inches. Perhaps the coolest feature, however, is the underwater sound system — a first at Disney World. Guests who dive beneath the surface can hear Disney music and even messages from the "Finding Nemo" characters.
Like the recreation courtyards at other Disney resorts in the value category, the theming is larger than life. Imagineers want guests to feel as though they are experiencing the area from Nemo's point of view. It's difficult not to feel dwarfed when you're standing next to a 30-foot-tall Crush or a Mr. Ray sculpture with a 26-foot wingspan. Being immersed in the animated story is what sets this resort apart from others.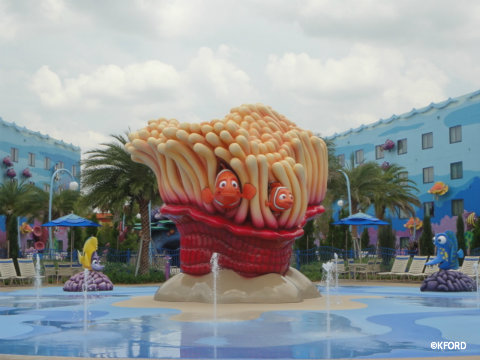 Other characters from "Finding Nemo" come to life in the adjacent Schoolyard Sprayground. Nemo and his father, Marlin, sit atop a 16-foot-tall sea anemone they call home in the movie. Tad, Chicken Fish, Sheldon and Pearl squirt water from the perimeter of the splash pad. Just beyond the sprayground is Squirt's Righteous Reef, a dry playground with three slides and a soft landing spot at each.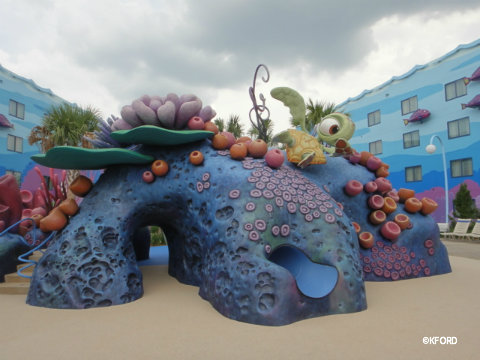 Cast members host family friendly activities, such as Bingo, water basketball and hula hoop games, poolside each day from 1 to 7:30 p.m. The most popular events — The Big Blue Pool Party at 3 p.m., the Righteous Dance Party Extravaganza at 4 p.m. and Arts & Crafts at 4:30 p.m. — occur when many guests return to the resort from the theme parks. At 9 each night, a Movie Under the Stars is shown on a huge inflatable screen near the pool. Guests can swim or relax in lounge chairs for the show. My almost-8-year-old-daughter was eager to dance to hit Disney songs and to make a shark-themed picture frame during her afternoon at the pool. She reluctantly took a break for dinner before donning her swimsuit again for the evening movie.
Older kids might enjoy the ping-pong tables on the Mr. Ray side of the pool, including one that allows for four players. (Family-style gaming seems to be a recent trend, with DisneyQuest installing a four-person air hockey table and a four-player Pac Man system.)
With so many activities to choose from, my elementary-school-age children soon forgot they were ever concerned that there wasn't a water slide at the pool. And when Art of Animation's other wings open this year, two additional swimming pools and a playground will be available to guests. The "Cars" section opening June 18 will house the Cozy Cone Pool, and "The Little Mermaid" wing will have the Flippin Fins Pool beginning Aug. 10. The Elephant Graveyard play area will be located in "The Lion King" courtyard on Sept. 15.
Guests visiting the swimming pools and playgrounds at Disney's Ar of Animation will want to remember to bring two things — towels from their rooms because they are not distributed at the pools and their room keys because the new recreation areas are gated.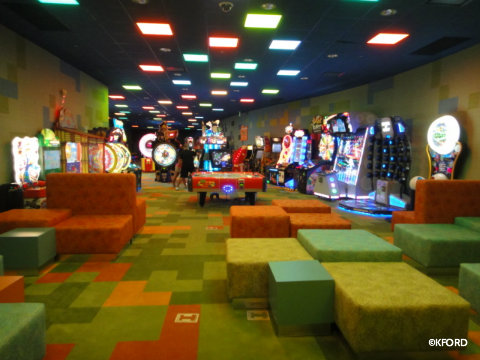 If it's a rainy day or you just need a break from the Florida sun, head inside Animation Hall for other recreation options. Many consider shopping a fun pasttime, and the Ink & Paint Shop offers resort-specific merchandise as well as popular Disney World souvenirs. Just outside the gift shop is Pixel Play Arcade for those who love to game. To play, guests must purchase a digital points card and choose how much money to load on it, beginning at $5. The arcade houses old-school favorites and newer attractions. A smart addition is the group of plush benches and small tables at the front for waiting parents.
Out in the lobby, tucked next to the front doors, is an area where guests can learn to draw various Disney characters step-by-step. An animator is there from 10 a.m. to 6 p.m. Thursday through Monday to lead guests through the process. Classes start on the hour and are free. This is a popular activity at DisneyQuest and at The Magic of Disney Animation in Disney's Hollywood Studios. Of course, it's a perfect fit for Art of Animation.
Disclosure: I was a guest of Walt Disney World Resort during my stay at Art of Animation. This did not influence my story, and my opinions are my own.