Sorry for the delay in finishing this report on the Summer to Remember Resort Showcase — time got away from me and I had to catch up on a few things once I got back home. Without further delay then: the final full day of the event:
The day started early with a special breakfast and What's New/What's Next? presentation by Meg Crofton, president of Walt Disney Parks and Resorts Operations, U.S. and France. Deb Wills attended this event alone, while I stayed behind to update the website and work on some other things. As you may know by now, there were several relatively important announcements to come out of the presentation:
— details about the redesign of Test Track in Epcot. Deb Wills interviewed a cast member working on the project and has more details on it HERE.
— a better timeline about the opening of the next phase of Magic Kingdom's Fantasyland. For more details, click HERE.
— details on the summer version of the castle projection show, The Magic The Memories and You!, which will include Phineas and Ferb and is set to debut on May 25. For the official press release and an artist's rendering, click HERE.
Following the presentation, the media was able to participate in a sort of information "expo", with stations featuring a variety of Imagineers and other cast members available to discuss the upcoming developments at Disney Parks. Deb Wills will have more video and details from the expo, including more on the Fantasyland construction, in the coming days.
In the afternoon, we headed over to Animal Kingdom to meet up with team members Jason (of disneygeek.com) and Kristin Ford for a special character lunch at Tusker House.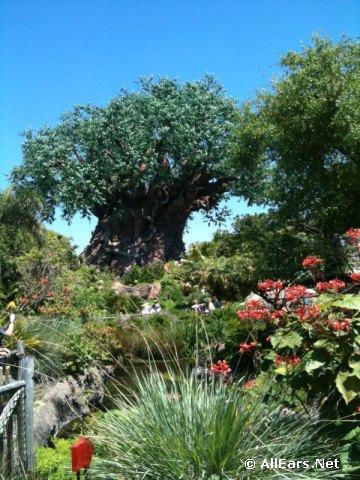 On our way, we paused to check on the Discovery Trails and It's a Tough to Be a Bug — in case you hadn't heard, earlier in the week a 5 lb. branch fell from the Tree of Life! No one was injured, but the attraction and the surrounding trails were closed immediately while the tree undergoes some "refurbishment." According to cast members in the area, the 3D show is still closed, as are the trails, but they will hopefully reopen soon.
I also had a close encounter with Dug, from the Disney-Pixar film UP! I hadn't seen him in the park before, though I had read that he was around. Squirrel!
We had a little time to kill, and as we passed by Mombasa Marketplace I noticed that there was a henna artist doing tattoos. I'd been wanting to get one for a while, so on a whim decided that this was the day. After flipping through the book of designs, I decided on one that represents the characteristic "Kind." The artist was so adept that within five minutes I was sporting some lovely new "ink", enhanced by a sprinkling of glittery pixie dust… watch for a blog on the experience soon!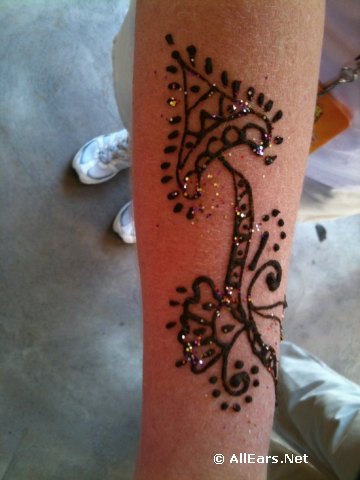 I'd eaten at the character breakfast at Tusker House shortly after it had converted from a counter service restaurant, but had never dined there for lunch, so this was a new experience for me. Even though our lunch was scheduled for 1:30 p.m., the place was pandemonium. Long lines, cranky kids melting down — it just didn't seem to be the most efficient way to handle the crowds. After waiting to be admitted, then waiting to get our photo taken with Donald, we were finally seated at about 10 minutes to 2.
The inside of Tusker House is largely unchanged from how I remember it — it still has the cool decor, with African touches. And the food is still very good. Many of the dishes are very similar to what you might find in Boma, the buffet at Animal Kingdom Lodge — Malay curry chicken, hummus, couscous, tabouleh, that sort of thing, all very tasty.
The characters appearing at this lunch are Daisy, Mickey, and Goofy, all in safari attire. Because it was the end of the lunch period, we had a little more time with them than usual. Daisy in particular spent more than a few minutes with us, striking multiple poses.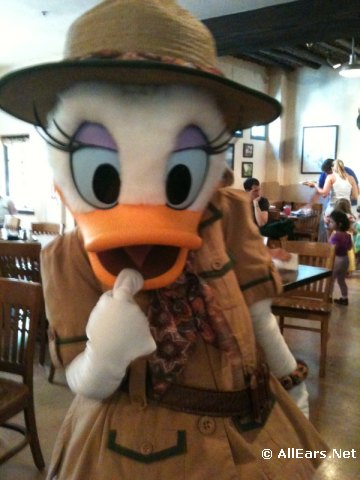 Read more about the Tusker House lunch in Kristin Ford's blog HERE.
It was 3 p.m. by the time we finished our "lunch" — nearly time for our next event, over at Port Orleans Riverside. But we did take some time to watch the Street Party that had just begun outside the restaurant, featuring the Tam Tam Drummers and Bourudika.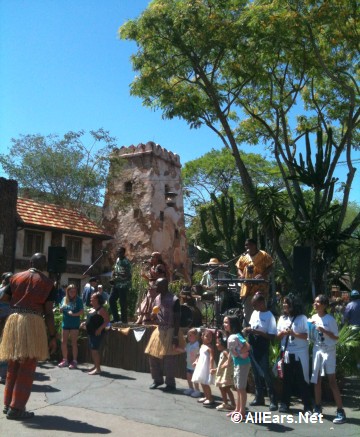 Over at Port Orleans, we found — surprise! — more food waiting for us. This time, it was in the form of a delightful Pirate Punch and Princess Tea Party on the lawn of the resort's Magnolia Bend section. Sweet and savory scones, an assortment of finger sandwiches and fresh fruit were beautifully displayed with table decor befitting the pirate and royal themes of Disney's storybook rooms. A wandering jazz band provided entertainment as the lovely Princess Tiana, from the film The Princess and The Frog, greeted guests.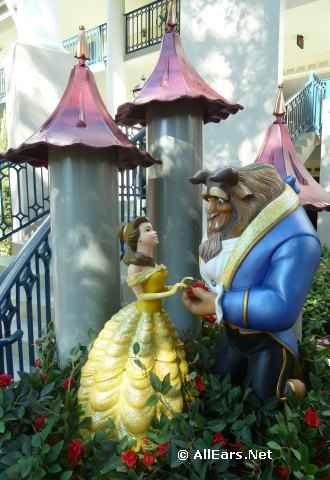 Several of the new Royal Rooms were open, so I wandered in to have a peek. I had seen the model for the rooms at last year's Resort Showcase and was interested to see how or if they had changed. There seemed to be only minor changes, most noticeably in the magical headboards, but it was still a treat to see the rooms in their finished state.
The rooms definitely are beautiful, representing upscale improvements over Disney's other moderate resorts — queen-sized beds, plusher fabrics, throw pillows — and are rich in backstory and detail. I love spotting items that were "left behind" by visiting princesses — such as the Magic Carpet from Aladdin's Princess Jasmine, and the footstool left by Beauty and the Beast's Belle. All 512 Royal Rooms are now finished, although I learned that the room renovations for the Alligator Bayou section of the resort are not yet completed. When done, those rooms will still have their rustic theme, but the trundle beds will have all been replaced by new Murphy beds that pull out from the walls.
As an added treat, a cast member even pointed out a very hard-to-spot Hidden Mickey in the table for me.
(You can read more about the Royal Rooms at Port Orleans Riverside and see more photos in Kristin Ford's blog HERE.)
When our visit to the Royal Rooms was over, we (and by that I mean the media group as a whole) were taken over to Downtown Disney, where we were invited to experience the shopping and entertainment district on our own, after being treated to dinner at one of its 10 restaurants. AllEars.Net had been assigned to Rainforest Cafe, a spot I hadn't visited in years.
Currently under renovation (they're working on the big volcano outside, among other things), the restaurant is still operating — and from all the hustle and bustle I would say that their refurbishment process is not hindering business. Noisy, with the sounds of wild animals and a periodic thunderstorm, the restaurant was exactly as I had remembered it. The extensive menu features burgers and other sandwiches, salads, pasta dishes and other entrees, as well as a long beverage list. Prices are moderate to high, but food is plentiful, and the atmosphere is definitely Disney-like, with all the animatronic creatures surrounding you.
After an overwhelming platter of assorted appetizers was brought to the table, I then tried to make my way through the Mediterranean pasta, with olives, feta cheese and asparagus. It was very good, but I didn't get too far — I'd still not had the chance to digest lunch and afternoon tea!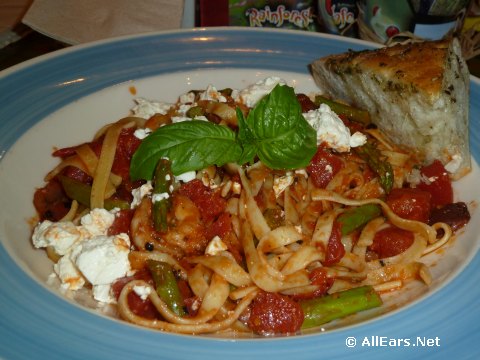 Our entrees were followed by chants of "Vol-Ca-Noooo!" as servers brought these chocolate exploding desserts — triangles of rich, moist brownies were arranged to form a volcano around mounds of vanilla ice cream, topped by whipped cream and silvery streamers simulating lava and fire shooting from the peak.
I really had no room, but managed to at least sample a bit of the chocolatey goodness. If you are looking for casual dining with a very American menu and plentiful portions, the Rainforest Cafe might be for you. If, however, you want a quiet, relaxed dining experience… well, you might want to look elsewhere!
Dinner was the end of the Resort Showcase for me. The only remaining event was a discussion with the Disney Moms Panel the following morning that I was unable to attend — it was going home day.
But I'll be writing more about some of the things I experienced and learned at the Resort Showcase over the next few weeks — I'll certainly be looking forward to visiting Walt Disney World again soon, for its Summer to Remember!