Over the Labor Day weekend, I went to visit some of my wonderful friends (or family, depending on how you look at it) in the northeast. One of the places they took me to visit was Jim Thorpe, Pennsylvania. I have to be honest and say that before this trip, I had never heard of Jim Thorpe, PA but I knew something was up when they told me I couldn't Google the town to find out more about it…
I thought we were there to roam around and enjoy the town. While that's what we did, come to find out, this gorgeous town has a connection to our beloved Disney World- it's home to the mansion that inspired the exterior of Disney World's Haunted Mansion.
A Bit of History
In 1833, Asa Packer settled in Mauch Chunk ("Bear Mountain" in the Lenape's language/present day Jim Thorpe), located in the Lehigh Valley. Packer was a very successful business man and ultimately gained control of the Lehigh Valley Railroad. He also founded Lehigh University. In 1861, his mansion was completed and sits near the bottom of Packer Hill.
When his son, Harry Packer, got married, Asa built another mansion up the hill for his son. It was completed in 1874. About 20 years ago, the mansion became a bed & breakfast.
The town and its neighbor eventually merged were renamed Jim Thorpe, in honor of the world renowned Olympic athlete who died in 1953. The town was hoping to boost tourism and struck a deal with Thorpe's wife to rename the town.
Finding the Inspiration for Disney World's Haunted Mansion
In the early 1970s, the Imagineers were looking for a concept for the Haunted Mansion that best suited Liberty Square in the upcoming Magic Kingdom in Florida. Imagineers traveled to Jim Thorpe and found what they were looking for in the Harry Packer mansion. I tried to find out what led the Imagineers to Jim Thorpe and/or how they found out about the mansion but I wasn't able to find specifics or dates beyond the early 1970s.
Like I said earlier, Asa Packer's mansion is at the bottom of the hill.
Just up the very steep hill (and I do mean steep hill) is the Harry Packer mansion. The exterior, not the interior, was the basis for the attraction.
Harry Packer Mansion
Disney World's Haunted Mansion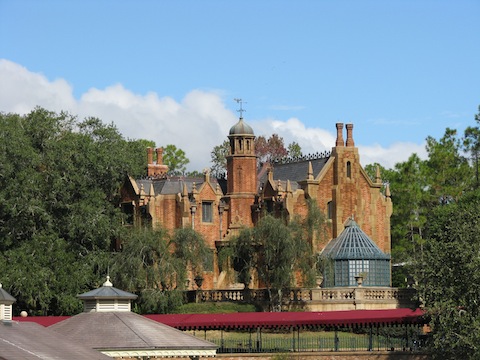 We did not go inside the mansion but we spent a good bit of time walking around the exterior. We compared and contrasted the mansion and could definitely see the resemblance, especially looking at it from the middle. It was a very unexpected surprise to find "Disney" there, so far from "home". HUGE thanks to my friends for taking me there. 🙂