REVIEW: Disney Food Blog Mini-Guide to Magic Kingdom Snacks by AJ Wolfe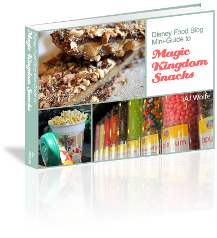 AJ Wolfe, writer of the online "Disney Food Blog" has followed her e-book, The DFB Guide to Walt Disney World Dining: Steps to a Stress-Free, Personalized Plan, with a new e-book devoted entirely to snacks that can be found in the Magic Kingdom.
As noted in my previous review of the comprehensive dining guide, the new mini-guide is available as an e-Book, which, when purchased is downloaded as a .pdf file. Once downloaded, you can save the file as an e-Book in iTunes, and then download the file to your iPad or iPhone. Again, I tested using the guide on my laptop, iPad and iPhone, and preferred the iPad to the others, as outside links worked best from this platform. Note that if you are reading the book on any device in a place where you cannot access the internet, many of the links will not work. However, as I explain below, the iPhone version may be some Magic Kingdom guests' best friend.
Ok, now on to the snacks!! Wow. I never knew there were so many choices! We have our family favorites, of course, including turkey legs (um, ok, not MY favorite, but my husband and daughters REALLY like them!), Mickey Ice Cream sandwiches and Itzakadoozies, but it appears that in all of my visits to the Magic Kingdom, I have not been paying close enough attention to all of the wonderful goodies hiding in the food kiosks that I always bypass, and the shelves at the back of the gift shops.
The food guide identifies both sweet and savory snacks that cost between $1 and $5 (although some cost more), offers advice on getting the best snacking bang for your buck, and reveals the availability of some snacks, toppings and add-ons that aren't on Disney menus, but that are available to those who know to ask. The guide also includes suggested themed Magic Kingdom "Snack Crawls" (most intriguing, the "Ice Cream Headache Crawl"), snack pairings (popcorn and an English Toffee Bar anyone?) and meals that can be made out of snacks (soft pretzel with Chicken and Wild Rice Soup from Sleepy Hollow).
The guide is organized by taste (savory, then sweet), with alphabetical listings for each snack (Baked Potato, Ball Park Chili Cheese Nachos, Breadsticks with Marinara Sauce, etc.), and there is an index that lists each snack by each Magic Kingdom "land," so that readers can easily locate that English Toffee Bar for the popcorn and Toffee Bar pairing at the Prairie Outpost and Supply in Frontierland.
Each snack has its own page, a description of the atmospherics, price and whether it is available as a snack credit on the dining plan. It is this feature that may end up being most useful for those guests on the Dining Plan. Have you ever been in the Magic Kingdom on the last day of your Disney World vacation with three snack credits left, and you are not sure how to use them? If you have loaded this mini-guide onto your smart phone, you will be able to find those snacks throughout the Kingdom that you can use your remaining credits on, and maybe even score a souvenir to take home with you (you know your co-worker will love those Mickey Mouse Coconut Patties!).
This is the first Disney Food Blog Mini-Guide, and Wolfe promises us that there will be more, including:
• The Epcot International Food and Wine Festival
• Dining Strategies for Specific Locations and Resorts
• Dining with Special Diets in Walt Disney World
• Dining in Disneyland
• Dining with Kids in Walt Disney World
My mouth is watering already!
To purchase the Disney Food Blog Mini-Guide to Magic Kingdom Snacks with a $2 Discount, use Code: ALLEARS
AJ has also recently published the Disney Food Blog Mini-Guide to the 2011 Epcot International Food & Wine Festival e-Book. We haven't done a formal review yet, but it looks to be another excellent comprehensive guide by the Disney Food Blog!
Click here to view more details $2 Discount, use Code: ALLEARS
DISCLOSURE: AllEars® received a complimentary review copy of the Magic Kingdom mini-guide. AllEars® is a member of the DFB affiliate program. This did not influence the review in any way by Alice McNutt Miller, an independent reviewer and guest blogger for AllEars®.
Alice McNutt Miller is a lifelong Disney fan whose fondest childhood memories include "The Wonderful World of Disney" on Sunday nights and her first trip to Disneyland when she was ten years old. Alice and her family are Disney Vacation Club members, and have visited Disney parks all over the world. They live in Vienna, Virginia.