The first event of Disneyland's Half Marathon Weekend each year is the Health and Fitness Expo, which takes place on Friday and Saturday. It's held at the Disneyland Hotel.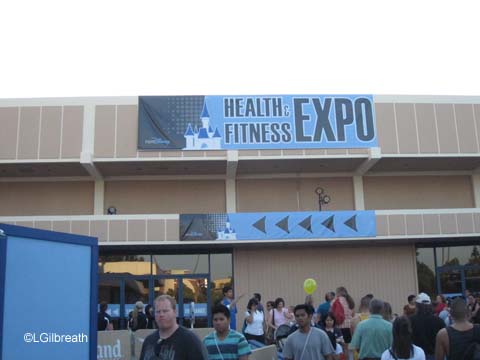 We actually pick up our registration packets downstairs, in what is usually a parking garage. I always get a kick out of the race track-striped carpet they use on the entry and exit ramps. 🙂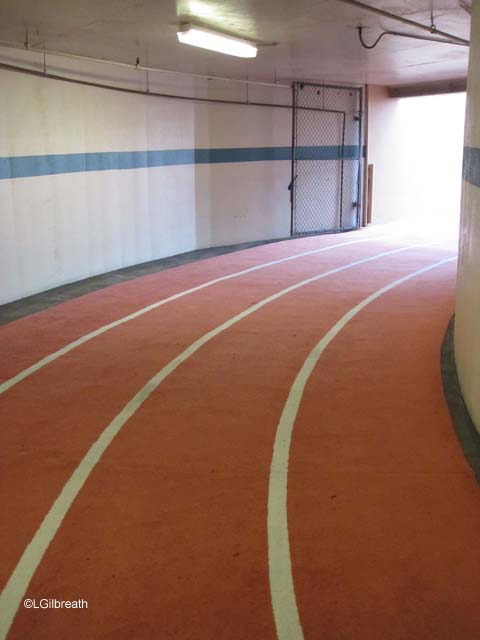 You can print your race waiver in advance at home, and it's a really, really good idea for you to do that – because otherwise this is the kind of line you face if you try to do it at the Expo! (This was the longest line we saw – everything else about the packet pick-up process was a walk-up.)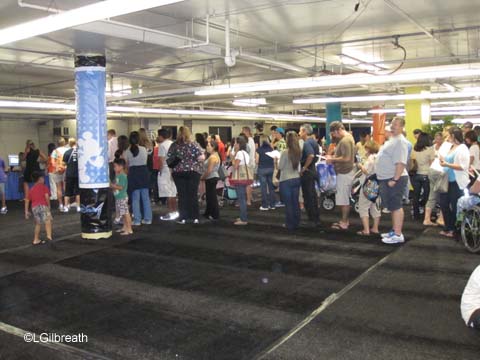 You also need to know your race number, because all of the packets are organized by race number and not last name. There were four separate pick-up areas – for the 5K, the Kids' Races, the Half Marathon, and the Coast-to-Coast Challenge. When I did Coast-to-Coast two years ago I had to check-in at two counters – it was nice to only have one this year. So I got my bib number and my Coast-to-Coast wristband all in one place this time. And I also had to pick up my 5K bib as well.
They had a few decorative things down there, but not as many as last year.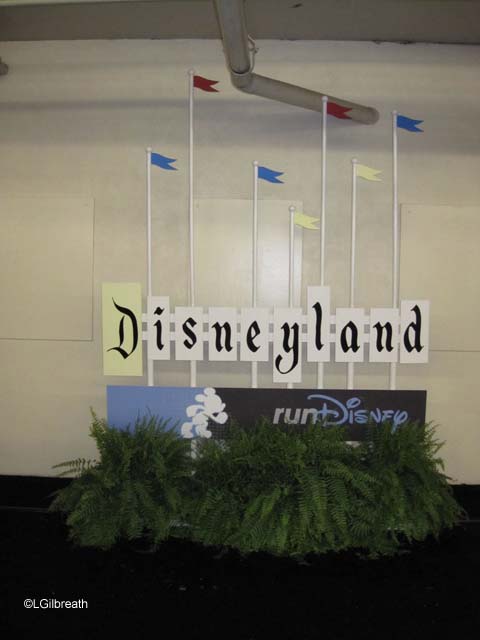 With all of the construction going on at the Disneyland Hotel it was a little harder to get around this year, but they had lots of signs and cast members out, and that helped.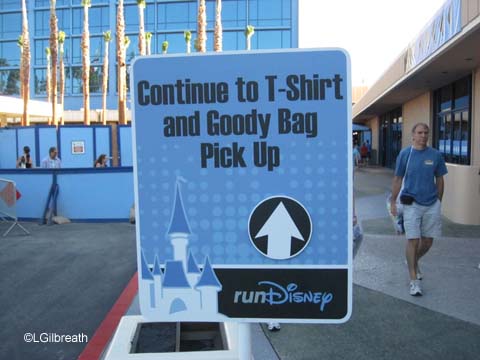 There were no lines for the t-shirt and goody bag pick-up. I like the Star Tours 5K shirt (it's cotton), but the half marathon tech shirt is black and heavy for a tech shirt. Not nearly as nice a design as last year's blue shirt. 🙁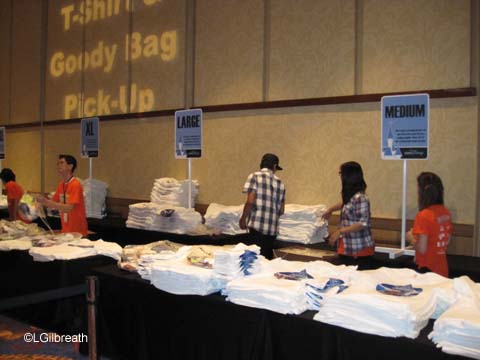 After we'd picked up our goody bags and shirts we wandered around the Expo floor. We chatted with one of the coaches from our West Coast Road Runners running group who was working in The Stick booth. (We have Sticks – we swear by Sticks!) The Expo wasn't really crowded (it was about 6:00 by then), but there were still lines for the freebies that were being given away at various booths. (The runDisney booth had some kind of Tinker Bell wand they were giving out that was quite popular.)
We checked out the official merchandise, too. They had a nice Coast-to-Coast Challenge t-shirt but we didn't buy anything.
For a change there wasn't a huge line for this photo opportunity, so we had someone take our photo.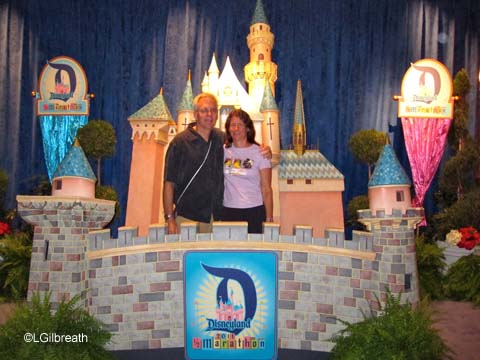 Having Expo'd it was time to head back to our room and unpack a little bit before going into the parks in search of dinner. Lee hadn't tried either of the new Paradise Pier restaurants in DCA yet, and we went to both. Starting at Paradise Garden Grill he got the Grilled Steak skewer (with all four sauces). He said the beef was really good. And he enjoyed the pilaf and the cucumber salad, too, because he cleaned his plate.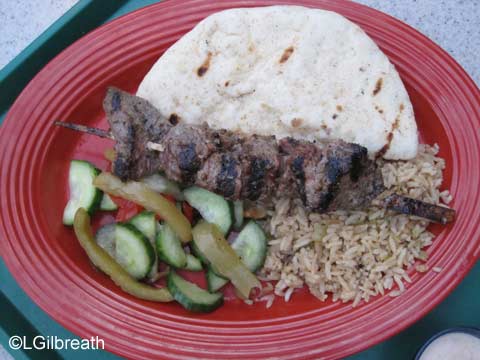 I tried the Greek Salad. I forgot to tell them dressing on the side, and there was little too much of the lemon-oregano vinaigrette – which was tasty, there was just too much for me. The salad was very good – lots of olives, cucumbers, onions, chopped tomato, and pepperoncini. And it came with a piece of pita bread, also. I'd get that again (dressing on the side, please!).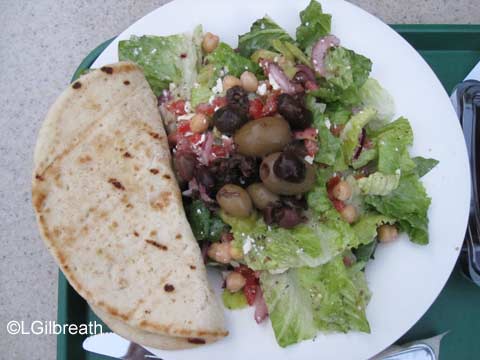 And I finally had the chance to try the baklava – the other two times I'd been here were for lunch, and they don't get their delivery that early. So was it worth the wait? No, not really. Sometimes baklava is too sweet – this wasn't sweet enough, and it was a little dry. It was a generous piece, though, and the nut filling was nicely spiced. I see the menu now has a new dessert that was not there a few weeks ago – a Chocolate Brownie and Strawberry Skewer – with caramel, chocolate sauce, and mini marshmallows. That sounds pretty good.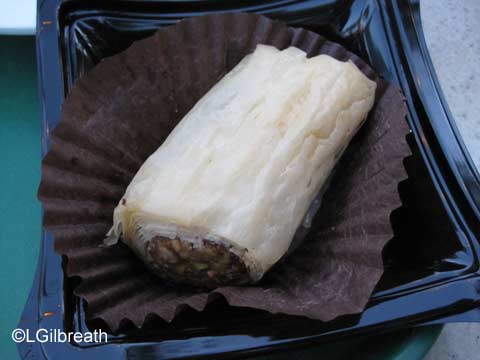 From Boardwalk Pizza & Pasta we tried the Four Cheese Ravioli. That was really good, though the first bite I had the pesto sauce seemed very salty. Once I had another bite with a bit less sauce it was delicious. I liked the pine nuts and chopped tomatoes on top, too.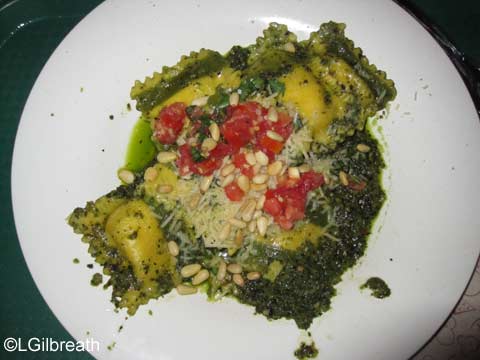 So this morning (Saturday) I had to get up early for the Star Tours Family Fun Run 5K. Though not AS early – it started at 6:45 instead of 6:00. (Lee got to sleep in.)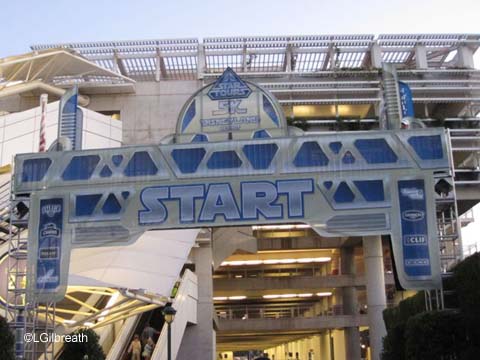 There were no corral assignments – we were supposed to group ourselves according to pace – Podracers for the under 8 min/mile pace, Air Speeder for 8-9, Speeder Biker for 9-10 and Landspeeder for 10+. Since I passed people who were walking within 10 steps of my crossing the start line, you can imagine how well that worked…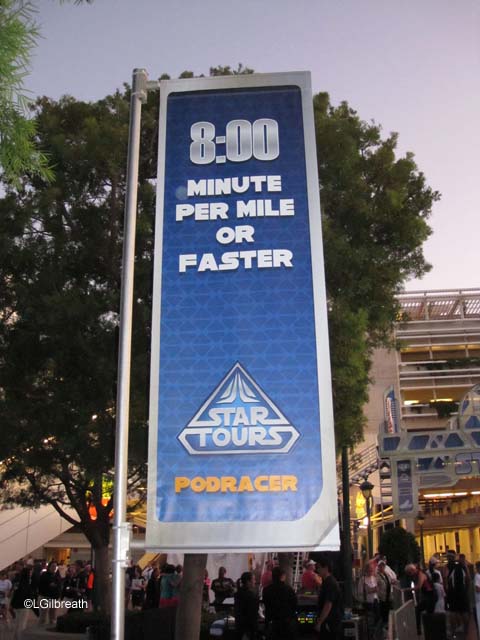 My fellow Team AllEars members Michelle Scribner-MacLean and Dave Dunkowski were waiting in the same area, too. You can see from behind them that we weren't crowded and packed in like sardines at all – it was very pleasant.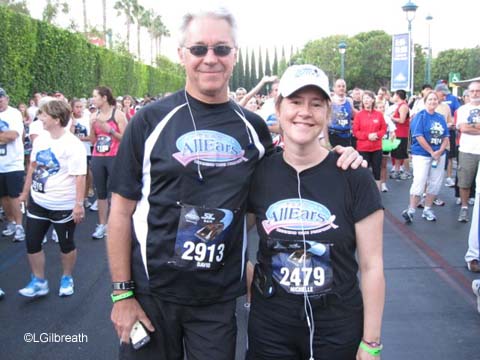 Before the race started we got a pre-show featuring several Jedi masters, Darth Vader and a couple of Storm Troopers, and even the voice of Yoda. Ok, so it was really mostly the soundtrack from Jedi Training Academy, but it was cute. Though I think the consensus among a lot of the adults was that they'd be happy to go over to the Dark Side if Vader was offering coffee…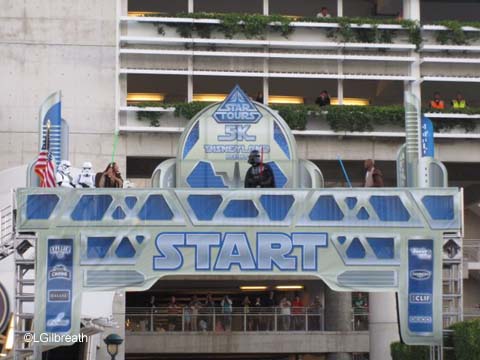 I found it interesting that the Star Spangled Banner was played on a trumpet instead of sung – he did a great job with it. And once he was done there was a shower of R2-D2 colored confetti (blue and white) and we were off!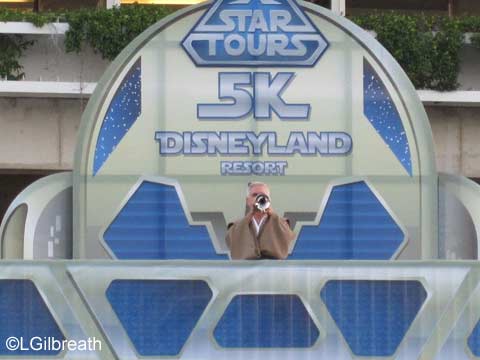 We started in the Mickey and Friends tram area, and followed the tram route a short distance before going backstage. Not much to see back there (and there were cast members asking that people not take photos), but pretty soon we came out next to Splash Mountain, and then past the Haunted Mansion to New Orleans Square. Where Tiana, Naveen, and Louis awaited us.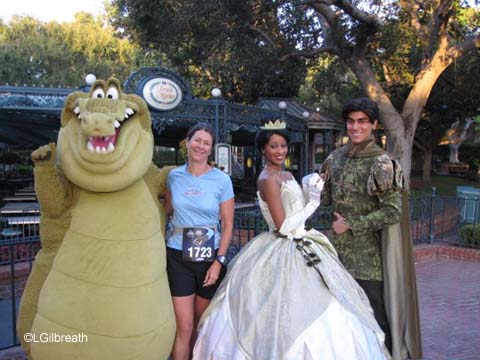 There were some scurvy pirates (and a saucy wench) outside the Pirates attraction.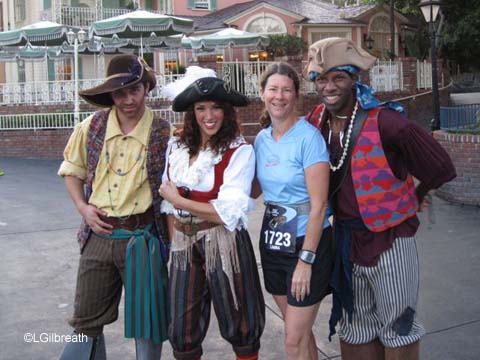 We ran past Thunder Mountain and Thunder Ranch, and took a left into a backstage area just before Fantasyland. We were in a tunnel, and we heard the distinctive sound of Vader breathing in the tunnel! And just after that was the 1 mile mark.
We came out near Princess Fantasy Fair and went into Toon Town, then backstage again for a bit before coming out the parade gate next to "it's a small world", then around the Matterhorn and into Tomorrowland, where the Storm Troopers are still looking for the Rebel Spy.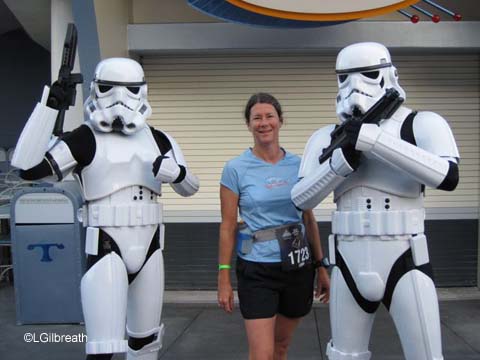 We didn't get to run through the Castle like we do for the Half Marathon, but we ran down Main Street. Chip and Dale were at Town Square – I told them I'd be running their race (the Chip and Dale Marathon Relay) in January.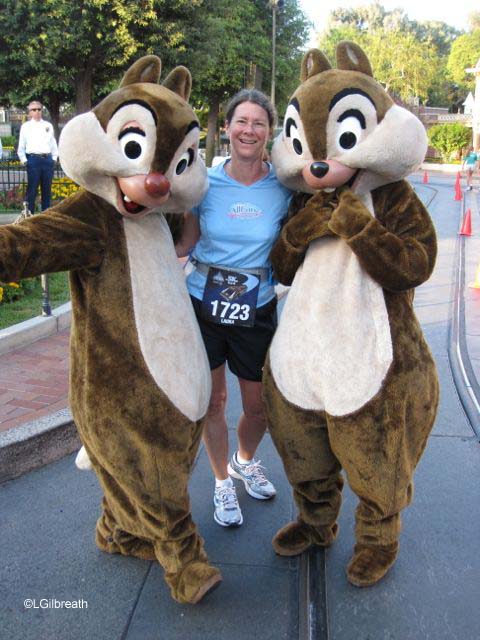 We went out the front gates of Disneyland and turned left, and ended up on the perimeter road that goes around the back of Disney California Adventure. Not much to see back there – a few glimpses into Cars Land, but nothing that I stopped for. The mile 2 mark was near the beginning of that section.
We came into Disney California Adventure at the parade gate next to Boardwalk Pizza and Pasta, and the Jedi Master was there at the Mile 3 sign – giving some runners a "Force push" if they needed it.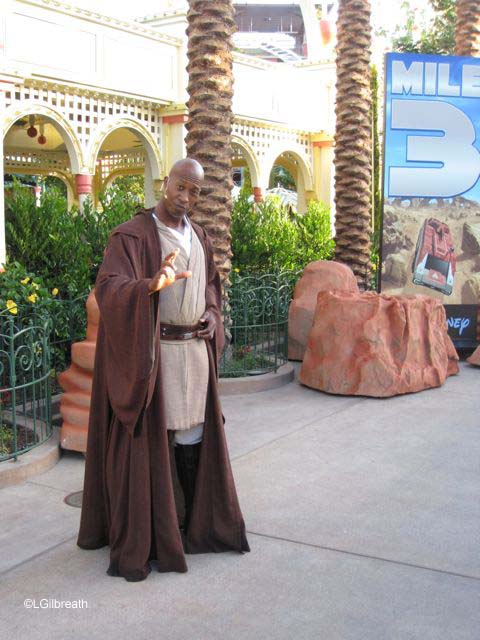 Mickey and Minnie were near the finish line!
I almost crossed the finish line (in front of the Little Mermaid building) before I realized I hadn't taken a picture of it, so I had to backtrack a few steps. The Jedi Master/race announcer at the finish didn't say anything, but he rolled his eyes. 🙂
My time was 34:49 for 3.1 miles – not bad considering the photo stops. I ran a little faster than I would have if it had been a longer race. The race medal isn't actually metal, it's plastic, but a nice design.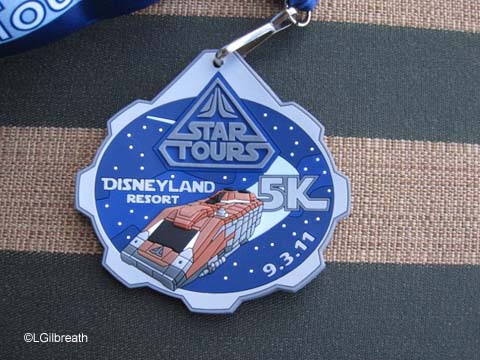 I was wondering how they were going to get everyone out of the park since it needed to be ready to open within less than two hours of the race finishing – they did that by not giving us anything to do. 🙂 From the finish near Little Mermaid they funneled us out to the area in front of Grizzly Rapids, which is where the refreshments were. There was no entertainment, so there was really nothing more to do except to walk out the gate into Downtown Disney.
I got back to our room and the race was still going on for another 40 minutes after that – we could see them near the Boardwalk Pizza & Pasta restaurant. I hadn't noticed that they had the World of Color fountains going when I finished!
I have to say that I really enjoyed the 5K. It's a much more civilized and pleasant experience! It didn't start so insanely early (6:45 instead of 6:00), and there were a lot fewer people (5,000 as opposed to 15,000), which made the course a lot less congested. The course was largely in the parks, which is always the most interesting part of any Disney race. It was definitely a family experience – I saw lots of families running it together, including some with some 6-7-year-olds (who were ahead of me!) And it was nice and short – 3.1 miles – and I was done and back in our room less than an hour after it started! It was a lot of fun – I'd do it again.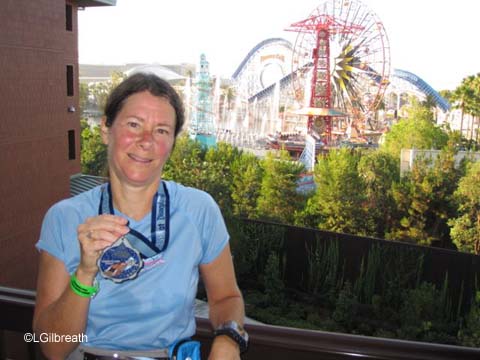 By the time you most of you read this we will be doing the half marathon – I will post a quick update here with our times after we finish, and a more detailed report Monday or Tuesday.
We're done – Lee finished in 2:16, and Kristine and I finished in 3:07:58 – I was very happy with that time. I feel great – actually less tired after walking 13.1 miles than I was after running 3.1 yesterday. Go figure. 🙂