Photography is a very creative endeavor, and the fun doesn't stop at taking the picture. With a little time on your hands and some photo processing software you can turn a basic photograph into a piece of art. For Pic of the Week this week Lisa, Scott and I will be sharing some of our own creations with you.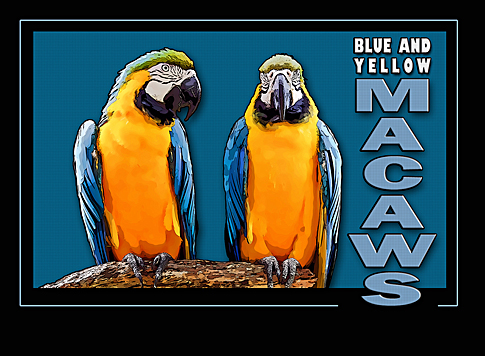 Copyright © 2007 Barrie Brewer, Nikon D300, Nikon 80-400mm f/4.5-5.6 ED AF VR, 1/60s shutter, f5.3, ISO 400
Here are two Blue and Yellow Macaws that I photographed at Disney's Animal Kingdom. I used a combination of Photoshop and Topaz software to manipulate the photo. If I could remember exactly what I did, I'd share the process with you. Truth is, I just keep clicking on buttons til I end up with something I like. It's easy and fun – just be sure to make a copy of your photo before you start messing with it.
If you click on the picture you'll see a larger version, which shows the detail of the design a little better. You can also click on that larger photo if you'd like to see a few of my other creations that started out as photographs. There are several from Walt Disney World and from an Adventures by Disney trip that I took in Europe. I always like looking at photo-art from other people so send me a link if you have some of your own to share!