by John Bowers
Guest Blogger
Tables in Wonderland hosted an "Illuminations Dessert Party" on Saturday, May 28, 2011 at Epcot. The cost was $50, which did not include park admission. However, if you arrived at Epcot at 7 p.m. or later, a Convention Guide was near Guest Relations to allow you into the park without purchasing a ticket.
The event was to have been held outdoors. There's a terraced area in front of the France pavilion, sort of beside the bridge that leads from France to England. But the concern over the possibility of rain moved the party indoors, into the American Adventure. It was held in the rotunda, where the Voices of Liberty group sings. That was a great place to have it. Air-conditioned, plenty of room, and you could take time to read all the inspirational notes that are on the walls, celebrating the American spirit of adventure and liberty. That space gives you a wonderful sense of patriotic pride, which is really nice.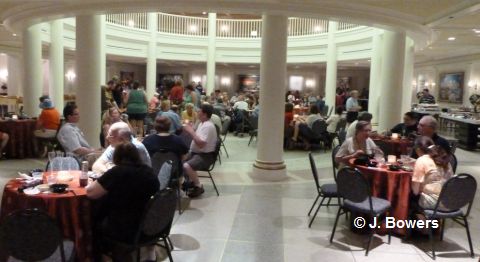 Here's the menu:
Mini Pastry Display Station
Pistachio Cannoli
Strawberry Rhubarb Tart
Kiwi Mandarin Orange Tart
Assorted Chocolate Truffles
Kid in You Station
Chocolate Fudge Brownie
Mickey Crispy Treats
Oreo Cheesecake Pushups
Chocolate Chip Cookies
Fire and Ice Action Station
Warm Apple Custard Crumble with Caramel Gelato
Tropical Fruit Crème Brulee with Rum Gelato
Beer, Wine, and Cordials
There were about 13 tables set up for eight people each. The dessert stations, plus the coffee and tea setups, and the champagne and beer/wine setups, were around the outside of the room, with the tables more or less in the middle.
All I can say is if you have a sweet tooth, this was pretty close to Heaven.
It was a 'help yourself and eat all you can' event. If you wanted to try everything, you had to only take a very small amount of each one, because there were so many different goodies. Everyone seemed to get full pretty quickly, probably since most of us had already dinner somewhere else.
The Disney pastry staff never fails to 'wow' you with their amazing creations. I especially enjoyed the Pistachio Cannolis, and the Apple Custard Crumble. I didn't get to try everything, but I heard several people swooning over the Oreo Cheesecake Pushups (in the photo below on the right). Now my stomach is growling as I'm typing.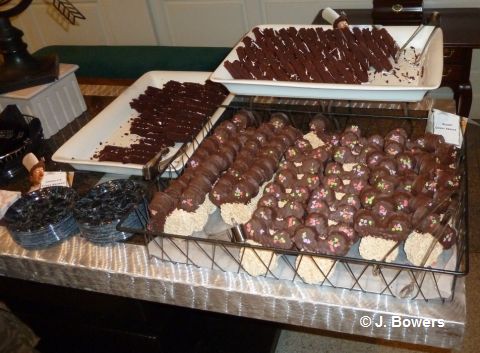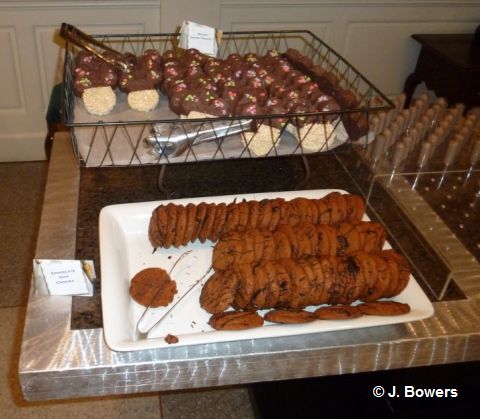 About 10 minutes before 9 p.m., we were led out to the area in front of Italy, which is similar to the terraced area near France. It extends out a little ways into the World Showcase Lagoon, and it had been roped off for our private group. We were able to get a 'front row' seat for the nightly spectacular 'IllumiNations: Reflections of Earth.'
Illuminations lasts about 15 minutes, so we were finished at 9:15.
Very nice party. Disney always seems to put quite a bit of thought and effort into these events. They often are not exactly inexpensive, but I very rarely feel like any of them are unreasonably priced, considering the number of people who show up and the quality of the food and drink. Whenever you talk to fellow attendees, everyone seems to being enjoying themselves. Disney consistently has a way of making you feel very special. If you've been to enough events, you know what I'm talking about.