by John Bowers
AllEars Guest Blogger
The Kidani Village is sort of 'off the beaten path' at Disney World. It doesn't have a
real big, real grand lobby like many of the other resort hotels do, which is probably
why it draws fewer people just wanting to sight-see, eat, and shop.
But it certainly has the Animal Kingdom feel to it, with a large outdoor area to watch the giraffes and all the other animals that roam freely. And Sanaa is a terrific place to dine for lunch and dinner, if you have a somewhat adventurous side to your palate. And if you're actually eager to try new things, you'll be starry-eyed.
I had dinner at Sanaa with a friend of mine a few nights ago. In restaurants like this, I think it's always fun to tell the server to make suggestions based on how adventurous you are. I sometimes just say "I don't care, surprise me. The weirder the better." Of course you're not going to get something Andrew Zimmern might eat on 'Bizarre Foods,' so there's not too much to really worry about. And it's only one meal, it's not like you're going to have to dine there for days on end. So taking a chance can be fun.
I was new to Sanaa, my friend had dined there on previous occasions. She led the way
ordering. We started with the bread selection. We had three flatbreads: Naan, Paneer Paratha and Papadum. To go along with the breads we had Roasted Red Bell Pepper Hummus, Tamarind Chutney and Cucumber Raita. Delicious, all of it. Don't overdose on the bread, though, because you get a lot of it.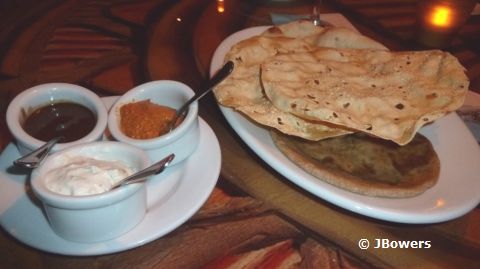 Our appetizer was the sampler for two, which included Potato and Pea Samosas, Pulled Duck with Red Curry Sauce, and Roasted Cauliflower. The cauliflower was tongue-tingling spicy.

For our wine selection, my friend pointed out the Spice Route Chakalaka from South Africa. It's a blend of about five red grapes, and it was sensational. Hearty and with plenty of spicy
flavors. $57, I think, on the wine list. It retails for about $20.
My friend had the Coconut-Curry Lamb and Spicy Durban Chicken with Basmati Rice. The coconut flavor was very faint, she would have liked a little more. I had the Shrimp with Green Curry Sauce and the Spicy Durban Shrimp. Being a Florida boy, I find it hard to pass up shrimp. And if I have a shrimp or two left over, I take it home to my four cats. Being Florida cats, they too find it hard to pass up shrimp.

For dessert we split a slice of Orange-Sesame Cake with Tropical Fruit Kulfi. Even two people on one piece of cake was tough, we had had so much food. It was fabulous.
I've been visiting Disney World since it opened in the fall of 1971. I was in high school in Jacksonville Beach at the time. Friends of mine and I would drive down to Orlando during the winter/spring of 1972. I think we even forced ourselves to miss school one day to drive down on a weekday.
There was only the Magic Kingdom at the time, of course. And trying to think back, I can recall that there was very little in the way of food variety. We'd get a cheeseburger and fries at the Tomorrowland Terrace for lunch. Dinner? We'd go back up I-4 and eat at the Red Lobster on Lee Road on the way home.
I could never imagine that almost 40 years later I would live in Orlando and be able to eat
the amazing variety of food that you can find now at Disney World. What a treat. Give Sanaa
a try if you have the chance. You only go around once, you know.