Guest Blogger Andrew Rossi returns with a review of Olivia's Cafe at Disney's Old Key West Resort.
When it comes to dining at Disney, the restaurants inside the theme parks tend to receive much of the attention. While there are certainly some dining locations at the resorts that are immensely popular, such as Ohana at the Polynesian, California Grill at the Contemporary, or Yachtsman Steakhouse at the Yacht Club, a good many resort restaurants tend to get overlooked. These are the restaurants that I like to call my "hidden gems" of Disney dining. While many guests will make reservations months in advance to get into the most popular restaurants inside the parks, there are numerous restaurants at the resorts that you can walk up to without a reservation and get seated right away.
While these resort dining locations may not be as well-known or as crowded as the restaurants inside the parks, that does not mean they are inferior or inadequate. On the contrary, I have been extremely pleased with my experiences at these lesser-known dining locations, all of which live up to the high standards you would expect from any Disney restaurant. If you are looking to get away from the crowds and escape the hustle and bustle of the theme parks to have a calm and relaxing meal, there are so many options waiting to be discovered at the various resorts. Olivia's Café at Disney's Old Key West Resort is one of these restaurants.
Overview:
Spread out amongst several of the holes of the Lake Buena Vista golf course, Disney's Old Key West Resort provides a quiet, relaxing, and care-free environment that can sometimes make you forget that you are even in Disney World. The widespread layout of the resort amongst a natural landscape littered with waterways, palm trees, and other natural vegetation gives it a very secluded, intimate feel and one that perfectly embodies the island paradise theme of the Florida Keys. Because of the nature of the resort's layout, it just does not feel as crowded as many of the other Disney resorts.
Located just across from the lobby and right by the main pool, Olivia's Café is a restaurant that ties in perfectly with the overall theme of the Old Key West Resort. With its beachside feel and nautical touches, it is almost as if this restaurant was lifted out of the real Key West and set right in the middle of the resort. Open for breakfast, lunch, and dinner, Olivia's is a great way to escape the crowds of the theme parks and enjoy a relaxing, laid-back meal.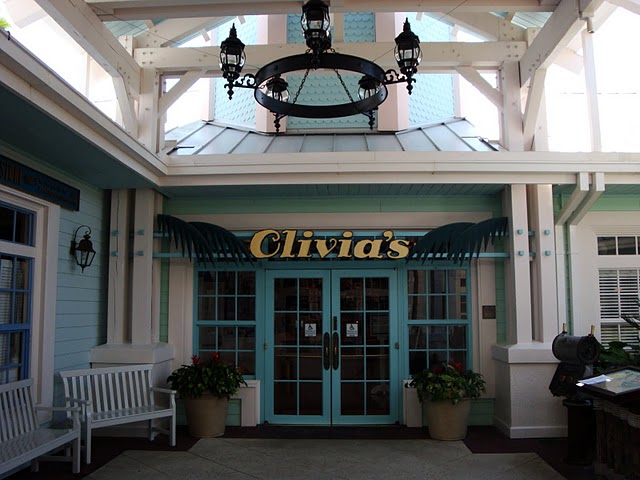 Atmosphere:
If you are looking for a casual, calm, and quiet meal then Olivia's Café is a great option. I arrived at the restaurant around noon with no reservation and was seated immediately. In fact, there were only three other tables with guests when I arrived and only two other parties were seated during the course of my meal. This makes Olivia's a great option if you have no reservations and are looking for somewhere to eat. It should be noted, however, when I inquired to my server about the relative emptiness of the restaurant she told me that it is generally more crowded for dinner than lunch and they do recommend making reservations ahead of time (but probably not as far in advance as with many of the more popular Disney restaurants).
The restaurant features both indoor and outdoor seating and has large windows offering beautiful views of the resort's marina just outside and let in plenty of sunlight, giving the dining room an open, airy feel.
Even though the restaurant is very casual and laid-back, its relatively small size gave it an intimate feel. It actually feels as though you are eating at some small, family-run restaurant rather than being at Disney World. Adding to this were several walls in the dining room that were crammed with photographs of Disney Vacation Club members and their families. This really helped to give the restaurant a more personal touch that you seldom find at many other Disney dining locations.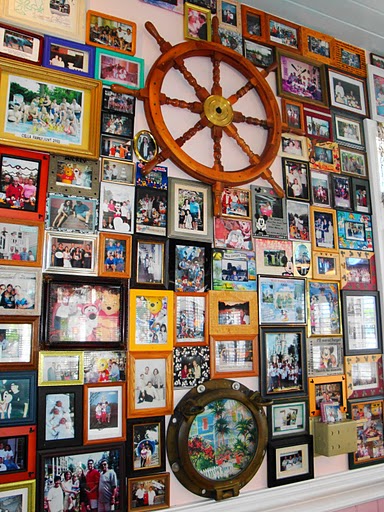 The main theme of Olivia's is vintage nautical, but it is by no means tacky or over-the-top. The restaurant's light pastel-colored walls and furniture give it a beachside feel in addition to many little details that help immerse you in this atmosphere. It is an atmosphere which is very authentic. Having vacationed in the Florida Keys before, Olivia's has the type of feel you would expect to find in a restaurant on the streets of Key West itself.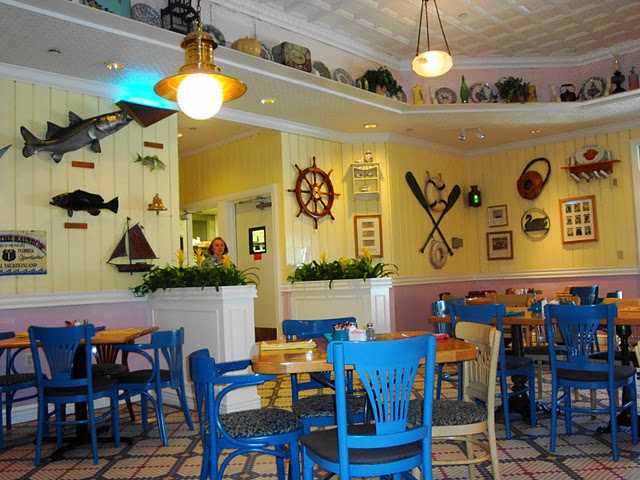 There are several large pieces that will quickly catch your attention as soon as you enter the main dining room and help establish the nautical theme of the restaurant, such as the large fish mounted on one of the walls, a vintage ship's wheel, oars, fishing nets, and model ships.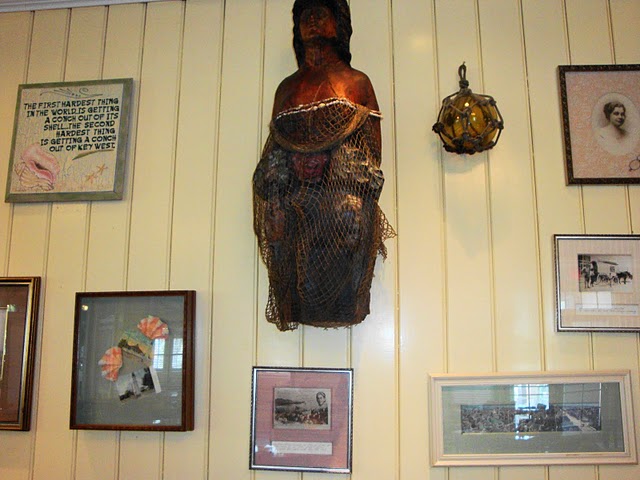 However, there are also many little touches to be found that help add extra detail. The walls of the restaurant are adorned with many old black and white photographs of Key West in addition to framed post cards that help add sense of history and nostalgia.
There are many additional touches that help give the restaurant a sense of being older than it actually is. From the vintage wicker fans slowly spinning overhead to the brass light fixtures, Olivia's atmosphere is a throwback to an earlier time (it is the "old" in Old Key West).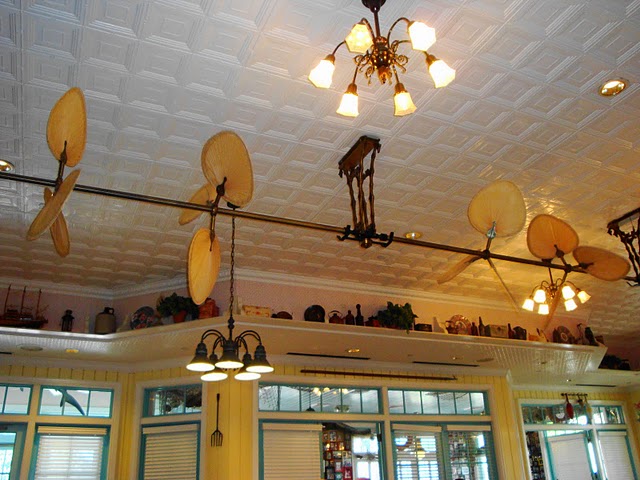 Along the top of the walls there is a shelf that runs around the perimeter of the dining room that houses numerous antique-looking items, such as copper tea kettles, bird cages, cookie jars, ceramic plates and vases, and various other knick knacks. All these little touches give you plenty to look at during the course of you meal and help immerse you into the restaurant's theme.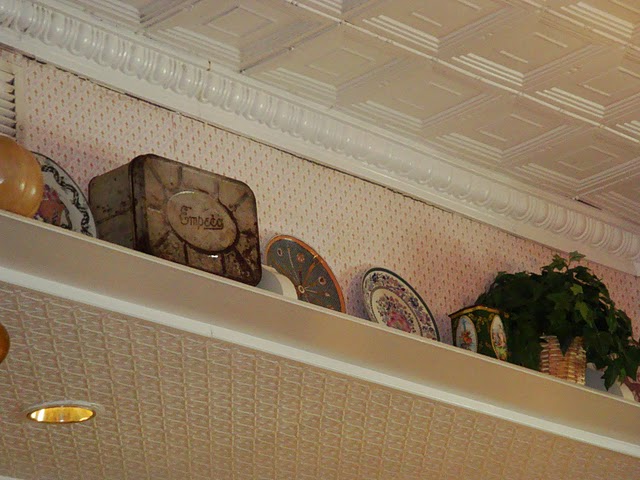 The Menu:
I was impressed by the wide selection of offerings available on Olivia's menu, featuring many tropical/island inspired dishes reminiscent of Key West, with seafood featured very prominently. To start, there are many tempting appetizers. With Key West being known as the Conch Republic, it comes as no surprise that Conch Fritters ($10.49) and Conch Chowder ($6.99) are both available. Other appetizer selections include Crab Cakes ($10.49) served with key lime mustard and papaya-ginger sauce, Grilled Mojito-Marinated Shrimp ($10.99) accompanied by Johnny cakes, Island BBQ Pork Ribs ($11.99), Onion Rings with Dips ($5.99), Mozzarella and Tomato Salad ($7.99) with a balsamic syrup, and Caesar Salad ($6.49).
For lunch, the entrée choices are primarily lighter fair and feature many different sandwiches. There is a Roast Beef and Blue Cheese Sandwich ($12.99) served with creamy horseradish, balsamic onions, and field greens, a Jamaican Jerk Chicken Sandwich ( $14.49) topped with grilled pineapple, a Cuban Sandwich ($11.49) featuring sliced pork loin, ham, Swiss cheese, dill pickles, mustard, and mayonnaise, an Angus Chuck Cheeseburger ($12.99), and a Turkey Club Sandwich ($11.99). Another option is the Soup and Half Sandwich Combo ($10.99) offering the choice of a Tuna Salad, Roast Beef and Blue, or Turkey Club sandwich with a cup other either Conch Chowder or the Soup of the Day.
If you are looking for something a little more than a sandwich, the lunch menu also includes Blackened Tuna ($19.99) served with fried yellow tomatoes, arugula, and roasted red peppers topped with an avocado ranch dressing. There is also Olivia's Marathon Shrimp Pasta ($17.99) with a sun dried tomato pesto and fresh herbs (you can also substitute chicken instead of shrimp for $15.99) as well as the Key West Salmon Salad ($16.49) with mixed greens, vine ripened tomatoes, applewood smoked bacon, cucumbers, and topped with a citrus vinaigrette.
The dinner menu is slightly different from lunch, and a little more pricey, with the sandwiches replaced by heartier offerings such as a Grilled Pork Chop ($21.99) with a chipotle barbecue sauce and accompanied by smoked cheddar grits. Other options include a Grilled New York Strip ($28.99) with mashed potatoes and a cabernet mushroom sauce, Marinated Chicken Breast ($17.99) with a mango glaze served with a warm potato salad, Slow-Roasted Prime Rib ($27.99), and Coconut-Encrusted Mahi Mahi ($21.99) topped with a spiced citrus glaze.
The dessert offerings are few and for the most part fairly standard, but still tempting nonetheless. The restaurant's specialty is the Key Lime Tart ($5.49) topped with a mango and raspberry sauce. There is also the Banana Bread Pudding Sundae ($6.49) served with a warm banana fosters topping, Chocolate Cake ($5.99) topped with a raspberry sauce, No Sugar Added Lemon Pound Cake ($5.49), and a New York Style Cheesecake ($5.49).
For my entrée I chose the Key West Burger ($13.49), which came topped with grilled shrimp, pepper jack cheese, and pico de gallo. This was unlike any other burger I have ever had anywhere and probably one of the best burgers I have tried in Disney World. What I enjoyed most about the burger was the tremendous combination of different flavors. Each of the toppings added their own distinct taste, but they all blended together extremely well. There was the spiciness of the pepper jack cheese, the light, refreshing taste of tomatoes and avocado in the pico de gallo, and a slight citrusy flavor to the grilled shrimp, but no one flavor really dominated or overpowered the others. If anything, I could have done with a little less avocado and a little more pepperjack cheese, just because I like my food to have a little more of a kick.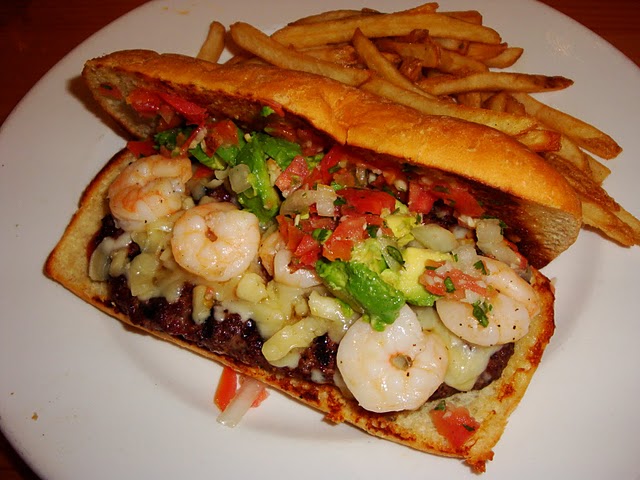 I was also very impressed by the portion size, not only of the burger but also the quantity of fries that came along with it, as well as the amount of shrimp that topped the burger.
For dessert I decided to try the Banana Bread Pudding Sundae. I absolutely love bread pudding and have tried it at many restaurants around Disney World. The bread pudding at Olivia's was certainly good, but not the best I have ever had. The bread pudding itself was served warm although I found it to be a little dry. The bread pudding was topped withy a banana fosters sauce that added some sweetness to the dessert but was by no means overpowering; I actually think that the dessert could have used a little more of this sauce. The bread pudding also came topped with a scoop of vanilla ice cream that provided a light and refreshing contrast and the slices of banana that surrounded it provided additional flavor and texture to the dessert.
Service:
One of the benefits of going to a restaurant that is not very crowded is that your server is able to pay a lot of attention to your table. My server only had one other table in addition to mine, which meant that she was able to provide very dedicated service. I found my server to be very friendly and pleasant, although not too conversational. She did, however, take time to explain several items on the menu in addition the describing the daily specials in detail.
I found the service to be very efficient. After ordering, my food came out quickly but I did not feel rushed at all. On the contrary, the meal really progressed at a calm and relaxing pace that matched the atmosphere of the restaurant. This is the benefit of dining at one of the lesser-known resort restaurants as opposed to the more crowded dining locations inside the parks.
Dining on a Budget:
Olivia's is a great dining option if you are looking for a nice sit-down meal at an affordable price. The prices are just a little more than what you would pay at a counter service restaurant in one of the parks and here you get to enjoy the calm, relaxing atmosphere in addition to larger portion sizes and higher quality meals than what you would find at a quick service location. One of the better values on the menu might be the Soup and Half Sandwich Combo for $10.99. All of the sandwiches are very reasonably priced, ranging from $11.99 to $14.49, and the portion sizes are generous. If you are looking to save even more money, consider ordering an appetizer as an entrée. The Crab Cakes, Conch Fritters, and Island BBQ Pork Ribs are all tempting options that when paired with a soup/salad or a dessert would make a nice meal at a very affordable price.
The Overall Experience:
I was pleasantly surprised by my dining experience at Olivia's Café. It is one of many restaurants found at the various Disney resorts that fly under the radar. These restaurants offer a great option if you are looking to try something different. One thing that you can expect from any Disney restaurant, regardless of whether it is in one of the parks or at one of the resorts, is that you will get tremendous quality in terms of atmosphere, food quality and taste, and service.
Olivia's may not be the best Disney restaurant that I have ever been too, but I thoroughly enjoyed my meal. The restaurant has everything you could possibly want, including a menu featuring several unique items, high quality and large portioned meals, in addition to a casual and laid back atmosphere that allows you to truly relax and enjoy your meal in a peaceful and un-crowded environment. If you are looking to escape from the hustle and bustle of the theme parks, definitely consider Olivia's or one of the numerous other lesser-known restaurants at the resorts. I often find these restaurants offer some of the best values for your money and overall provide very enjoyable dining experiences.
Check out Reader Reviews of Olivia's Cafe and post your own too!