by Lori Edelman
Guest Blogger
The Disney Dream definitely has comfy beds! We all slept very well awaking to the ship cruising into the bay at Nassau. We watched from our balcony as the ship very slowly turned 180 degrees to back into its parking spot at the dock. Pretty impressive. The ship turns on a dime.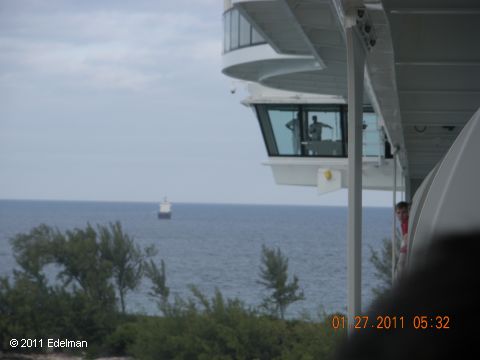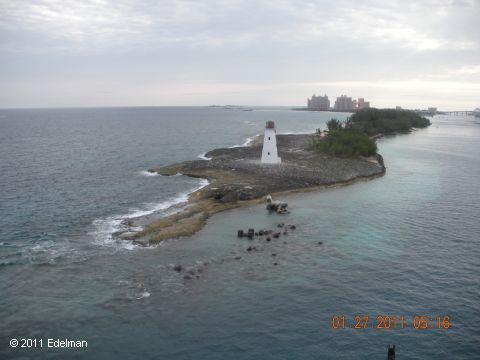 For breakfast we chose to go to the Royal Palace. We had a number of different choices on the menu. I chose a vegetarian omelette, Michael picked an "everything" omelette with a variety of meats, cheese, and veggies. Aaron had the express which consisted of eggs, hash browns, sausage, and bacon. Everything was delicious and served warm. A pet peeve that I've had on prior Disney cruises is that toast was almost always cold. Not a good way to start the day. I'm happy to report that they seemed to have figured it out!
After breakfast, Aaron and I made a bee-line for the Aqua Duck!!! It was a little chilly, but together we made our first trip down the slide! Great fun!!! We promptly got in line to ride again only to have the ride close down for about 15 minutes. It seems that some children do not weigh enough and end up getting stuck. It was kind of funny to watch the cast members walk through the tube to rescue the stranded riders.
We chose Cabanas for lunch. Once again, lots of yummy choices — shrimp with pico de gallo, sauteed green beans and carrots, fresh pizza, and more. 1:30pm was my appointed time to pick up my limited edition pins. This ended up being a very easy, well-organized process.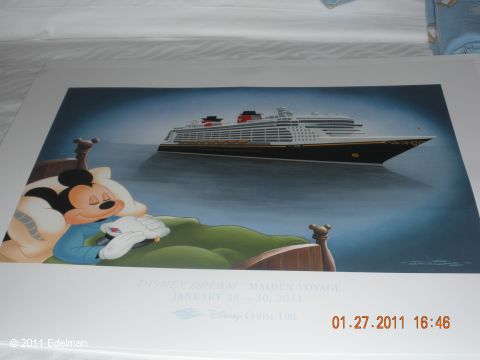 In the afternoon, Aaron took a nap while Michael and I headed to the Walt Disney Theater for a special presentation for Gold and Platinum Castaway Club members. (Gold = 5 to 10 cruises; platinum 11 and more cruises. We are Gold.) The presentation was by Tom Staggs, head of WDW Parks and Resorts. He talked a little about the building of the Disney Dream. We learned that the Sorcerer Mickey figure at the aft of the ship (that's the back) was originally sculpted in Glendale, CA and then was sent back and forth to Germany and Florida before finally being mounted on the ship. He'd traveled close to 15000 miles!
Next up, a very special treat for Michael and Aaron. They went to the spa for a shave and facial. Both loved the experience and both looked even more handsome to me! While they were being pampered, I decided it was high time I burned some calories. I headed to deck 4 and the jogging track. On the Disney Dream, 2-1/2 laps equals one mile. (Three laps make a mile on the Magic and Wonder.) I lost track of the number of laps I walked, but then I took to the stairs. Deck 4 to deck 11 is quite the workout!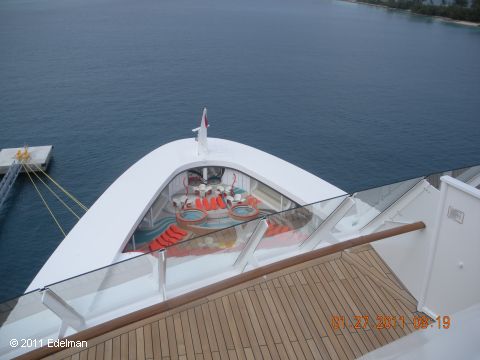 Sail-away from Nassau was about 6pm. Aaron and I watched from deck 13 as the Dream slowly and smoothly made its way out to sea.
We headed back to our stateroom to relax for a bit and to get ready for Pirate night! This evening's play, "Villains Tonight" was showing at 6:45pm. On the Disney Dream, the Walt Disney Theater has a balcony level. We decided to check it out and thoroughly enjoyed the view. Michael and I had seen the show once before. It is a fun story with great music, but probably not our favorite show.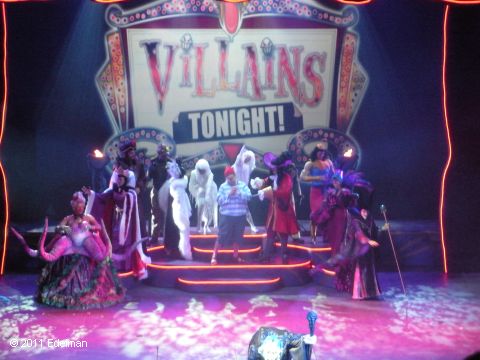 Between the show and dinner, we had about 30 minutes to wander around. It looked like more craziness in the shops! The shops on this ship are much larger than those on the Magic and Wonder carrying a much larger selection of items.
Dinner tonight for us was in the Royal Palace.
As we waited for the doors to open, we were joined by our AllEars friends, Deb and Linda. Their table-mates were in Remy so they invited us to join them. It was great fun to get better acquainted. The menu tonight was good, but mostly nothing that we had not seen before. During our appetizer course, our head server, Mario, found us with a special delivery: a huge bowl of coconut shrimp! Yum!
As you might guess, this elegant restaurant gives nods to several of our favorite princesses. On the backs of the chairs you will find a variety of symbols like an apple (Snow White), a rose (Belle), a glass slipper (Cinderella), and a pumpkin carriage (Cinderella – two nods!). We get to eat in this same location again tomorrow night for the optional dress-up evening. I'll try to spot more special Disney details to share with you.
Dinner ran a bit long. Aaron and I scooted out quickly to head up to deck 12 to watch the fireworks! Second time in one day I ran 8 decks worth of stairs. Yowee. Great display followed by a play featuring none other than Jack Sparrow!
After all of that excitement, we managed to hook up with Michael. He and I made our way to Meridian, the new cigar bar located in the area between Remy and Palo. Elegant and quiet. Michael enjoyed a cigar as we both savored generous shots of Patron Anejo. What a lovely way to end the day.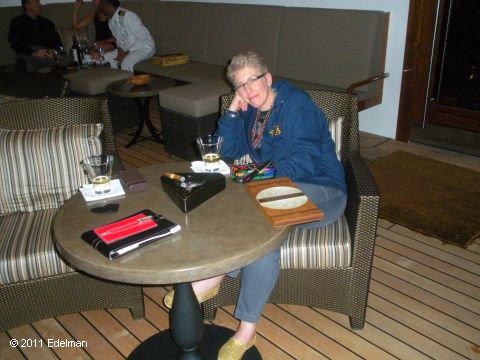 Tomorrow: day at sea!