by Lori Edelman
Guest Blogger
And, what a day it turned out to be!
First thing, we slept in. Before we realized it, the time was nearly 9:30! We quickly got dressed and headed to the Enchanted Garden for breakfast. This restaurant features a delicious buffet with all of the offerings you would expect.
Next up, Aaron and I again headed for the Aqua Duck. We got in one quick ride before the BIG highlight of the day. We had been sailing towards Castaway Cay and guess what we found there? The Disney Magic! Captain Tom pulled close enough for us to have a great photo op and then came the real treat. Horns. Both ships addressed one another multiple times. The Disney Dream sounded all of its tones: "When You Wish Upon A Star", "A Dream is a Wish Your Heart Makes", "Be Our Guest", "Bibbidy-Boppidy-Boo", "It's a Small World", and "A Pirate's Life for Me"! Wow. Tears, of course, welled up in me. I'm just too darn sentimental.
Next up: christening of the Aqua Duck! Cast members had two containers filled with water previously gathered from the two Walt Disney World water parks — Typhoon Lagoon and Blizzard Beach. They poured the water from the two bottles into the Aqua Duck water. Then, the real highlight of the christening: Donald Duck! Donald rode the ride named in his honor. Great fun.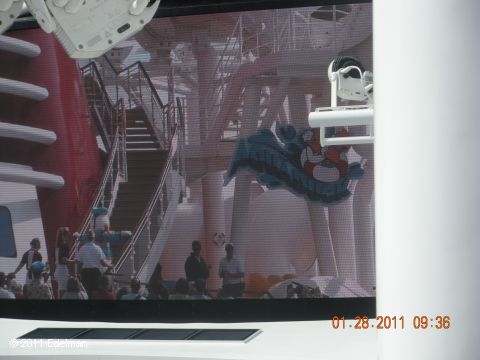 The three of us had lunch on deck at Fillmore's, Luigi's Pizza, and Tow Mater's Grill. Pizza, burgers and fries, chicken tenders, and some healthier selections like salads, fruits, and wraps. For "fast food", everything we tried was delicious!
After lunch, even though it was chilly outside, Michael made a quick trip back to the room to change into his swimsuit. Then, he and I took a turn on the Aqua Duck! Fast and cold! The second we got off, we grabbed towels and headed back to the stateroom for warm showers. To further warm up we went to Cove Cafe for some coffee drinks and Internet time.
Before we knew it we had to get ready for the play and dinner. Tonight was an optional dress-up evening. Prior to the theater, we wandered into the shops and Michael bought me some very beautiful Mickey earrings. I am a lucky girl indeed.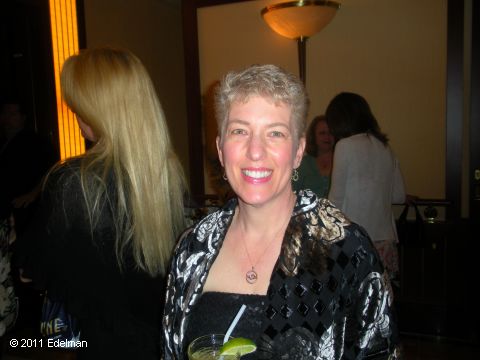 The show tonight was the Golden Mickeys. We have all seen it before, but I felt especially moved by the music this time. At the end of the Snow White scene, Dopey and Snow White were joined on stage by some children from the audience who were dressed up as dwarfs. Precious! I always enjoy the Tarzan segment. He is very easy on the eyes not to mention the amazing Cirque du Soleil-like moves on a single rope. A few changes/additions to the show that we noticed — a scene and song from Tangled, Bob Iger replaced Roy Disney in the beginning sequence with Ensign Benson, and the girl that voices Tiana from the Princess and the Frog (sorry, don't recall her name) has replaced Angela Lansbury, the voice of Mrs. Potts from Beauty and the Beast.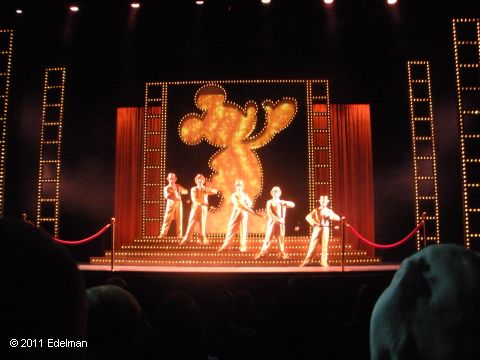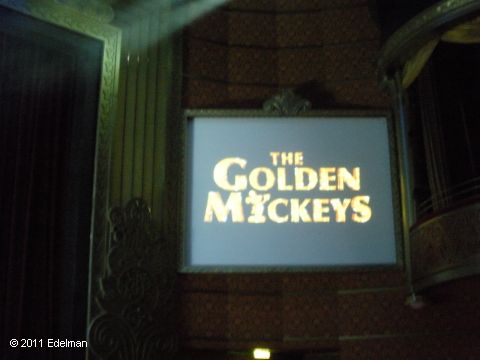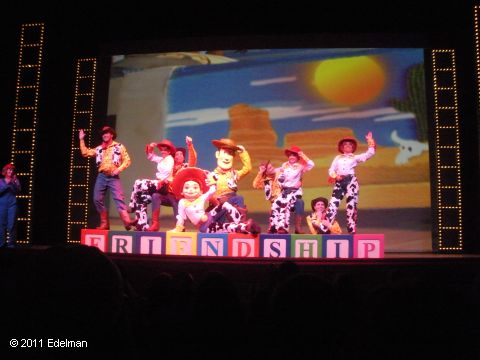 As I said, the music and story were both wonderful and very moving. Yes, tears were streaming down my face through most of the play. I can hardly wait to see it again one day.
Dinner for us was once again in the Royal Palace. This time we returned to our assigned table with our new friends from Seattle. And, we had the opportunity to get a little better acquainted with our servers. Arvan is from Mauritius, an island near Madagascar. Soft spoken, pleasant, and very attentive. Somehow we got lucky enough to have two assistant servers. Annaya is from Brazil and Izabella is from Poland. Like Arvan, both have been delightful providing excellent service.
Our meal tonight had a French flair. We enjoyed favorites like escargot, French onion soup, steak and lobster. For dessert, I chose the creme brûlée in honor of my friend Jim. Actually, I had very little of the custard, but I ate all of the delicious crust on top!
After dinner, Aaron decided to go back to the stateroom to relax and watch some movies on tv. Michael and I headed to the District, the area on the Dream where you will find most all of the nightlife. We met up with our AllEars friends, Deb and Linda, in Pink. This lounge had a bubbly champagne theme featuring a variety of champagne cocktails as well as a full bar. And, of course, the decor is all soft shades of pink. (Anyone really surprised to find me here?)
In addition to Deb and Linda, we made some new friends — Dotti, Donna, Carol, and Jo. Some of these gals have been contributing to the success of AllEars for years and years. For me, it was quite a thrill to finally put faces to names. We had such fun joking, sharing stories, and laughing. We closed down Pink at about 1am!