In case you didn't know, Star Wars Celebration V (the official Lucasfilm fan convention) was held August 12-15 in Orlando. That means thousands of Star Wars fans came to Central Florida for the convention and to celebrate all things Star Wars. As a tie-in to the Star Wars Celebration V convention, Walt Disney World hosted the "Last Tour To Endor" special event at Hollywood Studios, Saturday, August 14. This was a special admission ($75.00), after hours event; Hollywood Studios closed at 7 PM for regular guests. This event ran from 8 PM till 1 AM. However, the special event ticket did allow you to enter Hollywood Studios starting at 4 PM.
Here's what Disney had to say about this event: "You can 'be the first to be among the last' passengers aboard Star Tours before the famed attraction "powers down" to make way for its new "reimagining" in 2011. Star Wars fans of all ages will have the chance to experience the power of the Force and the magic of Disney combining for one special night. And it's all designed for guests attending Star Wars Celebration V."
Here's what the schedule of events for the night looked like:
– Bespin Stage Dance Party (Sorcerer Hat) 8:00 PM – 1:00 PM
– Hyperspace Hoopla (Sorcerer Hat) 11:15 PM
– Death Star Disco (Playhouse Disney) 8:00 PM – 1:00 PM
– Jedi Training Academy (Star Tours stage) Various times throughout the evening
– Character Appearances (Playhouse Disney) 8:00 PM – 1:00 PM
– Special Event Merchandise (Tatooine Traders) 8:00 PM – 1:00 PM
– Symphony in the Stars Fireworks Spectacular (Over Sorcerer Hat) Midnight
– Raiders of the Lost Jedi Temple of Doom: A Fan Film of Epic Proportions (Indiana Jones Stunt Spectacular) 8:20 PM, 9:50 PM and 12:15 PM
In addition, the following attractions were up and running: The Great Movie Ride, The American Idol Experience, Star Tours, Muppet Vision 3-D and Toy Story Midway Mania.
I arrived at Hollywood Studios around 7 PM. Guests with event tickets had to enter through special designated turnstiles and were given wristbands to wear and a special brochure with the schedule of events, locations and times. After 7 PM only guests with the wristbands were allowed on any of the attractions.
I'm not good at estimating crowds, but I do know that this event was extremely well attended. The park had the feel of a regular nighttime crowd.
There was a large sign outside of the main entrance to Hollywood Studios promoting the event.
Here's what the special brochure looked like: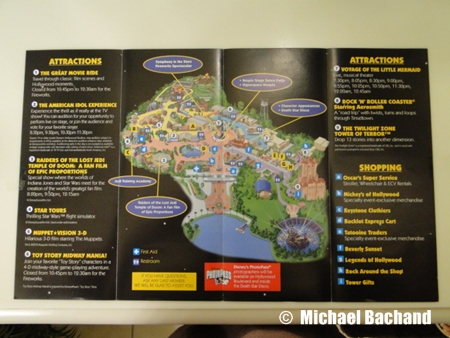 The first thing I did was head over to Star Tours for my final ride. I wanted to get my ride in before the line got too long.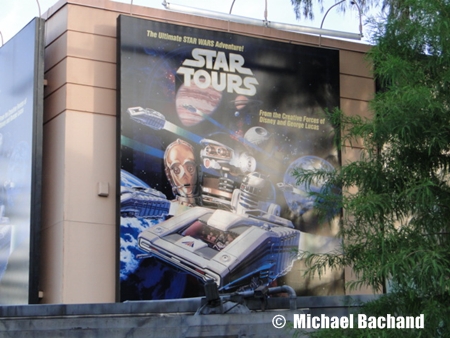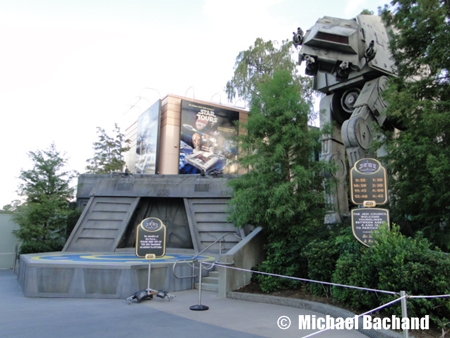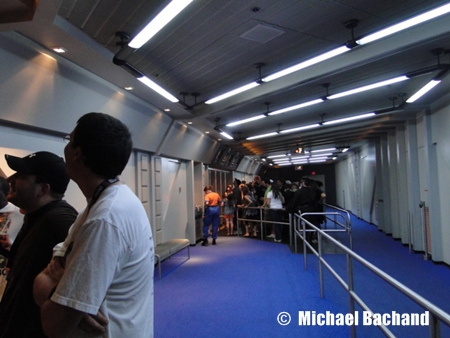 Special event merchandise was on sale at Tatooine Traders (located near the exit to the Star Tours attraction). All evening long there was a line to get into this shop. It was mobbed with Star Wars fans looking for Last Tour to Endor T-shirts and other event collectibles.
R2D2 had his Mickey Ears on and was interviewed for the Disney Blog.
Between shows on the Sorcerer's Hat stage, Snig and Oopla ran Star Wars trivia contests. Prizes included Star Wars action figures.
The Bespin Stage Dance Party was a hoot. The DJ, who I thought was terrific, had everyone in a party mode. Lots of folks knew the dance moves, but for those who didn't he taught them. It was a very hot and humid night, and lots of people were in costume, but that didn't stop anyone from dancing and having a good time.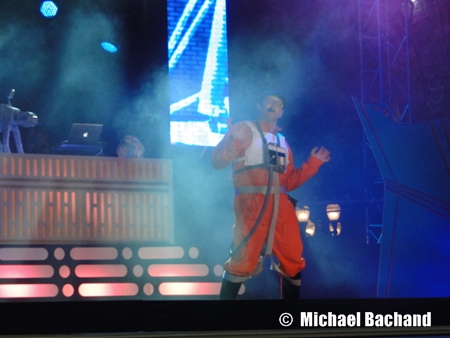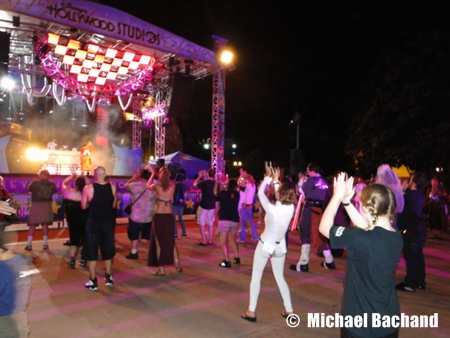 Over at Playhouse Mickey was the Death Star Disco. This event was mainly for children. Here you could see all your favorite Disney characters dressed in their Star Wars costumes. Children of all ages were dancing with the characters as well as getting autographs.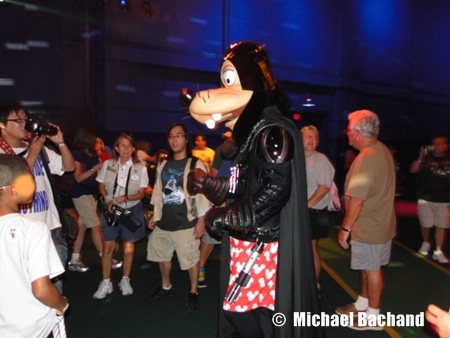 The Jedi Training Academy is popular every day, but getting Jedi training on this night was very special for the boys and girls.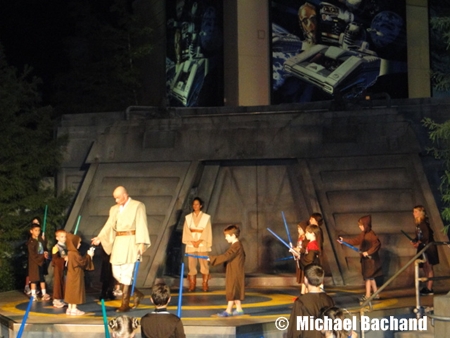 As with the Star Wars weekends, there were lots of fans walking the streets of Hollywood Studios in costume. Here's a sampling of some of the costumes. (Note: there's a couple of "professionals" mixed in.)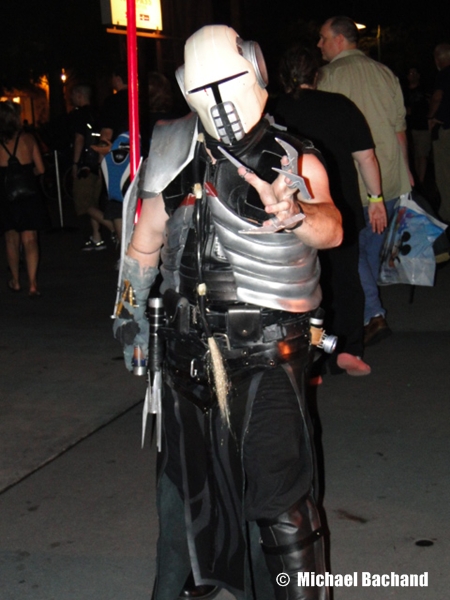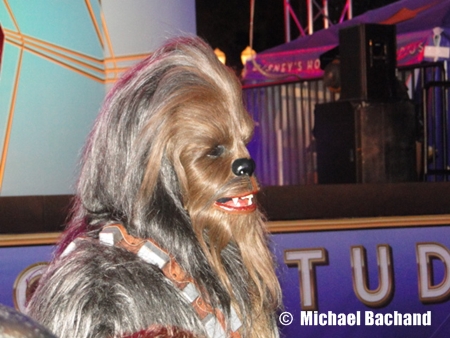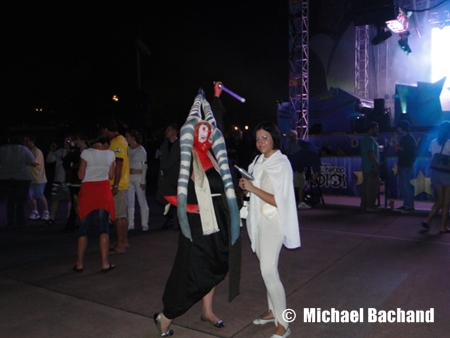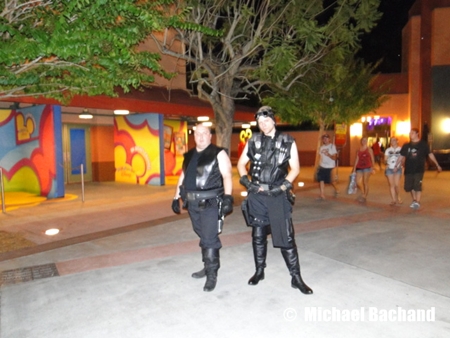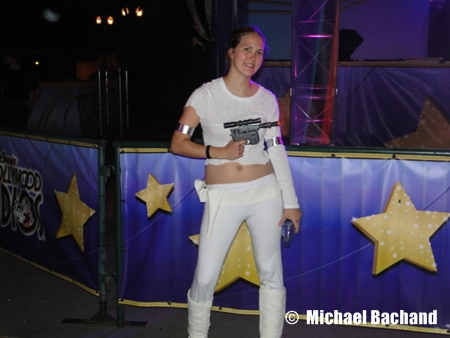 The Hyperspace Hoopla, with Snig and Oopla was a fan favorite! Here's both pictures and a couple of videos for you to enjoy: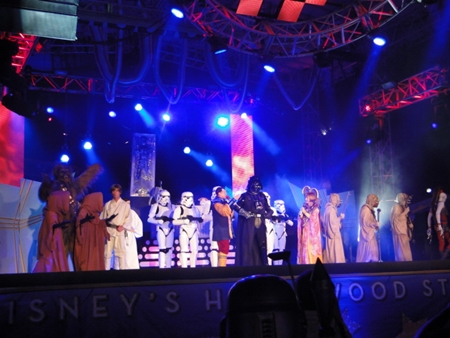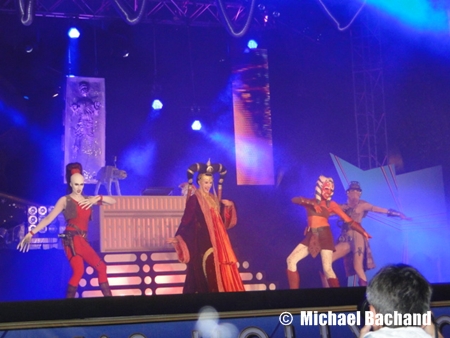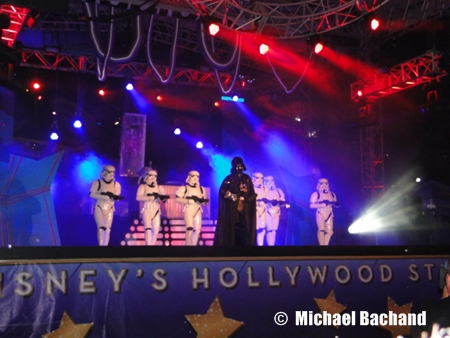 The "Raiders of the Lost Jedi Temple of Doom: A Fan Film of Epic Proportions" was billed as "a special show where the worlds of Indiana Jones and Star Wars meet for the creation of the world's greatest fan film". I wasn't quite sure how this would work, but it did. It was pretty funny; lots of humor and had the added touch of some real live Star Wars actors and actresses being included in the show.
Here's some videos of this show:
The night concluded with the Symphony in the Stars Fireworks Spectacular. As with all the Disney fireworks these were fantastic! Here's a video showing part (not all) of the fireworks display:
Well I hope you enjoy this review. Leave me a comment and let me know what you think.
I had a great time and although I'm a big fan of the Star Tours attraction I can't wait for the "new" Star Tours to open next year. In case you missed it, here's a link to the new Star Tours video: New Star Tours Video.
Finally, be one of the first people to hear when my newest blogs go live on AllEars.net by joining "DisneyMike's World" Facebook group.
Well, that's all for now. As my good friend says, "see ya real soon"…DizneyMike
Hey, see this little green button? Well, it allows you to share this blog with your family and friends quite easily. Give it a try; it's pretty neat!