by Alice McNutt Miller
Pre-Cruise Planning, Bath and Day 1 At Sea
Well, I can't believe that we are finally on our 12 Night Northern Capitals Disney Cruise! I booked the cruise over a year and a half ago, on the first day that reservations were made available for Disney's current 2010 summer European cruises. It has been a year and a half of planning, research, making reservations, and putting together "The Spreadsheet." After the long wait for Disney to announce the shore excursions it would be offering, we had to decide whether to do any of those or whether to "DIY" ("do it yourself") it in each port. We decided at first to DIY almost all of the ports, but I changed my mind going forward, and ended up signing us up for excursions in most of the ports. Disney excursions or private excursions in St. Petersburg? Disney for that city. Too difficult otherwise. Palo reservations? Yes. Spa reservations? Maybe. London beforehand? Yes, but let's go to Bath, since we have never been there. London afterwards? Yes, don't want to worry about being late for catching that flight home. Whew!
Our departure day, Friday, July 2 arrived. Cat sitter and lawn mower adequately briefed, we headed for the airport. We had an uneventful flight, and arrived in London at about 6:00 a.m. After passing through immigration and customs, and retrieving our luggage, the first bit of my careful planning fell apart, and I discovered the magical art of "rolling with it." The bus that I had hoped to take (but did not prebook in case our flight was late) from London Heathrow to Bath was full. And so were the rest of them until late that afternoon. The kids looked exhausted. Argghhh! The nice lady at the information desk told me that we could take a bus/train combination instead, but that it would be more expensive, and that the bus would be leaving in five minutes. Sold! Off we went.
We arrived at the central train station in Bath about an hour and a half later, and took a taxi to our B&B, the Apsley House Hotel.
The hotel is in a house that was once owed by the Duke of Wellington, and rumor has it that he had it built for his mistress. Mistress or not, the house was lovely. Our room was not ready, so we walked back into Central Bath, stopping for a few minutes at a fantastic playground on the way (our kids are 13 and 15, but they still can't pass up a cool playground).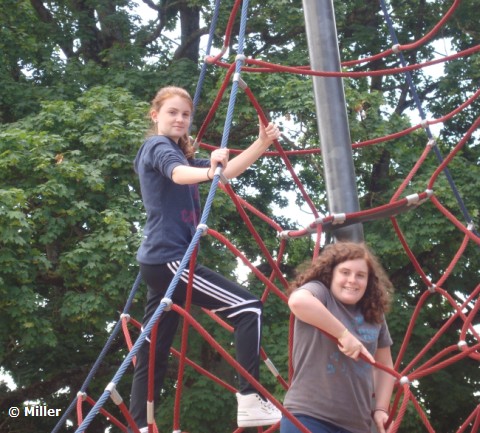 We walked past the Royal Crescent and stopped for lunch (unfortunately the worst meal that we had on the trip, but at least we got it over with early!). After lunch, we toured the Roman Baths for which Bath is named.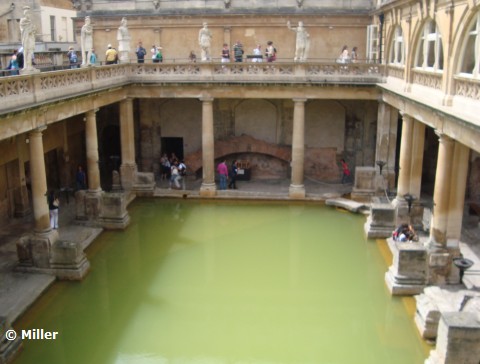 We then took a taxi back to our hotel and took a two hour power nap, followed by dinner at a nearby pub and an early bed time.
The next day we took an organized tour to the villages of Castle Combe and Lacock and to Stonehenge. Castle Combe was a beautiful, tiny village where scenes from the original "Dr. Dolittle" (the one with Rex Harrison, not the one with Eddie Murphy) were filmed.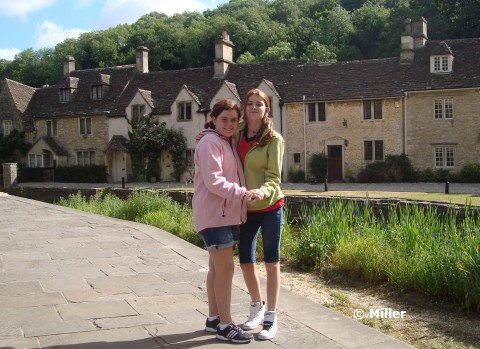 We then went to Lacock, another English Heritage village, where scenes from several of the Harry Potter movies, and from "Sense and Sensibility" were filmed.
After lunch in a pub in Lacock, we drove on to the Avebury Stone Circle and to Stonehenge, both prehistoric sites involving large stones, but one much more popular than the other. I have to say that we all really enjoyed both sites, but we did feel something very special at Avebury.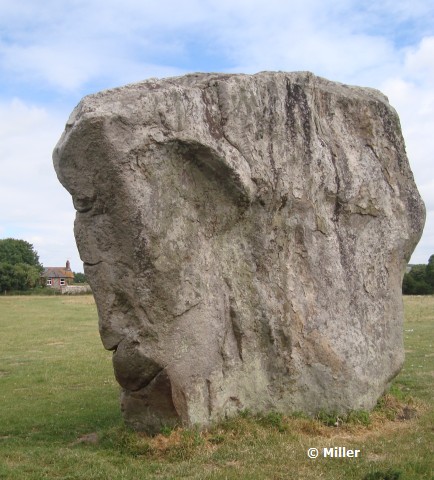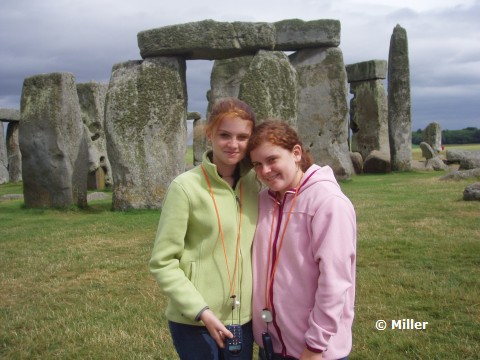 That evening, we walked back into Bath and had dinner at Jamie's Italian, a restaurant chain owned by British star chef, Jamie Oliver. It was fantastic, and I highly recommend it to anyone traveling to Bath.
The next morning, after a lovely breakfast at the hotel, we took a taxi to the train station, and took a train into London. After checking in to our hotel there, we had lunch in a pub and went to the Museum of Natural History. VERY cool building, oh, and the dinosaurs were pretty neat, too. We even saw a Hidden Mickey!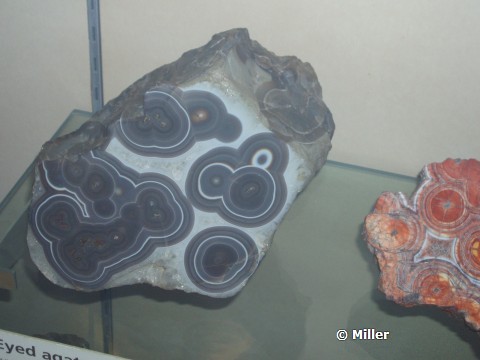 We then went to Harrod's Food Halls, to pick up food for a picnic dinner, which we had in the small courtyard behind our hotel.
Then it was time for our surprise. I had bought tickets to see the musical, "Wicked," and did not tell the girls. They were thrilled once we figured out what we were doing.
We had a Small World Moment at the show. Claire thought that she saw a girl that she had met on a Disney message board before the cruise in the crowd, and sure enough, it was her and her family. (See, I've told you that this happens to us all the time!) What a fantastic show!
The next day, we caught a cab from our hotel to St. Pancras (the girls kept referring to it as St. Pancreas) Station, and took a brand new high speed train to Dover. We were there in about an hour. At the Dover station, another cab delivered us to the pier, and to the Magic!
We were so excited, but it was a bit early to get on the ship yet, and it had arrived late that morning, so we decided to go back into Dover to do some more sightseeing. We took a bus to Dover Castle, and had a great visit. It was beautiful, and had been recently enhanced with some interactive stuff for the guests.
We finally went back to the pier and boarded the ship. Because we arrived so late, there were really no lines, and the process went very smoothly.
We went to our stateroom, where someone had left us a gift (I wonder who thought of that!?).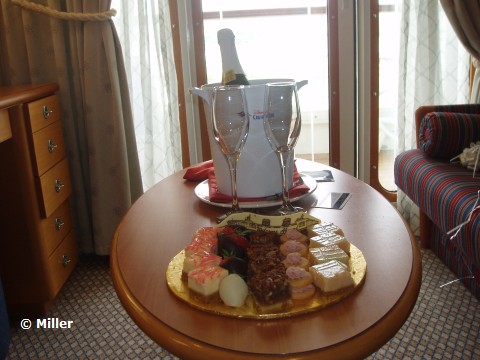 Then there was obligatory lifeboat drill (along with the obligatory silly life jacket photo).
We then went to the "Adventures Away" sail away dance party at Goofy's pool. It was a great way to start the cruise!
That evening, we had dinner in Animator's Palate, and met our tablemates, two moms and their daughters (conveniently close in age to Sophia and Claire). After dinner, all of the kids ran off to their various clubs (a pattern that repeated itself each successive night), and Rob and I went to the "All Aboard: Let the Magic Begin" show, and to the Match Your Mate show. Both were good, and really got us in the mood for the rest of the cruise.