The Walt Disney Family Museum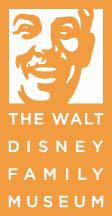 Walt Disney's Peter Pan
to be Showcased in a Special Exhibit at
The Walt Disney Family Museum
Now – June 27, 2010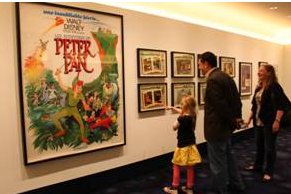 Peter Pan, a story which captivated the imagination of Walt Disney as early as 1935, will be showcased in a special exhibition at The Walt Disney Family Museum now – June 27, 2010. The feature-length animated film, released in 1953, will also be celebrated as the Museum's film of the month in May.
Highlights of the exhibition include 16 original concept drawings by renowned Disney artist Mary Blair, which were loaned to the Museum by the Walt Disney Animation Studios Research Library. Also on display are 1930s character sketches, storyboard outlines, original concept art, model sheets, and vintage posters from the collection of the Walt Disney Family Foundation. This stunning collection of works, combined with special artifacts and Mary Blair's concept art, reveals the evolution and results of the 1953 film. This project was also the last in which all members of Disney's illustrious Nine Old Men worked together as directing animators.
A first edition copy of the play by J.M. Barrie's Peter Pan, or The Boy Who Wouldn't Grow Up, is displayed alongside a "final treatment" of the Disney film dated from March 1946, and they are opened to the same moment in the story, when Wendy learns that Peter can fly.
Walt Disney's Peter Pan Special Exhibit
Now – June 27, 2010; 10AM-6PM (except Tuesdays)
WEBSITE: waltdisney.org
TWITTER: twitter.com/wdfmuseum