This was Challenge #102: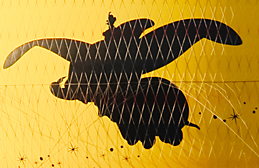 And here's the answer:


Copyright © 2009 Barrie Brewer, Nikon D300, 18-200VR, 1/160s shutter, f/11
Characters in Flight is a giant, tethered, helium balloon ride at Downtown Disney with spectacular views of Walt Disney World. I didn't get a chance to ride it on the trip when I took this photo but I'm definitely looking forward to it in January. Check out how many people got it right this week – amazing!
Frances Phebus was the first to send in the correct answer for the challenge! Congratulations to Frances and all the other readers who got the answer right: Craig, Tim Weston , Diane C., Anthony Oneto, Michelle Mcspadden, Hollie Hinton , Kris Nixon, Amy Knoche, Scott Greenbaum, Sharon Pierce, Brittany Irish, Elizabeth Collins, Jodi Cook, Denise Cayz , Jaclyn Koller, Ken Fischler, Mike Malampy, Ken Jackson, Amy Lucas, Wendy Osborne, Sharon Dale, Carla, Dawn Bach, Rich Kacprowicz, Shannon, Megan Krainski, Amy Filliben, Dawn Burns, Scott , Scott Otis, Jillian Domings, Matthew Sherman, Linda Scrivano, Danielle And Matt Murgia, Anthony Dearman, Alissa Ammons, Brian Yesutis, Leigh Mertz, Deb Ragno, Louise Barton, Betsy Bates, Katie, Emily Currier, Tina Cole, Alex Karr, Linda Coutu, Ed Aleszczyk, Ronnie Lane, Brendan Abel, Rich Esker, Ariana Stowe, Annette Nuenke, Monica Alderman, Noreen Rachuba, George Weigler, Sarah Haas, Lauren Sullivan, Cari-ann, Jackson Hart , Stephanie Servaites, Stacey Van Dyke, Berry Morris, Karen Adamakis, Debbie O'connell, Melody Salemi, Tim Rachuba, Michele Delorenzo, Teri Jo Fuson, Michelle Raimist, Danielle Ford, Jim Kayer, Mary Beth Tarbet, Austin O'blenis, Diana Fitzgerald, Phil Vickers, Danielle Berkovitz, Jenny Shenold, Grant Hart, Lin Fales, Jennifer Harmon, David And Melissa Lizewski, Jen , Barbie Lawless, Michael Pyle, Christine Dagney, Karen Diegel, Howard Schreiber, Emily Dagney, Mallory Bach, Marie Wolfe, Richard Caprio, Donna Currier, Douglas Mcknight, Theresa Rucando, Joy Johnston, Michelle Sunde, Stephanie Visco, Jocelyn L., Steve Toponak, Caitlin Barringer, Amanda Mccracken, Amy Rupp, Lee Anastasi, Jackie Purcell, Emma Poprock, Belicia Dawson, Scott Cullen, Bill Androckitis Jr., Karen Hotchkiss, Erica Adkins, Seth Walker, Wendy Shain, Jen Cerce, Brianne F, Jay Bradford, Bonnie Ford, Tricia Petty, Brian Haas, Bryan Blochberger, Baines Family, Victoria Vogt, Quincy Delcolletti, Charles Wright, Betsey Whitehead, Allie , Jacquelyn Law, Claressa Nisley, Alan Law, Valerie Gugala, Heather Young, Pat W., Letitia Faulkner, Gabriella Rizzo, Jeremy Hardy, Ann Fowler, Marie Phillips, Kameo Crea, Susan Pitts, Erica Sipich, Evelyn Wilson, Ssg, Amanda M., Eric Hoffman, Lisa Hoffman, Jeremy Coto, Kristen Gainey, Caryn Schill, Kendall Huffman, Shannon Brueggemann, Jorge Caso, Mary Virginia Clause, R S Engel, Curtis Bille, Nick Straka, Maria M, Jennifer Tremley, Bryan Fencl, Marc Lorenzo, Karen Nelson, Wendy Ip, Double Family`, Richard Uhler, Jennifer Haas, Vickie Woods , Dan Mangini, April Pangburn, Mike M., Marissa, Chrsitine Holzman, Jill Smith, Elisa Dillon, Dominic Plavny, Rick Hemsley, Michelle Thompson, Stephanie Hardhouse, Kelly Zanauskas, Daniel Record, Robin Fitts, Julia Wickware, Lori Rienhardt, Humberto Ciucio Junior, Tina Santacroce, Sue Thompson, Erin Hammer, Jessica Gruhlke, Danielle Quatrella, Jamie Difatta, Irene Kleintop, Ana Marlett, Alicia Roth, Walter Fletcher, Erin Lundvall, Laurie, Ashley Pizzino, Patrick Albrecht, Tom Koval, Kelly H, Christina Cooper, Kidnurse, Tony Clay, Mike Kaczanowski, Elizabeth Scarborough, Annie Hulsey, Mike O'brien, Kim Steiner, Krystal Pound, Daria Hagemeyer, Bennet Creed, Amanda Perkins, Z Cheven, Chris J, Melissa Littman, Jennifer Glaze, Laura, Jennifer Mccurry, Gregg Mcglasson, Laura Laws, Erin Austin, Hoekzema Family, Kye Layton, Datosha Brigger, Doug Brigger, Susan Hines-brigger, Jeff Finger, Misty Mehelic, Dee Dee Chapman, Mike Zendler, Lynn Barber, Dave Cole, Callie , Dan Hawkins, Jane Dickerson, Angela Saulsberry, Duane Wisniewski, Christie Condit, Jeffrey Dunne, Linda Abbate, Pamela Meeker, Emma Ford, Louise Maxwell, Christopher Bourassa, Pollyanna Buff, Jill Linton, James Greene, Dana Grandinetti, Dallas Hamilton, Cara Richards, Kim Perry, Vincent Maltese, Sandra Edwards, Anne Hainsworth, Mike Gillardi, Karen Dresser-smith, Jerry Marceau, Alison Rosenberger, Teresa Cole, Scott Button, Cameron Lange, Christopher Hall, Nicole Lassiter, Paul Ignudo, Jr, Karen Desantis, Susan Flebotte, Dolores Riccio, Chris Miller, Bruce Arnold, John Leach, Deanna Simmons, Jim Finley, Jake Christopher, Becky Skidmore, Matt Degrandis, Elaine Tomko-deluca, J Breezy, Ellie Argaluza, Bruce Lawson, Dennis Blackburn, Greg Gallo, Meagan Jarmuz, Jaclyn Kelch, Kim Peters, Mark Franklin, Scott Price, Rochelle, Amanda Marie Penhale, Jaron Goldberg, Vanessa Gordon, Jen Norris, Kristen Mccoy, Helene Mahnken, Carri Marotto, Deb Gallo, Angela And David Blevins, Erin Loring, Michael Gainey, Tere Given, John Arena Jr, Karen Schlumpf, Steve Pocopanni, Sue Mcdonald, Sara Beth Wade, Stuart Hale, Mark Cullison, Emily, Joyce Tofflemire, Karen Klein, Paula B, Alex Hill, Leslie Schwartz, Lou Baker, Jacob Hill, Denise Long, James Steele, Mildred Popp, Lisa Falletta, Karen Robertson, Jennifer Schwing, Sarah Connors, Deb, Melanie Moeller, Jim, Mike Thomson, Rex Brigger, Laura Pranaitis, Michelle Roth-smoot, Caitlin Rush, Tiffany Wakefield, Wendy Palmquist, Bill Daniel, Megan E., Debby &Andrew Webber, Jonathan Thomas, Wendy Snelgrove, Tom &Susan Linder, Dean, Tiago And Rocco De Oliveira, Eric Bouchet, Randy Katz, Tim Johansen, Joshua Thorne, Derek Carty, Paul Newman, Jennifer Dye, Lauri Phillips, Sarah Biesterfeld, Celia Bubb, Tiffany Gibb, Jacque Schmidt, Jen Schultz, Leah Nan Broussard, Jerry Weldon, Jeremy , Brandon Joyce, Steve Bob, Shauna Hasselman, Alicia Henderson, Aruna, Antonio Arena, Susan Doucette, Melesia Love, Michael Nanney, Angela Fennell, Diane Leclercq, Tracy Discher, Keith Burwell, Dennis Bratnik, Carolyn Como, Kelly Kobiela, Misty Lyons, Casie Crowder, Wade A. Williams, Christy Gattis, Debbie Hicks, Kellie Carter, Amanda Smith, Dave Carriere, Danielle Fitzgerald, Sherry, Shane Stack, Robin Mcconnell, Peter Lee, Megan, Jennifer Townsend, Angela Quirk, Kevin Geiger, Candace Dadswell, Brittany Bailey, Jennifer Chartier, Gemma Keen, Lindsay C., Hillary Waldroop, Julianne Williams, Heather Pedulla, Julie Williams, Jane Johnson, Bev Folmer, Theresa Maradei, Suzanne Brown, Chris Connors, Debbie Connors, Joseph M Zafia, Abby Earl, Susan Popp, Kay Chance, Peter Ball, Carolyn Brooke, Amy Perras, Laney Wood, Sharon Poag, Jon Uk, Nicole Elliott, Janet Ostrowe, Heather Coursen, Phil Thach, Jane Gilarno, Cheri Palmisano, Allison Dibiase, Michael Barker, Kristin Dormuth, Heidi Summers, Jennifer Bogdan, Barb, Janet Theriault, Amy Miller, Danielle Aston, Bob Hendrix, Bridgie Auckland, Richard Nussbaum, Kirsten Stark, Judy Koslowski, Denise Dossat, Angie Daley, Kelly Simms, Gail H, Brent Lollar, Melissa Dye, Stephanie Pcolinsky, Sharon Lee, John P., Kris Kline, James Berry, Melissa Rebelo, Kathy Berry, Holley Blyler, Jennifer Cameron, Shannon Milair, Carol Donoghue, Amy Morgan-rogers, Luis Rodriguez, Chris B, Jamie Poynton, Candy Grasty and Peggy Saeger. Each of you were entered in the September winners' drawing.
By the way, I missed a couple of names last week. Both Sharon Dale and Brenda Strohmeyer had the right answer to Challenge #101. I added both your names into the September drawing. If that ever happens, (I should say "when"� not "if"�) just let me know. Sometimes my eyes go a little buggy when I'm reading through all the entries.
It's time for the monthly drawing. This month's big winner is James Berry! Congratulations James, you are the lucky recipient of a fabulous Disney book and some really cool AllEars schwag!
Good luck to everyone as we begin another month! Here we go"
_______________________________________________________________________
Challenge #103: Where in the world is this?
Do you know? Do you have a guess? Send in your answer, before the end of the day on Thursday, October 1, by clicking on the blue box below. Please do not post answers using the Feedback Form link at the bottom of this post. Remember to be specific with your answer – just naming a park will not get you into the drawing.


_______________________________________________________________________
Everyone who sends in a correct answer to a Where in the World Challenge this month will be entered in a drawing at the end of the month for some special AllEars® goodies and a cool Disney book!