You can enter Adventureland from several areas, the first being World Bazaar (Main Street).
Unlike the other Main Streets around the world, Center Street connects to Tomorrowland and Adventureland.
The next two pictures show the Adventureland Entrance from Center Street.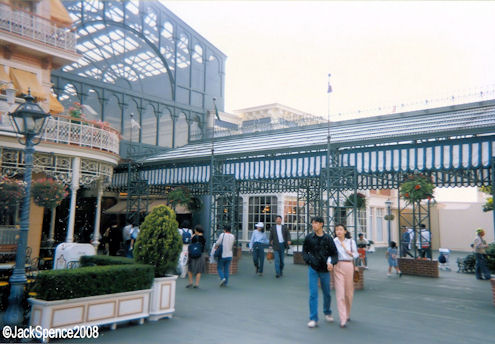 There is also the traditional Adventureland entrance off of The Hub marked by a large, overhead sign.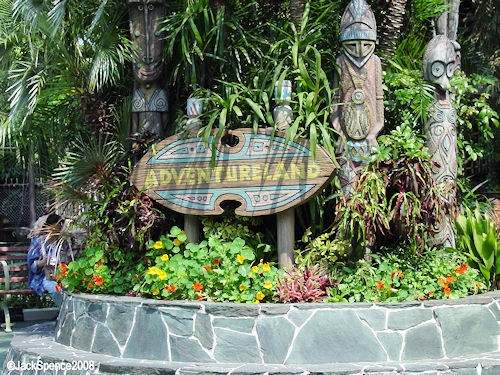 And finally, you can enter Adventureland from Westernland. When coming from this direction, there is no real delineation between the two lands.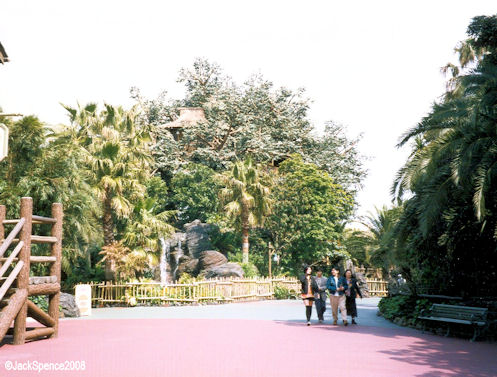 You might say that Adventureland is actually a combination of two lands. There is the traditional "exotic" section and there is the New Orleans section.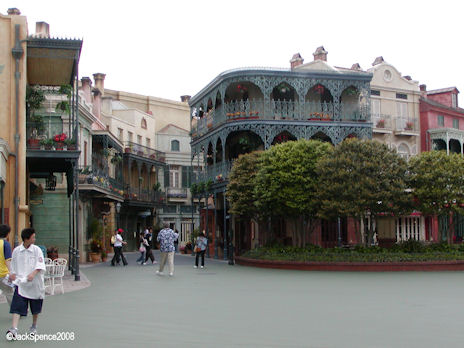 At Disneyland in California, New Orleans Square is its own land, but in Tokyo it's considered part of Adventureland.
And to my knowledge, this area has no other nomenclature other than "Adventureland." The reason behind this might be that only half of the California version of New Orleans Square was built here. There is no French Market Restaurant, Train Station, or Haunted Mansion. Thus, it would be difficult to call this area a "land." However, I've always felt that it's stretching things a little to consider New Orleans part of Adventureland, no matter how "adventurous" the "Pirates of the Caribbean" might be.
It is remarkable how similar the two New Orleans areas are to each other. Below are two pictures – one taken at Disneyland in California and the other at Tokyo Disneyland. Can you tell which is which? No peeking at the answer.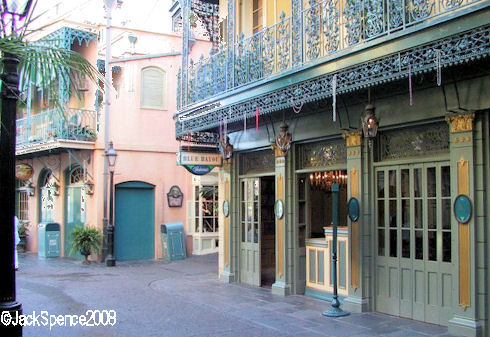 The first picture was taken in California and the second in Tokyo.
Since we're right outside of the Blue Bayou Restaurant, let's take a look inside. If any of you have read my Allears.net bio, you know that I worked at the Blue Bayou Restaurant at Disneyland in California for six years.
Of course, I always have to have a meal here to honor my former work place. However, it's almost a little creepy when I do. These two eateries are so similar you could easily forget where you actually are. When I'm dining in Tokyo, I always expect to see Rod Serling and hear the Twilight Zone music as I exit the restaurant and find myself transported back to California.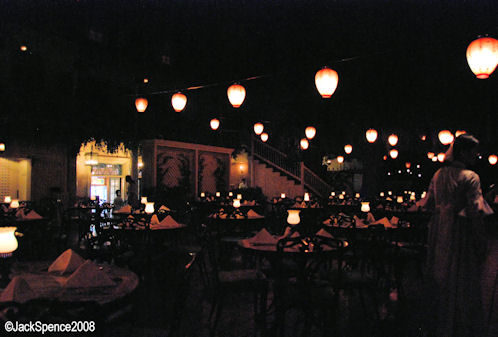 This picture of me was taken in 1996 in the Blue Bayou – when I was younger and thinner.
The exterior of the Tokyo Pirates of the Caribbean attraction is almost an exact copy of the California version before they added the new queue and crossover. Upon entering the Tokyo Pirates attraction you'll notice an indoor queue area absent from California. Once again, the Imagineers were cognizant of Tokyo's weather when designing this park.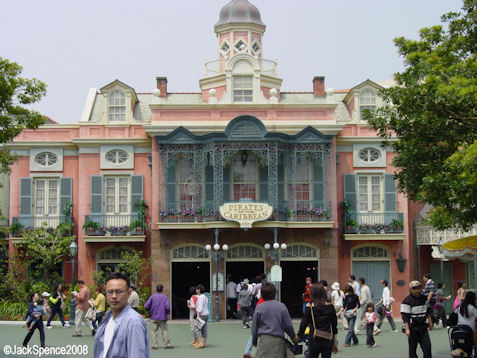 Except for a few minor changes, the actual ride is pretty much a carbon copy of California's. You walk past the boats as you enter. You board at Laffite's Landing. And you sail by the Blue Bayou.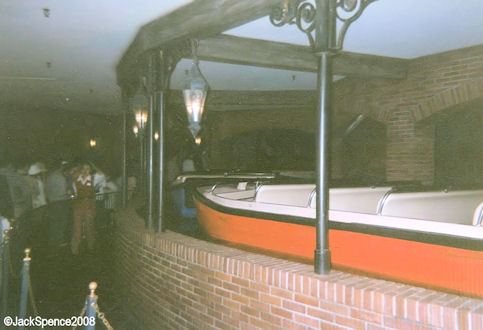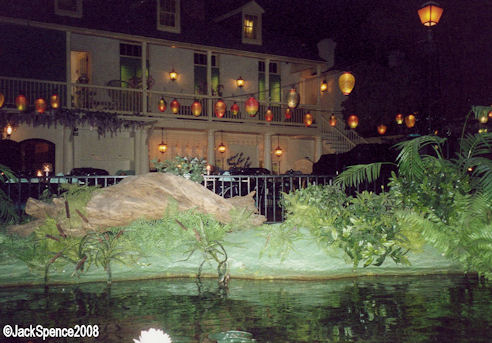 Due to the high water-table, there is only one down ramp, but it is longer and more thrilling than the Florida counterpart. The only other difference from California is the skeleton reading in bed with a magnifying glass is absent. And yes, Captain Jack Sparrow has been added to Tokyo.
It's interesting to note, Pirates of the Caribbean is sponsored by Kirin. Don't worry, beer isn't sold at Tokyo Disneyland, but some of Kirin's sports drinks are.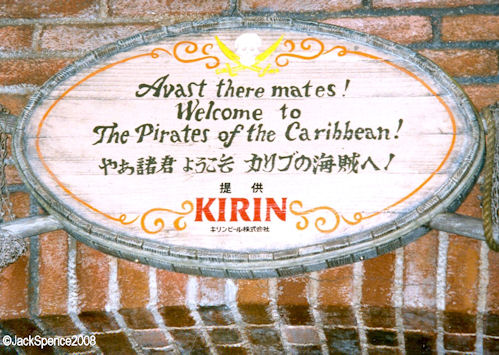 The Japanese consider the bottoms of their shoes dirty – understandably so. Since they do not want to sit where people walk, they do not use the seats in the Pirate boats as a step when entering the vessel. Instead, they step all they way down to the floor. Try this the next time you're getting in a Pirate or Small World boat. It isn't easy.
The other restaurant in this area is Café Orleans. Once again, the exterior is extremely similar to its California counterpart. Crepes are the big draw here. Some of the varieties served are, cheese, seafood, sausage, chocolate and pineapple.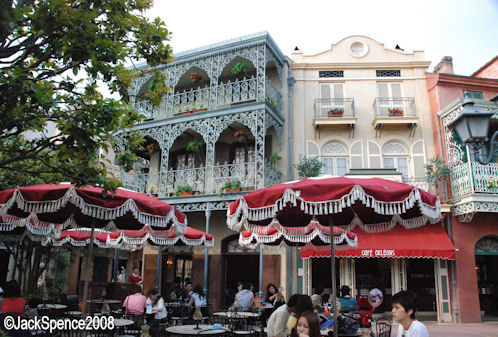 Next to the Café Orleans is an outdoor entertainment venue called Theater Orleans. The show changes periodically, but you'll usually find the Disney characters engaging in some sort of Latin extravaganza. If you want a seat, arrive early as the shows are very popular and people get in line long before the festivities begin.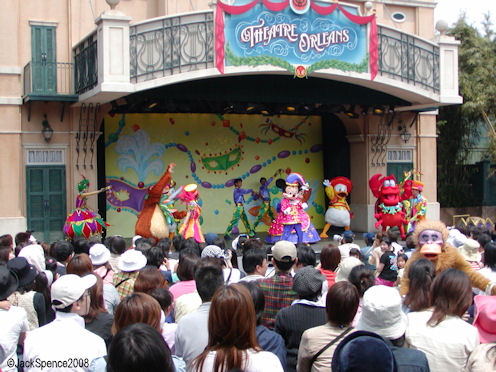 Moving further away from the New Orleans section you come to a number of shops. In an effort to make the transition smooth as you enter the "exotic" section of Adventureland, the buildings here have a colonial Spanish design.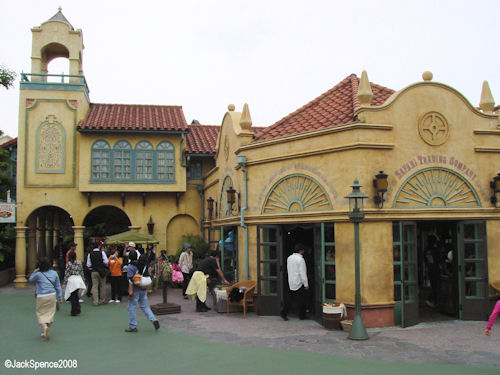 Across from this Spanish section of Adventureland is a ramshackle fishing village. A large tugboat named 20,000 Leaks anchors this area. There are several restaurants in this vicinity serving Mickey-shaped steamed buns and other Asian delights.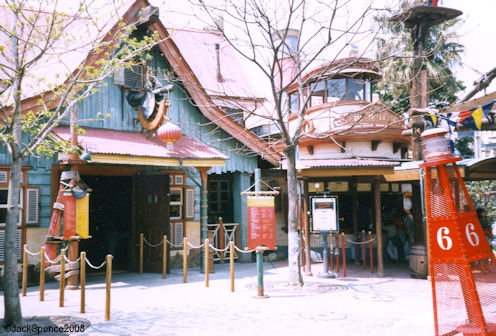 Moving on we find the Jungle Cruise and Western River Railroad. These two attractions share a loading facility. The Jungle Cruise occupies the ground floor and the Western River Railroad the second. Both queues offer plenty of protection from the elements as a roof covers most of the lines.
Let's start with the Jungle Cruise. This is the classic Disney attraction. Although it runs in the opposite direction than Walt Disney World's, it still has most of the same scenes and gags, including the indoor temple section. Of course, your skipper is Japanese. And unlike the Hong Kong version that offers multiple languages, the cruise is presented entirely in Japanese. But that's okay. We've all ridden this ride enough times in America to understand everything that's going on.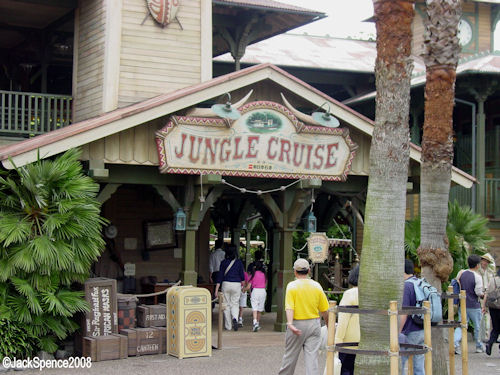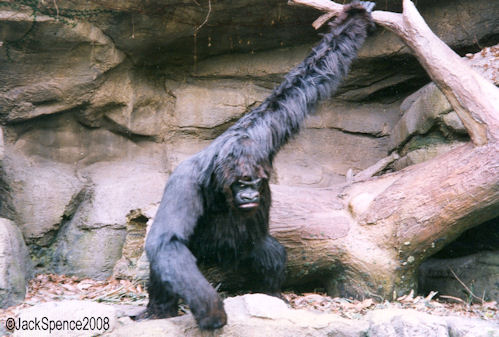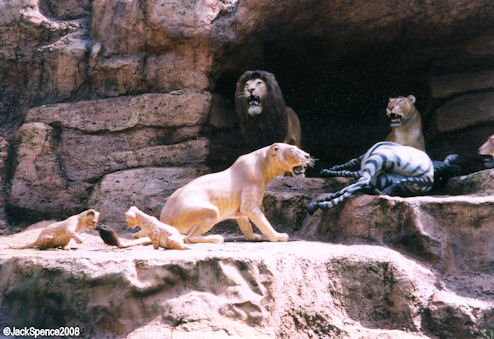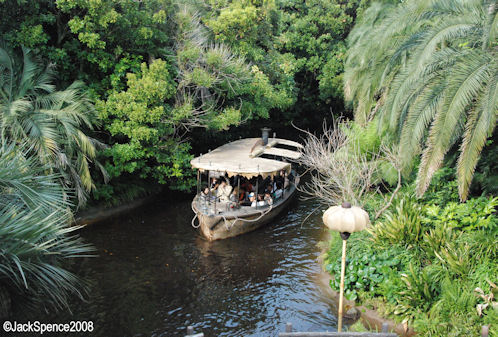 The Western River Railroad is unique among its steam train cousins in the other Disney parks in that it doesn't circle the perimeter of Tokyo Disneyland. You see, if it did, its track length combined with multiple stations would have classified it as "public transportation" under Japanese law and it would have fallen under government jurisdiction. This of course was unacceptable to Disney and some other solution needed to be reached. And that solution was a railroad that runs only through Adventureland and Frontierland and only has one station.
Even though guests board the train in Adventureland, this attraction is well named – Western River Railroad. Although you do skirt the Jungle Cruise and you can see the safari boats and some wildlife, the vast majority of the sights on the train ride are in Westernland. Because of that, I will discuss this attraction further in my Westernland blog.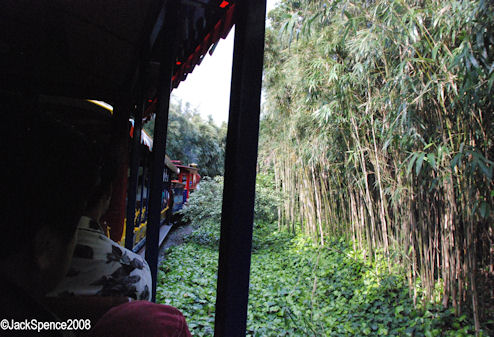 Located next to the Jungle Cruise is the Polynesian Terrace Restaurant. Here guests enjoy a stage show along with their meal. At lunch, Lilo and Stitch throw a luau for other Disney characters and at dinner Mickey and Minnie take center stage. Reservations are an absolute must and if you have any desire to eat here, you need to be among the first to enter the park and then make a mad dash to the reservation kiosk in Adventureland.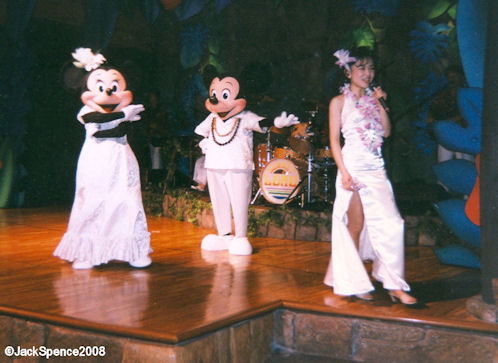 The Tiki Birds also have a home in Adventureland. When Tokyo Disneyland opened, it featured the original 1963 show. In 1999, a second presentation debuted called "Get the Fever." I saw "Get the Fever" and found it far more entertaining than Florida's second show, "Under New Management." Earlier this year, "Get the Fever" closed and a third show is slated to open soon. It appears that Stitch may be disrupting the performance this time around.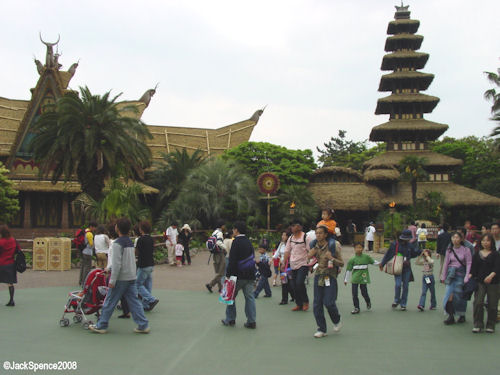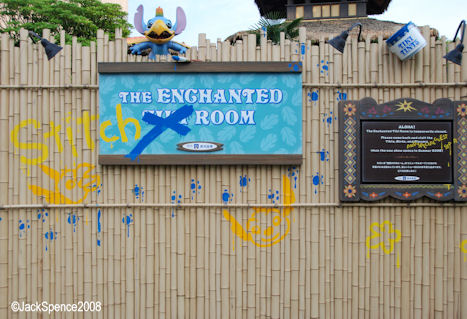 The final attraction in Adventureland is the Swiss Family Treehouse. What can I say? It's the treehouse. It's mildly amusing to walk through. It gives Adventureland some atmosphere. And it never has a long line. I really wish that Disney would update both this treehouse and the one in Florida with the Tarzan theme. Kids (and many adults) are not familiar with the Swiss Family Robinson movie and Tarzan would be much more relevant to them.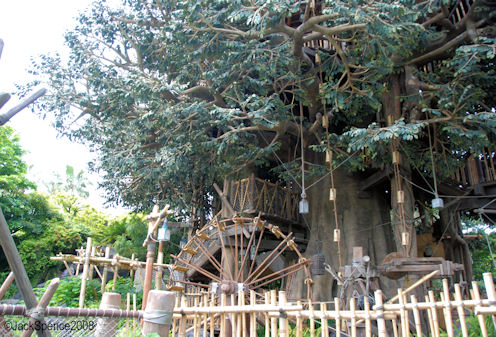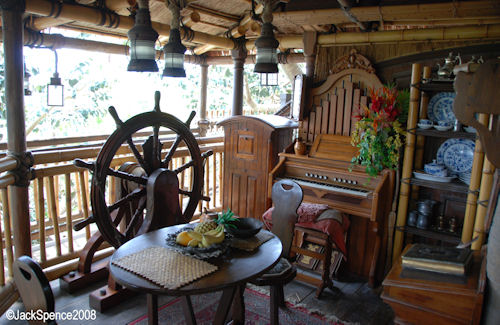 That's it for Adventureland. Next stop, Westernland.