When Wolfgang Puck's first opened at the Marketplace in Downtown Disney, they had no indoor seating. This simply wouldn't do in hot, humid, and rainy Florida. Eventually, they rearranged what little indoor space they had and added a few tables. This helped, but it wasn't the solution they needed. So a couple of months ago they closed up shop for a major rehab and reopened today, Saturday, March 15.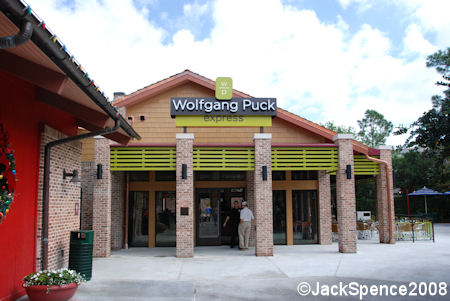 I visited their remodeled venue for lunch today and was happy with what I saw. The first thing I noticed was a new, large, indoor dining room had been added. Approximately fifteen tables are spaciously arranged in an airy room surrounded on three sides by floor to ceiling windows. The atmosphere has a clean modern feel but the wooden tables and chairs add some warmth.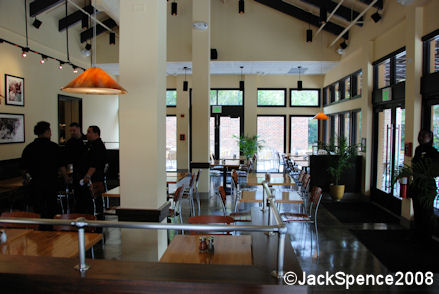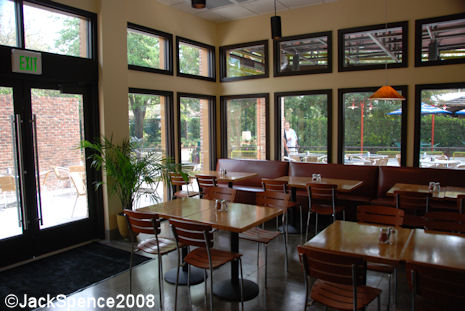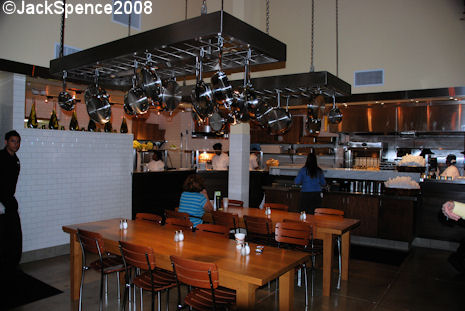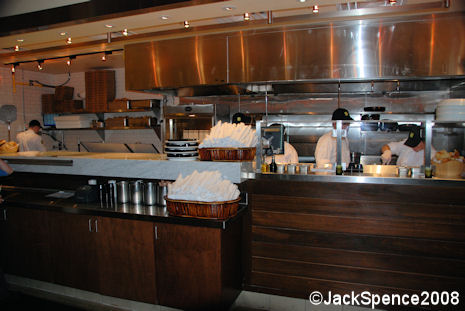 Outside you'll find another twenty or so tables, most under a large roof. The tables here are made of brushed metal and the seats are wicker.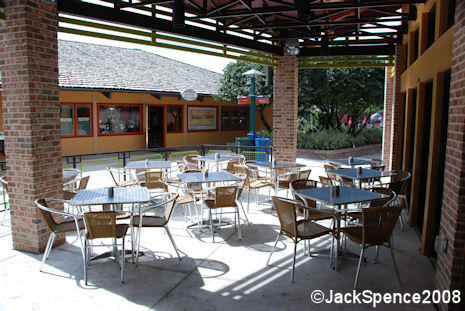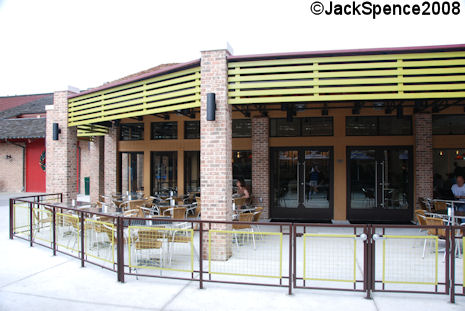 The area where you order your food has also been completely redesigned and continues this modern theme. To the right of the ordering area is another, smaller seating area with two large tables for eight, a beverage station, and an open kitchen.
After ordering, you're given a plastic table-tent with a number printed on it. You are also given flatware that is wrapped in a high-quality paper napkin. If you've ordered beverages you're given plastic (not paper) glasses and told to get your drinks, find a table, and display your number.
As it was opening day, every cast member was working and it would be impossible to complain about service. Shortly after Donald and I were seated, we were greeted by a young man who told us he would be our server. A few minutes later, he brought our food to the table and asked if we needed refills for our drinks.
I ordered the Roast Beef & Cheddar Sandwich on Focaccia for $9.95. It was quite good. The serving of beef was more than adequate and it was topped with cheese, tomato, and greens that have been tossed with a light vinaigrette dressing. A side of home-made Yukon Gold Parmesan potato chips rounded out the meal. I was please with my choice.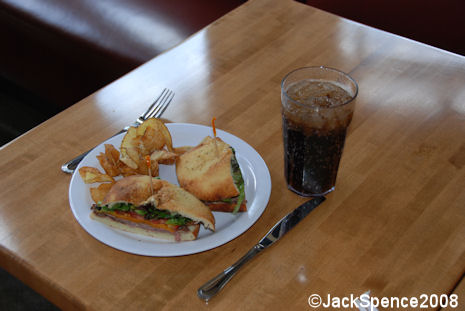 Donald ordered the Rosemary Rotisserie Chicken for $11.95. He couldn't have been happier. He has always enjoyed Wolfgang Puck's rotisserie chicken and he wasn't disappointed today. First, the serving is large – a half chicken. Next, the finished product was attractive to look at. And finally, it was juicy and delicious. It was served with a side of garlic mashed potatoes smothered in butter.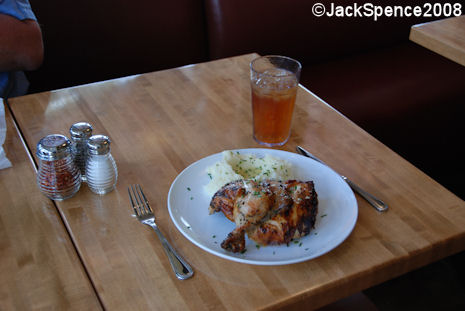 Another thing I liked was that the entrees were served on plastic (not paper) plates. This helps give a slightly more upscale feel to the place.
Since your order is brought to your table and drink refills are also fetched by a cast member, I would say that Wolfgang Puck Express at the Marketplace is a cross between a counter-service and table-service restaurant. When we finished our meal, we left our server a tip as it was certainly warranted.
I didn't frequent the old restaurant because of their lack of indoor seating and I didn't feel their food and atmosphere warranted the prices. But I would certainly rethink this opinion as I was most pleased today.
I asked a manager if the Disney Dining "Card" was accepted and was told yes. I forgot to ask about the Disney Dining "Plan" – sorry.
Wolfgang Puck Express is open for breakfast, lunch, and dinner. Takeout is also available.