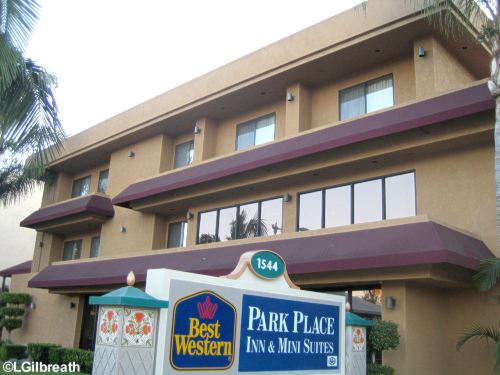 Earlier this summer I wrote a blog entry about staying on-site vs. off-site at
Disneyland, and how there were certain advantages in proximity to
staying off-site.
I had the chance to experience this for myself on a recent overnight
trip when I stayed at the Best Western Park Place Inn & Suites, which is
as close as you can get to Disneyland's entrance – the hotel is right at
the crosswalk of Harbor Blvd that goes over to Disneyland's bus area and
main entrance.
I was pleasantly surprised when I checked in just before noon on a
Saturday and my room was ready! I put the parking permit on my car (good
until 3 p.m. the day I checked out) and
grabbed my bag and took it up to my third floor room. The hotel is one
very long narrow building with external staircases and corridors, though
there are elevators, too. Not much in the way of landscaping or grounds
– it's either building or asphalt parking area. (Though as you'll see in a later photo, there were some potted plants on the edge of the walkways on the first floor.)
My room was quite nice – much better than I was expecting, actually.
Just inside the door was a small seating area with a sofa (which pulls
out into a full-size bed), a table, chair and a lamp. Beyond that was the
bedroom area with two queen-size beds, a desk and chair, wardrobe with
television, and a good-sized refrigerator and small microwave. A closet
with full-length mirrored doors held an iron and ironing board as well
as extra pillows. The sink and vanity were outside the toilet/shower
room – there was a lot of counter space on the vanity, which had a blow
dryer and a coffeemaker. The shower head was nice and tall, and the
shower curtain was one of the bowed-out "no touch" types. All the rooms had individual wall-mounted air conditioning/heating units. Everything
was very clean and the carpet, tile, furnishings, bedding, etc. all
looked fairly new.
The pool area is located in the center of the complex. Nothing special
about the pool – it was on the small side for a hotel pool.
There's also a hot tub there. The laundry room and vending machines are
nearby. There's a small store in the lobby where you can buy sundries,
souvenirs, and some food items.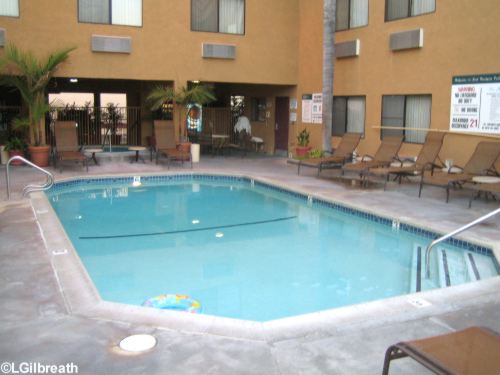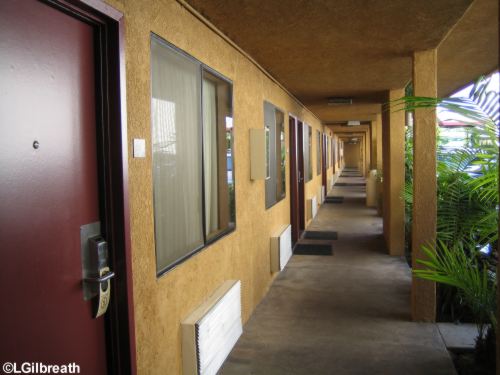 Wireless internet access is included, though I didn't bring a computer
so I was unable to try it. There's also a free Continental breakfast
available next door at Captain Kidd's from 6:30-8:00, but I had to be up
and off early enough that I didn't check it out.
But the best thing about the hotel is its proximity to Disneyland. It
took me less than 4 minutes to walk from Disneyland's main entrance to the
hotel's entrance – and it only took that long because I had to wait
about a minute for the light at the crosswalk to change. That's a lot
closer than any of the Disney hotels – even the Grand Californian, where
even if you cut through DCA it's still a little further than that.
It's not themed, and it's not Disney, but it was clean and comfortable –
and very close to the parks. A good value for my money, and I'd stay
there again.