Hook's Pointe is a "casual" table service restaurant at the Disneyland Hotel – as you can tell from the name it has a slight "Peter Pan" theme to it – there's a map of Never Land painted on the ceiling and some of the tables have views of the Never Land Pool area. It specializes in mesquite grilled meat and seafood.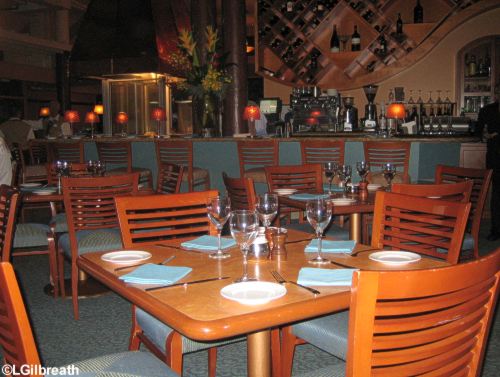 On a recent Friday evening we had a 6:40 Priority Seating time – we arrived on-time and were seated immediately. Even though the restaurant wasn't crowded (and at no time during our meal were all tables occupied, or even close) we were seated at a table not with a view of the pool, but a lovely(?) view of the Croc's Bits and Bites snack bar next door. Our server Roberta quickly arrived to introduce herself and take drink orders – they have an amazing variety of cocktails (or "foofy drinks", as we call them). It had been a hot day and I wanted something crisp and refreshing and she recommended the Pomegranate Splash – which had pomegranate juice, cranberry juice, grenadine and several other things – and it was excellent.
Though the same could not be said for the water…we both opted for "regular" water instead of Pellegrino or some other fancy expensive bottled stuff – but it really tasted odd. Which is odd in and of itself, since water isn't supposed to have any flavor! It tasted a bit salty to us, though our server assured us that it was filtered.
Our server brought us a basket of warm sourdough bread – it was delicious! Crisp and crusty on the outside but soft and chewy inside with that yummy sourdough bite to it. I had to be careful not to fill up too much on the bread!
For our appetizers we split the Inland Salad – fresh greens with blue cheese, apples and candied walnuts and a delicious apple cider vinaigrette – and Hook's Crab Spread – a crab, spinach and artichoke dip served with pita bread. I'm not a big fan of crab and didn't really care for the latter, since it had a lot of crab, and I would've preferred more spinach and artichokes!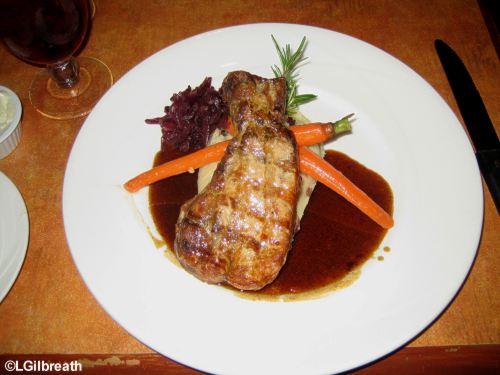 I selected the River Boat Pork Chop for an entree – Kansas City pork chop grilled with a sweet balsamic sauce, braised cabbage and garlic smashed potatoes. I thought the pork chop was a bit dry and tough to cut, but the sauce was tasty, as were the mashed potatoes.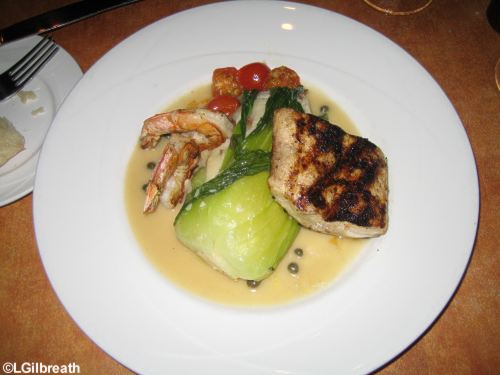 Lee ordered the Fish of the Day – Mahi-mahi that was grilled with Cajun spice and served with a couple of jumbo shrimp, mashed potatoes, fresh vegetables and a caper sauce. It was very good – the mahi was very nicely cooked and not dry or fishy-tasting (I often find that mahi tastes fishy to me).




For dessert I ordered the Year of a Million Dreams Chocolate Cake – this was a chocolate cake with five different layers of cake and filling. It looked delicious but it was strangely tasteless – I could barely discern any chocolate flavor at all in the cake or the fillings. It was pretty disappointing.




Lee ordered the Fresh Baked Chocolate Chip Cookie – our server warned us this needed about 10 minutes to prepare since the cookie was baked to order. It's definitely worth the wait, though. Although square like a brownie the "cookie" was crunchy on the outside and still warm and gooey inside just like a fresh cookie should be. Yummy. It was served with a scoop of vanilla ice cream and chocolate sauce, with a cookie wafer "sail". And it was quite large – it would easily have been enough for both of us.
Overall I have to say that we were both underwhelmed with dinner – the food was fine, and the service was very good (much better than the Vineyard Room a couple weeks before), but there was nothing very special about the experience – it wasn't really any different than eating at an Applebee's (except for the price!). Actually my favorite thing about the restaurant was something they had for the kids – kids' meals came with a straw that had a light-up figure on it, with their choice of Tink (green) or Hook (red) – I wanted one of those!
There was nothing wrong with the meal, but it's not a place we'll return to anytime soon.
The menu is available HERE.
Bon appetit!
Laura