TOURING
AT A GLANCE...
Entertainment
Special Events
Special Reports
OTHER WALT DISNEY WORLD THEME PARKS
OTHER DISNEY THEME PARKS
Magic Kingdom Archives
Walk around the World Bricks

JULY 2000 --
All the bricks are now sold out
and no more are available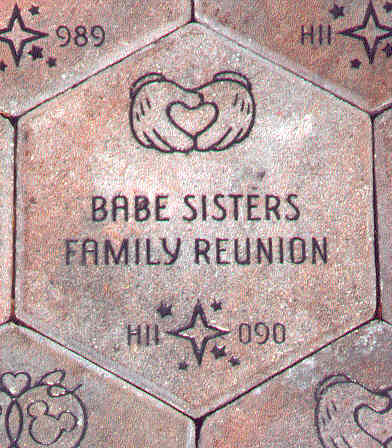 These bricks in front of the Magic Kingdom, along the paths to the Ticket and Transportation Center and to the Contemporary, were sold to folks wishing to commemorate their visits to Walt Disney World.

They have a serial number such as W00-250 or E00-250. The letter determines which *path* it is on, currently there are 3 different paths: (W)est, (E)ast, and (C)ontemporary. The numbers attatched to the letter give the *general* area on the path. The last three digits (those after the hyphen) are just unique numbers.
The bricks are not necessarily placed in numeric order. In most cases the bricks are placed so that the *W00-2xx* series are located near each other. Therefore the first 4 digits can give a very specific area of where the brick is located, within the last 2 digits, the bricks are scrambled. The above two numbers belong to Michael Eisner & his wife and Roy Disney & his wife.
Dixie Landings and Port Orleans Cast Members have chipped in to buy 8 Walk Around the World bricks in memory of children who died in the Oklahoma City bombing. There are 8 bricks with 7 listing the names of three children and the 8th listing one child, a blank line, and then Oklahoma City, OK. They are in a circle with the 8th one in the middle, and about midway between the bus stop at the Kingdom and the Contemporary. If anyone really wants to look for them and wants more specifics, they can ask at the info desk for the bricks in front of the MK (by the big circle of granite Disneyana bricks) and they might be able to help.