TOURING
AT A GLANCE...
Entertainment
Special Events
Special Reports
OTHER WALT DISNEY WORLD THEME PARKS
OTHER DISNEY THEME PARKS
Ariel's Grotto
Fantasyland
Magic Kingdom Archives
NOTE: Ariel's Grotto CLOSED April 2010 to make way for the Fantasyland expansion coming in 2011 and beyond. Ariel and other characters from The Little Mermaid can now be found for Meet and Greet Opportunities at the Adventureland Veranda.
---
Introduction | Attraction | Touring Tips | Kids and Characters | Dining | Shopping | Interesting Facts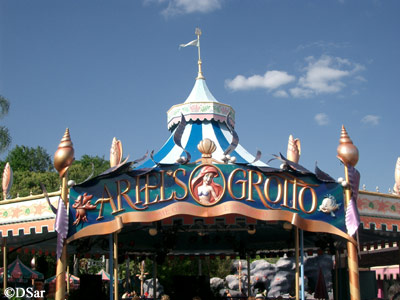 INTRODUCTION
Tucked away in a colorful grotto near Fantasyland's lagoon is the perfect spot for little princesses and princes to meet their favorite little mermaid, Ariel.


ATTRACTION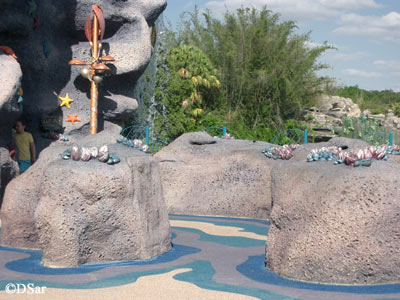 Ariel's Grotto -- This colorful grotto out just beyond Cinderella's Golden Carrousel is decorated with starfish, coral, and waterfalls, and affords the opportunity to meet Ariel, the beautiful mermaid heroine of "The Little Mermaid," throughout the day. There's also a play area with a spongy flooring -- originally there were squirting fountains here, but they haven't operated for some time.
Since mermaids have difficulty walking on land, Ariel will greet you from her chair draped with seaweed -- young mermaid fans can sit right next to her for their photo op!
Ariel's usually there at her grotto from 10 a.m. until park closing, but check your daily Times Guide just to be sure.

TOURING TIPS
The lines to meet this popular princess can be VERY long! For the shortest lines, try visiting during parade times, or late in the day.
Remember your autograph books and your cameras!
Ariel's Grotto is wheelchair/ECV accessible.

Consult our Character Meet and Greet FAQ for more helpful tips.
There are restrooms and telephones located to the left of Ariel's Grotto's entrance.


KIDS AND CHARACTERS

If your kids are Little Mermaid fans, they've come to the right place! This location is normally open from 10 a.m. until park closing. Check your daily Times Guide for times and locations of other Meet and Greet opportunities in the Magic Kingdom.

Magic Kingdom Characters at a Glance
Character Meet and Greet FAQ!
DINING
The closest place for a snack is nearby Scuttle's Landing, but the counter service restaurant Pinocchio Village Haus isn't too far away -- it has burgers and other sandwiches.
Magic Kingdom Restaurants at a Glance
Menus From Around the World
Vegetarian and Other Special Diets

SHOPPING
There are no shops nearby with Little Mermaid merchandise, however it is in abundance at the main Fantasyland shops.

If you have comments or tips to share with others about touring the Magic Kingdom, please email us. Thank you.