TOURING
AT A GLANCE...
Entertainment
Special Events
Special Reports
OTHER WALT DISNEY WORLD THEME PARKS
OTHER DISNEY THEME PARKS
Annual Passholder Event
Mickey's Not So Scary Halloween Party
Magic Kingdom Archives
Original Notice to Annual Passholders:
This year Mickey's Not-So-Scary Halloween Party features two very special nights that start off with a pre-party welcome just for AP holders. Disney is turning the Adventureland® Verandah into a Passholders Pumpkin Patch, from 5 to 7 p.m. on Sunday, October 20 and Sunday, October 27, 2002. You'll enjoy special entertainment, light refreshments, and of course, lots and lots of candy. There'll even be a few extra special "BOO-nuses." To be a part of the Pumpkin Patch, just show your Passholder ID along with your ticket to Mickey's Not-So-Scary Halloween Party for that night.

NOTE: The actual location for this event was not the Verandah, but the Columbia Harbor House!
ALL EARS® Senior Editor Debbie Koma and Deb Wills attended the special Annual Passholder pre-Halloween Party event on Sunday, October 20. It was fun despite the crowds. Upon entering the park (just after 5 p.m.), the Cast Member put a yellow Mickey's Not So Scary Halloween Party wristband on us and off we went to the Columbia Harbor House.
The bright yellow sign outside told us we had found the right place -- but we noted that this was different than the originally named location, the Adventureland Verandah.
Once inside the doors and after showing our Annual Passes, a Cast Member explained we could get a free small beverage at the counter straight ahead. She also said upstairs we would find free popcorn and candy.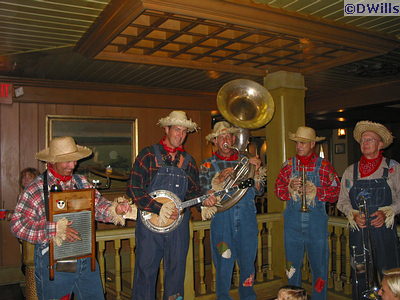 As we made our way upstairs, folks were backed up in the stairwell and others were coming back down the stairs. We could hear what sounded like live music and were happy to see a live country-style band performing!
The popcorn was on a table to the left of the stairs... very short line here. The candy line (right of the stairs) was quite long. Still, we stood in it (had to get my chocolate fix of the day). When we finally got to the table, we found an assortment of Laffy Taffy, lollipops, and other very small packages of candy. There was hardly any chocolate, but we did manage to find a little. Each person was asked to only select two pieces of candy, so that "there will be plenty for everyone."
We took our snacks and beverages and sat at a table near the window overlooking Frontierland. The table areas were not crowded at all. This turned out to be a prime location, as the Annual Passholder Event included lots of Villains walking around and interacting with the guests!
Much to our surprise and delight, Jafar (from Aladdin), the Big Bad Wolf, Governor Ratcliffe (from Pocahontas), and Captain Hook all were circulating during our 30 minute stay. The candy line was steady, but moving, with most people heading back downstairs after getting their treats. About that time, though, the noise level was getting to us so we went back outside.
The Big Bad Wolf lived up to his name and went around growling and snarling at everyone. Then he came over to our table and decided to throw our bag of popcorn all over the room!
If you exited the Passholder Party before 7 p.m., you were directed to Fantasyland. The attractions here remained open from 5-7 p.m. for those attending MNSSHP. We were being asked to stay out of the other areas of the parks so that the decorating could occur.
It was a nice little treat and we especially enjoyed the characters. There is another special Annual Passholder event on Sunday, October 27!