To all who come to this photo trivia game, Welcome! Along the way, the photos can make us relive memories and see details Walt's Imagineers put into everything we love in Walt Disney World!
Now for Challenge #547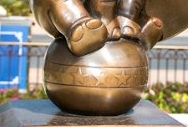 And here's the answer:


Copyright © Scott Thomas
The Dumbo statue by Partners in front of the Castle!
Ken Savage was the first to send in the correct answer! Congratulations to Ken and to all our winners this week! Kenneth Jackson, Tammy Warmouth, Adolph And Kimberly Timm, Emily Hudson, Jim &amp Lorie Sonnen, Kenny, The Gunnels Gang, Ed Suscreba, Janet T Thorn, Megan Krainski, Phyllis, Michael O'brien, Karen O' Brien, Michaela O'brien, Joann Albrecht, Mis Jamie Marie, Martha &amp Justin Colllins, Team Hill, Margaret Convery, Loring Family, Sandie Albrecht, Linda Hoffman, Tricia Petty, Joseph M. Zafia, Wendy T Faler, Sands Family, Al &amp Kerry Ganter, Belicia Cullen, Scott C, Sharon Powell, The Kertes Family, Josh Weiss, Luis Rodriguez, Renee Hardiman, Bonnie Jean, Sue And Ed Adams, Laura Walker, Russ Morgan, Susie Howard, Diane Curfman, Andreas Beer, Anne Duque, Andrew Carrieri, Deb Gallo, Ronnie Alvarado, K Beasley, Carol Baranowsky, Linda Scrivano, Bob &amp Kathy Mckim, Robert Wescovich, Julia And Carol Wickware, Michael &amp Jackie Mclucas, Carolyn Como, Maureen And Warren Handy, Smitty, Grumpy's Groupies, Jeremy A Hardy, Jim Finley, The Parker Family, Deb Ragno, Stefan Owens, Linda Ranatza, Craig, Nan Amor, Gloria Martin, Erin Hammer, Vera And Izzy Williams, Linda College, Jim Thompson, Mickey Eckert, Cheryl Costello, Hobbes And Snorky, Jamie Steiner, Bob Hendrix, Christopher Swinehart, Eric Enli, Team Bonnie Sue, Chris Kelly, Steve Knapp, Olszak Family, Jodie S., Abbie Bunn, Chris, Gretchen, And Katie Barnes, Vicki Britt, Christi Newman, Tom Farrell, Jenn Elliott, Suzy Brabant, Christine Regan, Anna Jacobi, Juli Knopp, Corinne Delgado, Sarah Wansink, Danielle, Wendy La, Norma Mullen, Rebecca Jones, Peter Cooper, Michelle Lamonica, Corey Blau-ney, Cara Reilly, Teri Dalco, Carol, Steve Labert, Lori Labert, Brittany Stavinoha, Jacqueline Grissom, Kathleen Warburton, Vanessa Gordon, Kyra, Barbara Zimdars, Sid Inman, Nyree Cheff, Kathleen Autry, Heather Meacham, Kimberly Rivera, Tamara Cordner, Amy Bolinsky, Arlene Vicek, Christine Hambleton, Christine Watson Huff, Nicole Levesque, Melissa Mangovski, Rebecca Churchill, Jennifer King, Kim Schmidtgall, Wayne Chadourne, Jean Myers, Angel Ridout, Ben M, Stacie Doughty, Carrie Bock, Stacie Doughty, Deb Locascio, Tina Foremsky, Suzanne Nardone, Lisa Cox, Lisa Frey, Stacy Koppenhaver, Ginger Stanton, Ashleigh Rider, Julie Isbell, Ashley Isamoyer, Samantha Maines, Michele Petkewicz, Karen Ramirez, Graviela, Sue, Sheryl Sledjeski, Kristin James, Anissa Townson, Rebecca Jones, Bruce Nash, Colleen Ferguson, Shelby Watson, Laura Bidochka, Tara Jeles, Barry Sklenar, Susie O'donnell, Bonnie Heide, Terri Halfman, Jeff Carson, Cindy Cipriani, Claire Kaplan, Michelle Gannon, Andrea Mcallister, Sarah Francis, Danielle Murgia, Sherry Jones, Rebecca Thibert, Barbara Cramer, Jennifer Richmond, Cathy Connors, Karrie Rodriguez, Stacy Johnson, The Patterson Family, Alicia Dechaine, Kathleen Khadoo, Cindy Valesi, Herb Miller, Kathleen Khadoo, Rebecca Keenan, Jennifer Boyd, Kelly Sroka, Jeremy Reichelt, Mark Hardy, Julie Hargreaves, Leigh Mertz, Caroline Burmester, Julie Lingwall, Jenniffer Westmoreland, Carri Marotto, Patrick Broaddus, Kate Nejman, Lori Rienhardt, Maddie Inman, Tricia Noble, Dr. Michael J. Palliser, Karen Bellamy, Beth Paczkowski, Angela Moody, Kim Keck, Shirley Coppi, Ruben Omeara, Tj Frey, Jennifer Collingwood, Beth Murphy, Tiffany Hawk, Hillary Waldroop, Ron Genech, Debbie Peek, Jodi Cook, Christina Erickson, George Mundy Jr, Emma Ramsey, Jennifer Hess, Patricia Morin, Barclay Bakkum, Jackie Graebel, Cheryl Hansen, Donald Purney, Maryann Romagnano, Dee Dee Kenney, Robert P. Flaherty, Shirley Garcowski, Vincent Degasperis, Diane C, Theresa Maradei, Pensacola Glenn, Teri Michalski, Hunter Armstrong, Terry, Christy Schor, Cheryl Chambers, Sherri Pell, Jackie Klafeta, Tim Johansen, Jo Ann Bailey, John Paul C., Gallagher Family, Terry Harris, Thomas Higbee Sr, Jane Johnson, Dan And Elizabeth, Claire Gregory, and Andy Hickey!
Time for our monthly drawing! The July winner is Linda Hoffman! Congratulations! I'll be contacting you about getting your prize!
_______________________________________________________
Challenge #548 Where in the world is this?
Switching parks and going back in time!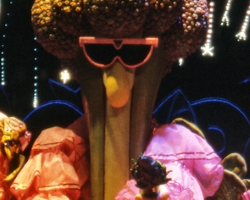 Do you know? Do you have a guess? Please send in your answer, before the end of the day on Thursday, August 9th, by clicking on the blue box below.
Please do not post answers using the Feedback Form link at the bottom of this post.
See you soon, Players!


_______________________________________________________________________
Everyone who sends in a correct answer to a Where in the World Challenge this month will be entered in a drawing at the end of the month for some special AllEars® goodies!