You love it because it takes you to Magic Kingdom. You aren't overly thrilled when it takes you back to the Ticket and Transportation Center. It's a complicated relationship.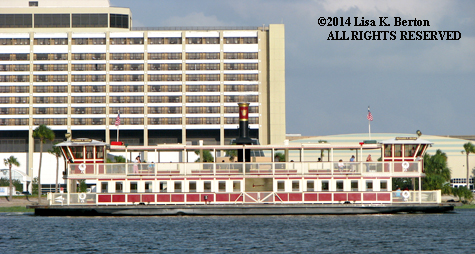 Not familiar with this floating mode of transport? When you drive to the Magic Kingdom at Walt Disney World, you park in the lot. Then you take a short tram ride to the Ticket and Transportation Center or TTC. From there you either take a monorail or a ferry over to the park. Why is it so convoluted? Because there's a large lake in between the parking facility and Magic Kingdom and the Walt Disney Company doesn't allow swimming in Seven Seas Lagoon, unless you're Donald duck.
Disney Pic of the Week – Water Transportation
RELATED LINKS:
Ferry Boat Transportation
The Ticket and Transportation Center (TTC)
Come on over and "Like" my Facebook page or follow me on Twitter, my handle is lisano1.