To all who come to this photo trivia game, Welcome! Along the way, the photos can make us relive memories and see details Walt's Imagineers put into everything we love in Walt Disney World!
Happy Thanksgiving – Jour de l'Action de grâce to all the Canadian Players! I hope this year has given you a lot to be thankful for and you have even more in the upcoming year!

We also have Eid-al-Adha this week. My best wishes to everyone who is celebrating!
Cynthia Hitchcock, we totally understand the post-Disney vacation crying.
Patty Carty, are you still there in the World? Or does Cynthia need to make room on the blues bench? I'll get the Disney bear, just in case. (And thank you for your lovely note!)
On the flip side, The Schweizer Family and Kerri Coggins are now in the World! Have a wonderful time! If you see Deb Wills, tell her what a good job I'm doing!
Just kidding, Deb.
Happy 300th to you too, Tricia Petty, The Fosbenders, and Claire Gregory! Thank you! I can't believe you guys noticed. 🙂 When I typed 300 last week, it made me wonder how long it's been since I started with WitW. So I looked it up:
February 13, 2011 with challenge #164! That's when Barrie introduced me to everyone. Can you believe it? If you look at my first challenges, I was much more… succinct. 🙂 Which reminds me of when I took a Disney character quiz during "December to Remember" celebrations. It said I was quiet. The team said they never saw someone get it so wrong. LOL
Thank you also to The Young Family for their wonderful note! How's the UK?

From last week: Challenge #300: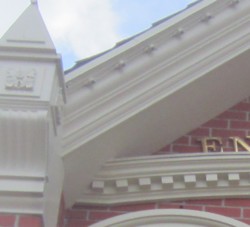 And here's the answer: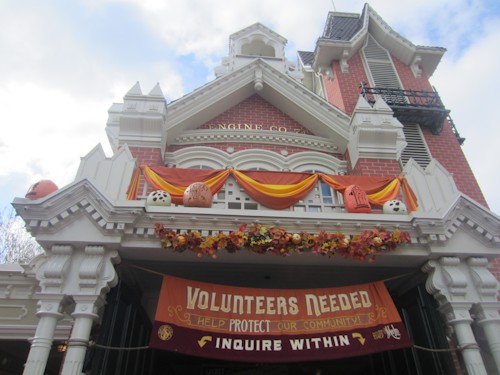 Copyright © 2012 Erin Blackwell
Engine Co. 71, the fire station at Town Square in the Magic Kingdom. I used to love going here to see all the patches and badges from firehouses from everywhere. Now Engine Co. 71 gathers people to play the Sorcerers of the Magic Kingdom card game.
Like John Bickers said, " I am always excited when I see it to my left, and tired when it moves to my right."
Jennifer Harmon, I read that many of those patches and badges from here went to Reedy Creek Fire and Rescue Department so maybe your husband's is there? An old report said they used to give tours of the station. They have a website and a Facebook page, so maybe you can contact them through it and ask. They also have an online store where you can get shirts, although they don't have the ones that said "Protecting the Magic" anymore. I love that phrase!) You can also find fire dept. patches for Disneyland, the actual Walt Disney Studios, and Reedy Creek on ebay. Just search for Disney fire department. So maybe you can get one of each and put them on a jacket for your husband? Something unique and the holidays are coming up.
To your husband, Chris Kelly, Chief Meeker, Mary Beth Tarbet's uncle, Kelly Smith's father-in-law and all the others serving in Fire and Rescue, thank you!
Tom Buck, I can't imagine the days when you went into Disneyland and Walt was there in his apartment above the fire house. Just seeing the lamp in the window gets to me now. Walt's apartment was going to be in Cinderella Castle in Disney World; in fact, one of his windows is above the Plaza and looks to the castle. My favorite story on why it's there is because Roy wanted his brother to have the best view in the park.

Dave Carriere, my dogs have so many things from the old store here and the others in Walt Disney World!
This has been a long one, Players, but I hope you found at least some of it interesting and fun!
And now!
Kristi Strembicki was the first to send in the correct answer! Congratulations to Kristi and all our winners this week! Phyllis, Jennifer Rowell, Bruce Jones, Betsy Silvestri, Dee Dee Kenney, Stefanie Vandiver, Donna Kennedy, Karen Steinbach, Christa Ryan, Cathy Campbell, Danielle Ciotti Harsley, Jack Lynch, Jeanne Miller, Kris Nixon, Stephen Nesteriak, Ed Krol, Kay Egan, Tara , Tabitha Davidson, Tami Howerton , Paul Podkanowicz, Ken Jackson, Mike Geary, Chris Nichols, Melissa Such, Pat Schwier, Melissa Rymer, Sarah Lagasse, Tommy Montgomery, Sean Eggleston, Elizabeth White, Ed Suscreba, Art Hutchinson, Kaye Buchter, Janet T Thorn, Theresa Rucando, Christopher Treece, Krista Serpi, Team Hill, Kathy Morris, Valerie Saliceti, Donald Beck, Vera Williams, Donna Frank, Scott Vesterfelt, Tim Jeltes, The Emich Family, Jen Tremley, Kilby Kipping, John Mahoney, Ryan Mccorristin, Scott Cullen, Theresa Lucotti, Belicia Cullen, Jim Finley, Dave Freemyer, Sharyn Bluestein, Trisha Johnson, Mike O'brien, Katharine Marshall, Karen Williamson, Sisk Family, Chris Kelly, Josette Gabel, Linda Ranatza, Tammi Trout, Carol Ney, Jeff Bush, Bill Mcdonald, Rob And April – Team Vanderpool, Christine Mckay, Kerrie Hogan, Mary Mizell, Scott Precise, Jonathan Ward, Brian Miller, Ericka Zwettler, Joe Timko , Ed Hogan, Calvin Phillips, Lynette Michalos, Elaine Kleinhenz, Mary Beth Tarbet, Uchtman Family, Danielle Mahoney , Angie Young, Megan Krainski, Terri Vicknair, Marge Crowther, Paul Moore, Jeanna Covert, Deb Ragno, Craig, Sheryl Hicks, Cindy Carrigan, Liz Moreau, Karen Schlumpf, Jason Hocker, Karen Adamakis, Darrin Mclellan, Josh Weiss, Sandy Zeringue, Tricia Petty, Kye Layton, Tisdale Family, Robert Hildebrandt, Michelle Boewe, Chris Schrider, Schweizer Family , Paul Knott, Claire Gregory, Lori Arnold, Roger Vollmer, Maureen Handy, Cindy Pink, Jodi Cook, Kerryann, Dawn Bach, The Kahle Family , Anjanette Tournillon, Susie Howard, Carolyn Como, Sarah Strouse, Brendan Abel, Jennifer Galloway, The Kertes Family , The Fosbender's, Andy Hickey, Dawn Simpson, Patty Carty, Kristen Thumser, John Bickers, Francis Lachance, Morgan M., Mike Mondoux, Elizabeth Johnston, Marguerite Garofalo, Carolyn And Andrew Poirier, Daniel Record, Carla C, Cavin Michaud, The Young Family, England, Margaret Erath, Bonnie Chojnicki, The Gunnels Gang, Rosanna Bowser, The O'meara Family, Lee Anastasi, Erin Dagney, Christine Dagney, Paul Dickson, Pam Bryant, The Parker Family (w/out Nikki's Help), Fishman Family, Rob Blundin, Vicki Edwards And William Edwards, Karen Smith, Lynn Behr, Zach Szymko, Robert Wescovich, Lynnette Feltner, Erin Loring, Dennis Loring, Rachel Resciniti, Larry Sprenkle, Kerry A., Amy Filliben, Kerm Popek, Andrea Kruszewski, Vera Dercole, Double Family, Gabriella, Terry And Matthieu, Penny, Michelle Brown, Emily Hudson, Sarah Orman, Doug Olson Family, Tom Buck, Diane Curfman, Maria Beaumont, John Menjes, Maryann Romagnano, Jd Conti, Hunter Armstrong, Jeremy Hardy, Lori Pahl, Kerri Coggins, Kathryn Perkins, Sarah Calvario, Krostyn Scibienski, Terry Blair, Brian Gallant, Bob Patterson, Dallas Hamilton, Leigh Mertz, Wayne Witherspoo, Jennifer Harmon, Rebecca Keenan, Ken Rhinehart, Alison Rosenberger, Jennifer Snook, Shelly Borella, Dee Riccio, Wayne Beck, Patrick Broaddus, Timothy Hutchinson, Karrie Duffey, Anastasia Macneil, Michelle Kuijer, Jennifer Walker, Jullie Pudem Scanlon, Terry Fleming, Lindsey Schlauderaff, Paul Resnick, Al Sandal, Craig Lordan, Karen Bellamy, Team Meeker, Jennifer Mercier, Kelly Smith, Scott Sangston, Brian Mcwithey, Gail States, Melody O'donnell, Kristi Jack, Ashley Hill, Mark Benton, Bonnie, Tracy Discher, Katie Bray, Susan Higginbotham, Luis Rodriguez, Chris Thomas, Carla Leger, Kelly R., Les Stewart, Elizabeth Scarborough, Kristen Mccoy, Wayne Chadourne, George Mundy Jr, Nathalie Periard, Dave Carriere, Carri Marotto, Dana, Heather Pedulla, Sara Holloway, Joseph M. Zafia, Robert P. Flaherty, Vickie Scioneaux, Melissa Littman, Ellen, Maryann Daly, Curtis Bille, Dick Smith, Dave Kanigowski, Amor Family, Sandy Kanigowski, Fred Shakeshaft, Mike Walter, Vicki Britt, Myra Mann, Team Bonnie Sue, Gallagher Family, Shirley Garcowski, Tom Higbee, Patti Mccaffrey, Kim Wolfe, Peggy Saeger, Chris Joyce, Jo Ann Bailey, Al Desimone, Debbie Desimone, Christy Schor, Agnes Ciotti, Jane Johnson, Nancy Crossman, Nathaniel Clements, Emily Harper, Heidi Goodhue, Susan Higginbotham, and Julia Wickware. Each of you are entered in this month's winners' drawing.
_____________________________________________________ _____________________
Challenge #301 Where in the world is this?
We are going outside the parks this week, Players!

Do you know? Do you have a guess? Please send in your answer, before the end of the day on Thursday, October 17th, by clicking on the blue box below. Please do not post answers using the Feedback Form link at the bottom of this post.
See you next week, Players!


_______________________________________________________________________
Everyone who sends in a correct answer to a Where in the World Challenge this month will be entered in a drawing at the end of the month for some special AllEars® goodies!