To all who come to this photo trivia game, Welcome! Along the way, the photos can make us relive memories and see details Walt's Imagineers put into everything we love in Walt Disney World!
Birthday shout out, Players! Happy Birthday (on the 16th) to Agnes Ciotti!
I hope you have a magical year!
Christi Ison, what a fantastic note! THANK YOU!
Rob And April Vanderpool, I am having a string of magical milliseconds right now! Just one of those times when I'm feeling it, you know? Happy sigh!
Kyle Kenney, one of the best answers ever! And completely accurate. 😉
Sophia Clifton, please remember me when you become a Disney merchandise designer! I buy LOTS of merchandise and I can say I knew you when you were just planning your goals! 😉
Hey, Lynn Brooks and Cindy and Daughters Stinsons, what time is the 3:00 parade? The Hoekzema Family need to know for when they're in Disney in less than a month. LOL! That's still a great joke, isn't it, Jamie K? (I have a cast pin with this joke on it. 😉
Mary Tackett, I can't believe the high school teams' lousy priorities! A game before going to Walt Disney World: my goodness! What are they teaching kids nowadays! 🙂
Here was last week's Challenge: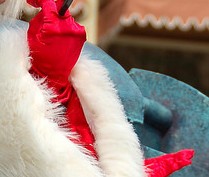 And here's the answer:


Copyright © 2011 Erin Blackwell Canon PowerShot ELPH 300 HS, 12mm, 1/40s shutter, f5, ISO 800
Maureen Handy, in answer to your question:, yes. 🙂 Because:
Hide your puppies – it's Cruella De Vil! (By the way, I found at least four different spellings, but this is the official Disney one!) She's in the Disney's Dreams Come True Parade in the Magic Kingdom! Barrie Brewer took this photo and if you click on the above picture, you'll see it in full glory on her photography site!
That leads into something funny. Several of you pointed out that Barrie posted this exact same picture in January 2011. It's the second time I repeated one of her photos, so…. Remember last week where I explained the process for posting Where in the World each week? Well, this is the part where I laugh at myself for being a dork.
Um, I mean, this is where I point out that I DELIBERATELY did both of these as a tribute to Where in the World Photo Fun founder, AllEars Trading Cards creator, and former team mate Barrie Brewer. That's my story and I'm sticking with it. 😉
So what have we learned, Players? That yours truly doesn't know what pictures were in the game during the Barrie years. You gotta love me. LOL!
Barrie gave me several villains, including other favorites of mine, and I picked Cruella because she's in full blown De Vil mode there, isn't she? And without aide of a mask! I know I'm checking to make sure my dogs are okay!
Quick story: On the animated movie's 40th anniversary, a local radio station interviewed Betty Lou Gerson, the actress who played Cruella De Vil. She sounded like the sweetest aunt you can imagine, so the interviewer asked could she do Cruella's voice and she very nicely said, of course. Then she suddenly transformed into De Vil mode and ranted, "JASPER! HORACE!" and everyone went crazy with excitement! Including me. 🙂
Susan Hill thanks me for putting Cruella's song in her head. It wasn't in mine until Paul Dickson and Kerri Coggins started singing it, so like Kerri said: all together now!
Cruella De Vil!
Cruella De Vil!
If she doesn't scare you,
No evil thing will.
To see her is to
Take a sudden chill!
Cruella, Cruella De Vil!
Virginia Pierce was the first to send in the correct answer! Congratulations to Virginia and to all the readers who got the answer right: Chris Kelly, Emily Hudson, Lauren Thomas, Jen Snapp, Ed Elder, Sharon Pierce, Brian Haas, Emily Hudson, The Strukel Family, Larissa Huda, The Kahle Family, Matt Holley, Vera Williams, Leigh Mertz, Chris Masse, Kathryn Perkins, Paul Dickson, Mary Beth Tarbet, Team Hill, Linda Scrivano, Mike Haven, Pollyanna Buff, Claressa Nisley, Maggie Klotz, Maggie Klotz, Mike Walter, Evanna Huda, Monica Hatch, Heidi Demello, Sharon Dale, Carol Gamill, Karen Tuso, Dawn Bach, Kris Nixon, Karen Duchnowski, Scott Cullen, Mary Virginia Clause, Erin Hammer, Lynn Brooks, Tom Hermes, Belicia Cullen, Eileen Whitmore, Angela And David Blevins, Dylan Weidner, Maureen Hanlon, Jill Johnson, Double Family, Katie Duncan, Linda College, Jen Cerce, Dale Knight, Bruce Jones, Andrew Loft, K.l. Beasley, Melanie Kolacy, Sharon Lee, Melany Hodges, Bruce Hinterleitner, Stephanie Hardhouse, Ken Maikowski, Steve Knapp, Jonah Rigby, Laura Valk, Audra Miller, James And Kathy Berry , Kevin Miller, Rob Blundin, Lauren Proutt, Patti Mccaffrey, Derek Carty, Jeremy Mccaffrey, Dayshel Harwood, Jeffrey Dunne, Ellen Sullivan, Paul Knott, Jennifer Rupert, Maureen Handy, Erica Cruz, Tiffany Gibb, Jennifer Harmon, Jenn Goad, Julie And Kody Rider, Donna Currier, Kerry Mccaffrey, Patty Carty, The Parker Family, April Ramey, Sarah Munkres, Vanessa St.john, Daniel Record, Chloe Mayhew, Sophia Clifton, Jeremy Hardy, Rebekah Schultz, Ken Hughs, Maryann Eckenrode, Kameo Crea, Noah Schweizer, Courtney Payne, Vicki , Elizabeth, William And Thomas Edwards, Kerry A, Khris Kozlov, Julie Wickware, Betsy Silvestri, Jodi Cook, Dan Johnston, Claire Gregory, Claire, Clint Curfman, Crystal King, Michelle Thompson, Krista Livingston, Angie Young, Jamie K, Erin Connell, Shaun Leake, Susie Howard, Steve Smith, Michael Mclucas And Jackie Mclucas, Christine H., Cynthia Heise, Megan Krainski, Liliana Rivera, Dan Owens, Lori, Kathryn Willer, Millie Tenreiro, Brendan Abel, Michelle Goodwin, Kenny, Erin Loring, Dennis Loring, Erika Loboda, Danielle Ciotti Harsley, Susan Higginbotham, Harrison Grasso, Sandra Shaw, Leach Family, Brian Mcwithey, Hoekzema Family, Katie Bray, Craig, Luis Rodriguez, Kerri Coggins, Karen Ramayrez, Diane Ramos, Craig, Brian Grabowski, Mike Gillardi, Ken, Paula Massarelli, Jay, Christopher Hall, Kristen Carde, Jeremy Reichelt, Elyssa H., Elizabeth Scarborough, Jeff Holt, Kristen Mccoy, Anastasia Macneil, Tim Johansen, Nicole Duddy, Monica Owens, Phil Vickers, Jerry Weldon, Chris Bauman, Vincent Maltese, Mary Tackett, Shelly Borella, Matt And Danielle Murgia, Paul Moore, Matt Ciccone, Lori Rienhardt, Trish Babler, Dan Owens, Matthew Jadro, Nathalie Periard, Becky Norman, Kelly Taylor, Jen Tremley, Jane Bradley, The Patterson Family, The Zanauskas Family, Rina, Al Desimone, The Hicks Family, Jodi Johnson, Dwayne Fontenot, Carri Marotto, Kelly Smith, Andrea Kruszewski, Kathleen, Dee Dee Kenney, Morgan M., Kristyn Scibienski, Suzanne Denham, Kelsi B, Heidi Goodhue, Kerrie Hogan, Gabriella &Matthieu, Misty Mehelic, Caryn Schill, Amanda Kenney, Kyle Kenney, Walter N. Clark, Doug Olson, Clinton Dickinson, Les Stewart, George Mundy Jr, Rebecca Keenan, Michael Phillips, Alan Mize, Ken Rhinehart, Margie, Vicki Britt, Jayme Michel, Kay Moss, Jason Skow, Karen Bellamy, Hillary Waldroop, Sara Holloway, Karen Smith, Teresa Plunkett, Sharon Lightfoot, Sharon Lightfoot, Sheila Saey, David Ballard, Joseph M Zafia, Allison Caputa, Sharon Leitgeb, Mickey Eckert, Deb Ragno, Laurie Malesky, Bob Burge, Mike O'brien, Jason Geberdt, Dayna Guay, Barclay Bakkum, Paula Chapman, Sonya A, The Kertes Family, Donna Hood, Nicole Shuler, Cindy Stinson, Rob And April – Team Vanderpool, Shannon Thomas, Laura Morrison, Vickie Scioneaux, Christi Ison, Annie Snodgrass, Shirley Garcowski, Josh Weiss, Mark Franklin, Abbey Hendrix, Christopher Barnes, Kelli Sangston, Laura Morrison, Debbie Buckhannon, Erin Dagney, and Christine Dagney. Each of you are entered in this month's winners' drawing.
_____________________________________________________ _____________________
Challenge #225: Where in the world is this?
A few players have been bragging about how easy the last few weeks have been. I won't mention any names, in case you end up holding it against them, but one person's initials are Patti Mccaffrey. 😀 So just for them, we're having another double challenge!
Like the previous Grass and Seagull Challenges, we have a real toughie first – where in the World are these balloons?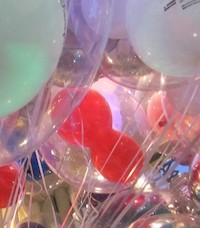 Here is the regular Challenge, which still has a higher difficulty level (or, at least, I think so):


Do you know? Do you have a guess? Please send in your answer, before the end of the day on Thursday, April 19th, by clicking on the blue box below. Please do not post answers using the Feedback Form link at the bottom of this post. Remember to be specific with your answer – just naming a park will not get you into the drawing.
See you next week, Players!


_______________________________________________________________________
Everyone who sends in a correct answer to a Where in the World Challenge this month will be entered in a drawing at the end of the month for some special AllEars® goodies!