This was Challenge #158: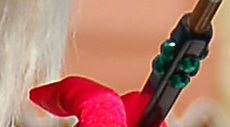 And here's the answer: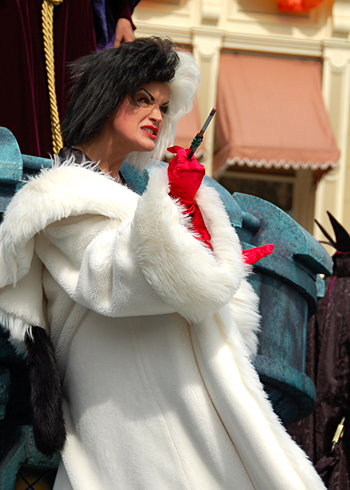 Copyright © 2007 Barrie Brewer, Nikon D50, 18-200mm VR, 1/1250s shutter, f/5.3
This is, of course, Cruella De Vil from 101 Dalmatians. If you guessed it was her, it doesn't matter where you thought she was, you still got it right. In this picture she happens to be riding on the villains float in the Disney Dreams Come True Parade at the Magic Kingdom.
Daniel Record was the first to send in the correct answer for the challenge! Congratulations to Daniel and all the other readers who got the answer right: The Kahle Family, Dylan Weidner, Julie Wickware, Rhonda Dunn, Beth Mcmeekin, Dale Knight, Sandra Shaw, Sharon Pierce, Mary, Barbie Lawless, Jane Bradley, Evanna Huda, Larissa Huda, Tom Koval, Elizabeth Macgregor, Brian Sheets, Denise Cayz , Cindy Dore', Jennifer Harmon, Bridgette Gallagher, Caryn Schill, Elaine Johnson, Christopher Barnes, Debra Kuklinski, Pollyanna Buff, Dillon, Kyle, Colin Buchanan, Caroline Dupre, Nancy Cox, Mia W., Annette Nuenke, Holly Anderson, Rob Blundin, Walter N. Clark, Cheryl Buchanan, Donnie, Christie Condit, Allison Burgess, Nicole Alley, Emily Currier, Judy Koslowski, Irene Kleintop, Nicole Duddy, Michelle Thompson, Jen P., Sharon Dale, Paul Cooper, Terry Fleming, Anastasia Macneil, Christopher Hall, Steve Knapp, Scott Lau, Vicki And Elizabeth Edwards, Mickey Eckert, Debby Webber, Diana Fitzgerald, Matt Degrandis, Linda College, Lisa Palmer, Richard Palmer, Sammi Jo , Kameo Crea, Drew Deapo, Todd Tavender, Jeanne Cohem, Heather Young, Sarah Smee, Andrea Kruszewski, Karen Dresser-smith, Gareth Molyneux, Kristen Mccoy, Carri Marotto, Kelly Zanauskas, Shane Stack, Matt Holley, Lin Fales, Wendy Kemp, Jimmy Heffner, Jamie Poynton, Kellie Carter, Alan Mize, Victoria Jurkowski, Caitlin Rush, Brenda Strohmeyer, Greg Strohmeyer, Jennifer Bogdan, Thomas & william Edwards, Joseph M Zafia, Jim Riley, Lauren Bogan, Cynthia Glasper, Sarah Holodick, Mike Thomson, Suzanne, Sammi Jo Albucker, Vickie Scioneaux, Nicole Shuler, Tiffany Keenan, Kelly Mager, Mike Kaczanowski, Kelly, Heather Coursen, Catherine, Kathie Goldberg, Leslie Guy, Paula B, Ed Hogan, Courtney Rader, Kirsten Stark, Jeff Blank, Jill Martin, Mike Cerce, and Betsy Silvestri! Each of you will be entered in this month's winners' drawing.
_______________________________________________________________________
Challenge #159: Where in the world is this?
Do you know? Do you have a guess? Please send in your answer, before the end of the day on Thursday, January 13, by clicking on the blue box below. Please do not post answers using the Feedback Form link at the bottom of this post. Remember to be specific with your answer – just naming a park will not get you into the drawing.


_______________________________________________________________________
Everyone who sends in a correct answer to a Where in the World Challenge this month will be entered in a drawing at the end of the month for some special AllEars® goodies and a cool Disney book!