We're back at Walt Disney World (yes, less than a month after our last trip) for Marathon weekend. As I mentioned several months ago, Lee and I are planning to run the Goofy Race-and-a-Half Challenge this weekend. That means that we run the half marathon on Saturday (which is today for many of you reading this) and the full marathon on Sunday. Something that you have to be, well, Goofy, to do. I think there are about 3000 of us entered in both races this year.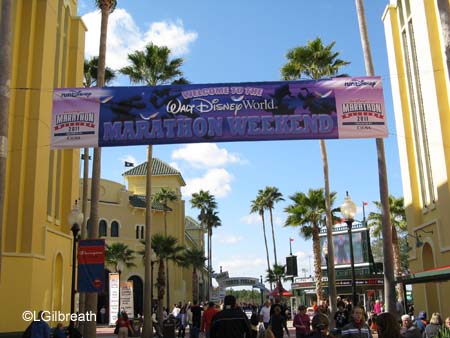 To prepare for this we trained for the last six months with a group in San Diego called the West Coast Roadrunners. We've trained with them before when we ran our first WDW Marathon – it's really a fun group of people and they have years of running experience. So there's lots of support and training tips and coaching available. Those long training runs are a lot easier to do when you're running with a group. Some of the coaches and group members had run Goofy before, so we picked their brains about strategy and training. Since we are only trying to "finish in a vertical position" and are not trying for any personal bests, our strategy is to take it easy during the half marathon – stop for pictures, do some walking, don't push the pace when running – and then just try to do as normal a "long run" as we can on Sunday. If we have to walk a lot, so be it – we have 7 hours to finish, and even if we didn't run at all we could do that.
We've been doing the walk/run thing (as recommended by Jeff Galloway, Disney's running consultant) for the long runs, with a 4-minute run/1-minute walk interval. I think it's really helped me a lot. Though you don't always realize it, you use different muscles when running than when walking. So that walking break allows my running muscles to rest and recover a little bit, and I'm not quite so tired at the end of a long run. We plan to do that for both races this weekend, though it's really hard to slow down to a walk during the first few miles when the legs are still fresh! But you have to do it from the start for it to be effective.
As for what else has been going on…After we arrived last night we went to Epcot and had dinner at the Tangierine Cafe – that's one of our favorites, but we didn't have a chance to eat there last month – partly because the seating area is like a breezeway and it gets really cold – and it was cold enough last month without eating in a wind tunnel. Anyway, after dinner we walked about World Showcase lagoon, getting some hot spiced wined and some caramel corn in Germany, and then we watched Illuminations. The globe was seriously misbehaving last night – first it didn't turn on, and then it wasn't spinning, and then it kept going off and on. The middle of the show is pretty boring if there's no globe! At the end it didn't open up which worried us – but someone must have hit the "emergency abort" so that the fireworks inside it didn't go off. It made the finale not quite so effective though. Hope they get that fixed soon!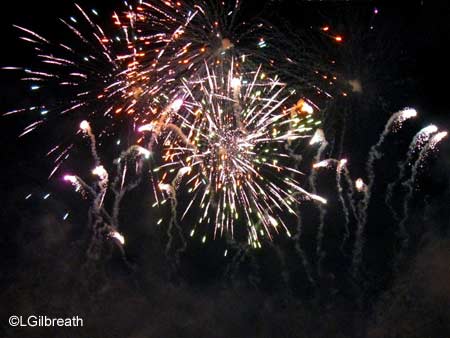 This morning we took the bus over to the Expo, though first we met up with some of our Team AllEars teammates. It was nice to put some faces to some names!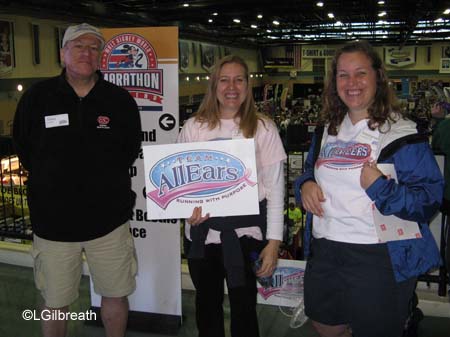 The packet pickup was pretty uneventful – as "Goofy" runners we had our own pickup area and there really weren't any lines.
Down in the merchandise area there were more people and the checkout line had a lot of people in it, but they kept it moving quickly. There was a much better selection of merchandise than I remember from past races.
The Expo was in a separate building, and it was a lot more congested than it was when we ran the marathon 5 years ago. That's where we picked up our "Goody Bags" which had our shirts in them. As "Goofy" runners we got *three* shirts – the regular half marathon and marathon shirts AND a special Goofy shirt.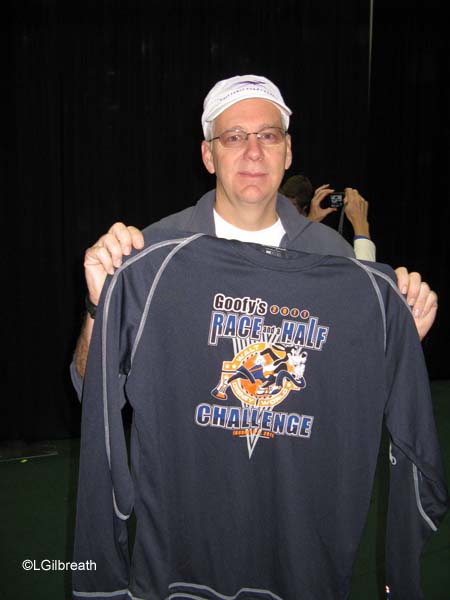 We did a little shopping and bought a few things that we will use both this weekend and in the future.
Geico is one of the race sponsors – and the Geico gecko was there. 🙂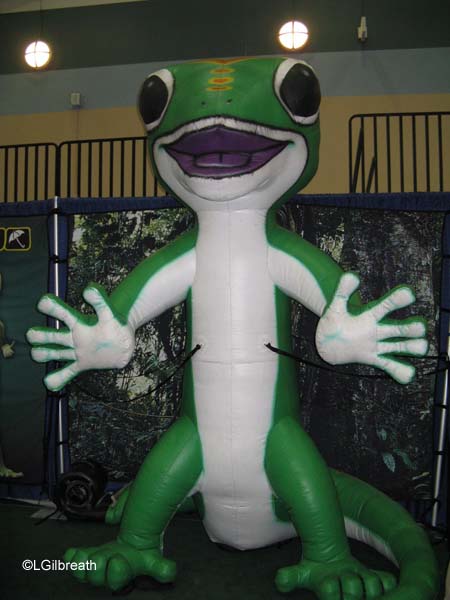 HP had a booth and would give you a photo for free, so we did that. We really weren't at the Magic Kingdom. 🙂
As we were leaving they had this banner overhead:
Taking the bus to the Expo was really a good thing – the traffic getting in there was pretty bad, so it was a lot easier to take the bus. The bus was serving all of the Epcot Resort hotels, so we got off at the Dolphin and had lunch at Picabu. Lee had a dinner with lasagna, mac and cheese, and creamed spinach (getting started on that carb-loading!).
I had a bowl of chicken and pasta soup – it was very good. We like Picabu – it's close to the Boardwalk AND we get a 20% discount by showing our DVC member card.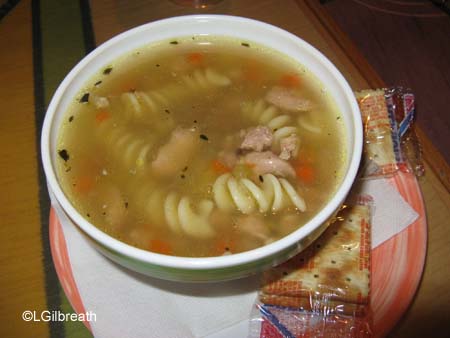 We had a short break back in our room before the AllEars meet at the Belle Vue Room this afternoon. I don't know how many people were there, but it was quite a turnout. Lots of the Team AllEars members. And it was wonderful to see old friends like Gail and Julian Robinson (from the old RADP days!).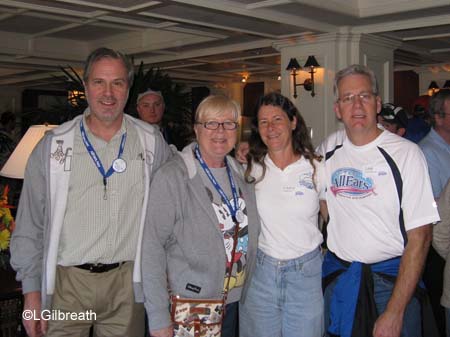 And we met some other RADP people, too – Linda McCollough introduced herself, and we'd met Ed Russell back in December. (Ed ran the 5K this morning, just six months after open heart surgery, and got his first Disney bling! Woo hoo Ed!)
Team AllCheers is going to be out in force cheering us on this weekend (which really means a LOT, especially late in a race), and they even got custom cowbells for it! I love these.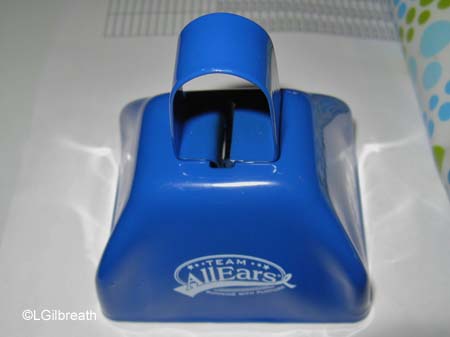 Our plan for tonight is go go have dinner at Seasons in Epcot (yeah, probably more walking than we should be doing, but at least we haven't been in parks all day like some of our Team AllEars teammates have!), and then get as much stuff ready and laid out tonight as we can.
And then comes the really hard part – trying to sleep. Complete with pre-race jitters (this will be my 11th half marathon, but I still get nervous before a race), and knowing that the alarm is going to go off insanely early (like 2:45 or so). The buses start running at 3:00, and our goal is to catch a bus by 3:15 or so, so that we have time to get to Epcot and enjoy the Race Retreat (that's a special tent that's heated, with chairs and refreshments and its own porta-potties – we paid extra for it, but I think it'll be worth it!) before we have to walk to our starting corral.
The weather looks like it'll be really good – no rain, some sun, and temps in the 50s. That may sound chilly, but it'll be pretty nice for running.
Hopefully as you are reading this, especially if you're on the west coast, we are already done with the half marathon, since we should be finished by 9:00. I'll post an update to this blog right here once we're back at our room.
And we're done! It went really well – I finished in 2:35:49 and Lee finished at 2:35:47 – not sure where he picked up two seconds on me, though. 🙂 We feel good.
Now, please think good thoughts for us for Sunday's marathon!