Saturday was half marathon day! In case you didn't read the update I made in yesterday's blog, we finished in 2:35:49. Which was faster than we anticipated, and we felt good afterwards.
One thing we don't like about Disney races…they start so darn early. The alarm and the wakeup call came almost simultaneously at 2:45 a.m. Neither of us slept well – between jet lag and nerves we only slept for about an hour and a half. Still, we woke up pretty well.
We'd gotten just about everything ready the night before, and had set aside the clothes we were wearing, so it didn't take us long to get ready and we were out the door a little after 3:00. There are special buses at each resort to transport all of us to the race, and one was already there and mostly full – in fact it started to pull away before we were seated!
As if running 13.1 miles isn't enough, there are also several lengthy walks to get us from place to place – first was the walk from the bus drop-off over to the race staging area. The weather was actually pretty nice – not very chilly at all – it was about 53 when the race started.
We had paid for the Race Retreat, so we headed there. This is a big (heated) tent with lots of tables and chairs. They serve refreshments – there was plenty of bottled water and PowerAde, as well as coffee, tea, and hot chocolate. They also had bagels, muffins, cream cheese, bananas and oranges, peanut butter, and jam. It also has its own baggage check area, and its own men's/women's porta-potties and changing rooms. Really nice not to fight the crowds for those.
We hadn't taken the time to eat in our room because we knew we could get something at the Race Retreat. It worked out well – it gave us a little more time to relax in the retreat. We found a whole table of Team AllEars folks and enjoyed chatting with them.
They also had characters in the Race Retreat – it was cool to get my photo taken with Buzz, Woody, Jessie and Bullseye all at once!
At about 4:15 we headed out to meet more of Team AllEars and pose for a group photo, and then began the walk to the Start Corrals. I say "walk", but it was really barely a shuffle. There were about 27,000 runners, and it takes a looong time to move that many people, especially since a lot of it was on a narrow road backstage. We eventually made it, though, and took our position in Corral D.
They started the race in waves, 6 minutes apart. That did help to ease the congestion a little in the early going. And each wave got their own send-off with fireworks, flames, and characters. Of course it also meant that we were already over 18 minutes behind the leaders by the time we crossed the start line.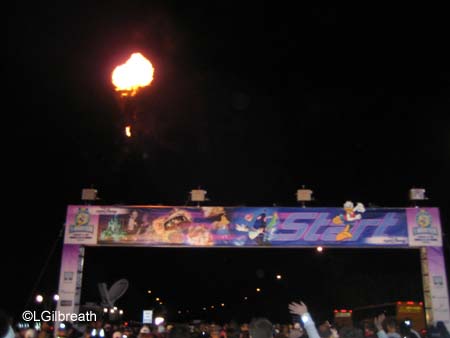 Sunrise wasn't until 7:20, so it was still very dark in the early going. Deb Wills was cheering for us (where did she get all that enthusiasm so early in the day?) just after mile 1.
I said the congestion was a little better – that was true, until we got to the one lane roads, and then it was pretty slow-going. That was a problem for the entire race – I'm used to them being congested early, but then it gets better as people get spread out. This never really did that. It's a good thing we weren't running for time, because we would have been very frustrated at not being able to get clear so we could run our own pace.
Because it was so dark there wasn't much in the way of character opportunities until we got past mile 5. The Pooh characters were out about mile 2, but had a huge line, so we didn't stop. There was this really cool Epcot balloon along that stretch, though!
By the time we arrive in Magic Kingdom, about mile 5.5, the sun had risen and it was getting much brighter. We stopped to pose with the Alice in Wonderland characters – Alice thought it amusing that we both greeted the Queen as "Your Majesty".
While we were waiting for them we saw Al Roker run by – he finished with a time of 3:16:52.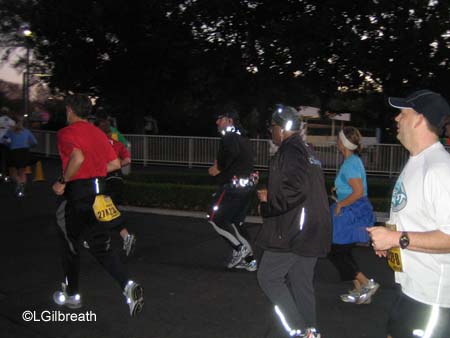 There were quite a few characters behind the castle, but the lines were long except for the Fairy Godmother. We asked her for some magic to give us a good race, and she sent us off with a "Bibbidi, bobbidi, boo!"
They had a really neat pirate ship with lots of scurvy pirates just as we ran back behind Splash Mountain but that was a HUGE line so we didn't stop.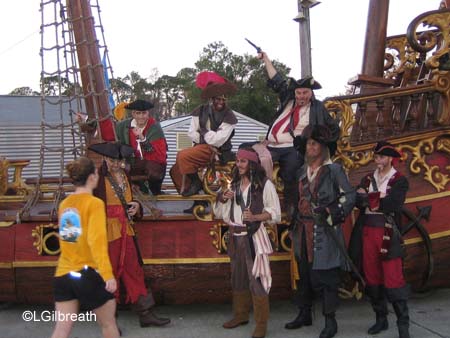 The worst part of the race was after we left backstage and ran towards the Grand Floridian and the Polynesian. It was again down to one lane, and it was late enough in the race that a lot of people were getting tired and were either walking or running slowly. Because it was so narrow it was hard to get around them. Once we got back beyond the car care center it was multiple lanes and a lot better.
Oh, one cute thing – near the Wedding Pavilion there was a wedding singer – a Barry Manilow impersonator. He was singing Copacabana as we went by. Lee was cursing whoever had hired him about a mile after that because he couldn't get the song out of his head. 🙂
Just past mile 11 Tinker Bell was out with a couple of her pixie friends – they were very cute.
And not long after that we found Deb and some of the AllCheers team again – and we both got big hugs from Deb.
We were still feeling pretty good, and actually picked up the pace for the remainder of the race – we even sprinted the last .3 miles or so – or as much as we could trying to dodge slower runners.
I high-fived Mickey and Minnie, who were standing to the side just before the finish line – no photo, though, since I didn't want to stop at that point.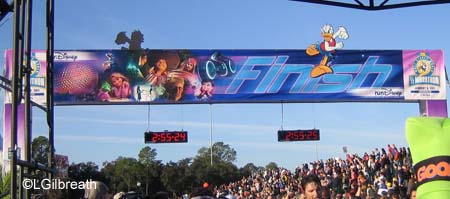 Into the chute, where they handed us a mylar emergency blanket (the morning was a bit cool), and we got our shiny Donald Duck medals. 13.1 miles down, 26.2 to go. I hope we feel as good tomorrow as we did today.
We were hoping to meet one of our West Coast Roadrunners teammates from San Diego, but she had started and finished before us, so she was already gone. We chatted with a few Team AllEars people before we went back to the Race Retreat.
After the race they had a hot breakfast for us – scrambled eggs, turkey sausage, hash browns, fruit, and muffins, and of course the usual beverages. That tasted pretty good.
Our Team AllEars co-captains, Michelle and Mike, were enjoying some relaxing moments along with a few other teammates. It's really a very nice way to end a race. (Massages were available, too, but there was a long line for that.)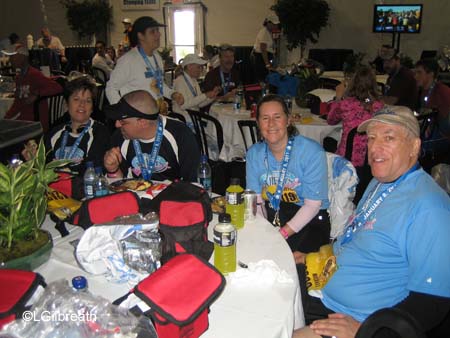 We were still feeling pretty good, so we decided to walk back to the Boardwalk through Epcot (we'd brought our park passes with us) instead of taking the bus. It was about a mile and a half. We'd been up for hours, so it was a shock to realize that it was just barely 10:00 and World Showcase wasn't even open yet!
After showers and a short nap for Lee we went in search of lunch. We'd planned to eat at the Dolphin Fountain, but it was packed with conventioneers, so we went to Big River Grill at the Boardwalk instead. Even there we had a 10-15 minute wait, but we could sit down so it was ok.
This afternoon we drove over to Ft. Wilderness for the Team AllEars Meet at Trail's End. This was THE meet that they really wanted everyone to come to. It was fun to meet some more people and share our half marathon experiences.
Deb got us all together and introduced the people who helped make Team AllEars and AllCheers all that it was this year – Michelle and Mike, Amanda, Brad, Jamison, Melanie and Julie.
And then she announced the funds raised for the fight against breast cancer – with money still coming in it's up to $46,677!
Deb also had a very special gift for all of us – more bling! Our very own, very exclusive, Team AllEars 2011 medal! That was very unexpected, and really awesome!
We posed for a group photo, of course. 🙂
Lee and I decided to drive to Wolfgang Puck's Express at Downtown Disney to get takeout for dinner – gotta get some more carbs on board before tomorrow.
And now the race preparations start again – what to wear, what to set aside – it should be easier this time, though. 🙂
We're tired enough that I hope we will sleep better tonight – the alarm is set for 2:45 again.
So here's Donald…hopefully Mickey and Goofy will be joining him tomorrow!
Wish us luck with the marathon – I'm sure we can do it, but I'm also sure we'll be hurting at the end.
I'll post our time here after we finish.
Ok, we finished, and it went pretty well – we were able to run/walk the whole thing, and still have time for photos with a lot of the characters. Our time was 5:23:24, which is actually almost 20 minutes better than when we ran the marathon five years ago – and we only ran the marathon that weekend.
We're tired and hurting a bit, but nothing that rest won't fix. Very happy it's over, but I love my Goofy medal! 🙂 Thanks to all of you who sent positive thoughts our way today – I know they helped!