We did it – we're Goofy! We felt a lot better than I expected, and we actually ended up run/walking the entire race – I figured we'd be walking a lot of the last 6-8 miles since I thought we'd be much more fatigued after the half marathon yesterday. I was hoping to finish in 6 hours, but we finished in 5:23:25! We were both really happy with that.
I think I alluded to it in Part 1, but I didn't talk about our run/walk race strategy for the races this weekend. We've become intrigued with Jeff Galloway's program (and he is, after all, the Run Disney consultant) to run/walk our long runs rather than just running the whole thing. How long you run versus how long you walk varies from person to person, and what works best for you. We've been using a run 4 minutes, walk 1 minute program since November, and I'm really a big fan. Though it might seem strange, running and walking use different muscles in your legs, and by walking some you give your running muscles that time to rest and recover, so you don't tire as easily. I've found that for the most part I can maintain (or even better) my overall pace by walking 20% of the time. Then when I am running I can run a little faster, so it makes up the difference in my walking pace (though admittedly I am a fast walker).
It really worked well for us this weekend!
As you might imagine we are pretty tired, but it's nothing that a little rest won't cure.
The day again began at 2:45 a.m., though at least I slept better last night since I was tired from yesterday. The buses were waiting at the Boardwalk, though we had to wait about 10 minutes for one to fill up (in the meantime we were in a heated bus with cushy seats, though!) before we were on our way to Epcot.
We again had the race retreat, so headed there after we walked over from the bus. We met Julie, from Team AllEars, and visited as we ate our breakfast, then checked our bag, and walked over to the start corrals. The marathon had "only" 17,000 entrants, as opposed to 27,000 in the half, so the walk over was a LOT more pleasant – there were just a few places we were reduced to a shuffle. Based on what I submitted as our estimated finish time (I drastically over-estimated and gave it as 6 hours), we were in the last start corral – ugh. So we started about 25 minutes after the first wave started.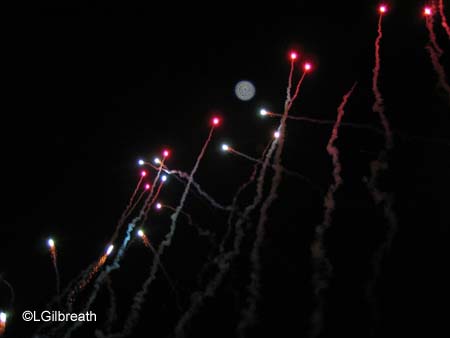 The weather was about 10-12 degrees COLDER than yesterday, and I could really tell – it was about 42. I was wearing my trash bag and emergency blanket right up until the race started, had my hand warmers until about mile 13, and didn't throw away my sweatshirt until almost mile 14. I was glad I'd decided to wear the long-sleeve shirt – there were times when the wind blew that I got a little cold. But the sun came out and it was really a perfect day for running.
Because we were in the last corral where just about everyone was either walking or running slower than we were, we ended up getting stuck behind slower people in the narrow places – it was frustrating. Though it did ease a lot earlier than during the half yesterday, and wasn't much of an issue after mile 13.
As we headed from the parking lot into Epcot they had some of the Electrical Parade units out to greet us – since it was still really dark, those were very effective. They were playing the music in the background, too.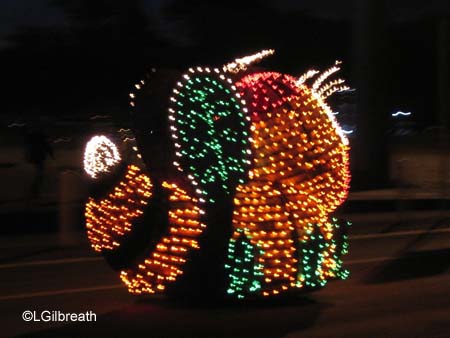 In Epcot we went under Spaceship Earth and up the promenade, where the Illuminations globe was lit (they must have gotten it fixed, though it still wasn't spinning).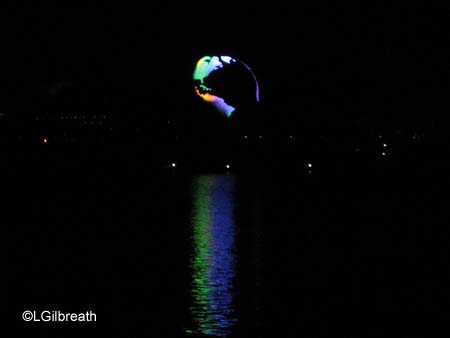 We saw a lot of the same characters today that we did yesterday, and today the lines were for the most part shorter (except for the Pooh characters and Mickey and Minnie) so I got a lot more character photos today. First up was Panchito and Jose Carioca at Mexico.
After we left Epcot it was a long, long way to Magic Kingdom – MK was just after mile 10, as opposed to mile 5 yesterday. We saw our friends Gail and Julian cheering near the Contemporary and stopped for a quick hug and photo.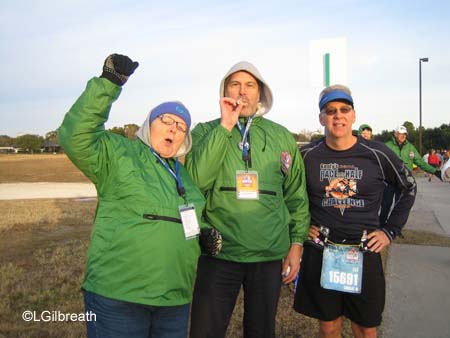 Once we entered Magic Kingdom we saw the AllCheers group at the hub before we turned into Tomorrowland.
Lots of characters in Magic Kingdom, but many of them we had seen (and had photos with) yesterday, so we bypassed those and did photos with some of the others that had too long lines yesterday. Like the Cinderella group – though today Cinderella wasn't with them – it was the Prince, stepmother, and two stepsisters. They were a hoot.
We again saw the Fairy Godmother and asked her for a little more magic because it worked so well yesterday. 🙂
The pirates were out again, and this time the line wasn't too long so we had our picture taken with them. A lot of the character locations had one of the official marathon photographers working there and taking photos, but this wasn't one of them. Because of that a cast member was asking everyone as they got in line if they had their own camera – we appreciated that – it would have been terrible to wait in the line and then not get a photo! I asked Jack Sparrow why there was no rum, and he told me it was waiting for me at the finish line. 🙂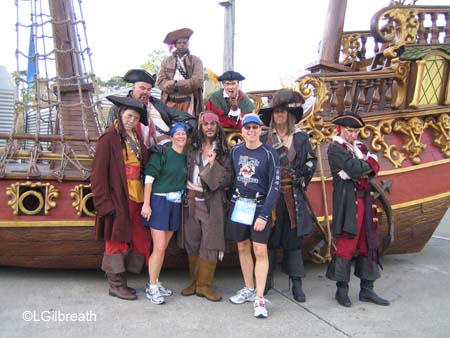 I think I've mentioned this in the past, but the characters were all so gracious, and didn't seem to mind being around (and even touching!) all of us sweaty runners. The ones who could speak usually made appropriate comments. It's just one of the things that makes the Disney races so much fun!
A couple of miles after we left Magic Kingdom we were at mile 13 – just about half way! Yikes. We were still feeling pretty good – a little more tired than we were at mile 13 yesterday, but not too much.
The stretch from there to Animal Kingdom I remember as being pretty boring five years ago, but it seemed like there was a lot more entertainment along the route this time. Several "streetmosphere" types of characters, including a bayou woman and her big (fake) alligator (someone dressed as Peter Pan put his head in the gator's mouth and she said: "Ohhh…I guess we'll have to re-write the ending to Peter Pan!), and "Davy Crockett" and his sidekick. My favorite was Zorro, though. 🙂
There were a lot of characters backstage at Animal Kingdom – and the line to take a photo with Mickey was actually fairly short. We noticed that the longer the race went on the shorter the lines got – I know we found it harder to get started when we stopped, and perhaps a lot of others felt that way, too.
Outside Animal Kingdom there were these refugees from the Haunted Mansion. 🙂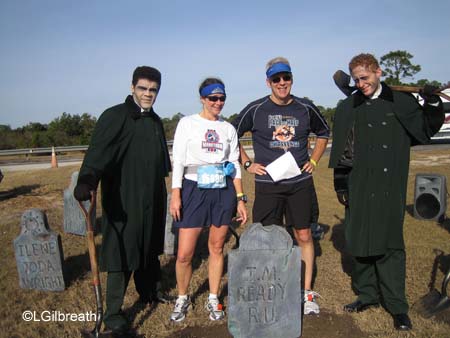 One of the hardest (cruelest) sections of the course is the part that goes out towards Wide World of Sports – and then loops back on itself. So you can see the people that are coming back towards you, but they are .6 miles ahead. I was getting really tired by then – my legs were fine while I was walking, but those 4 minute running intervals kept getting longer, and the one minute walks kept getting shorter. (Though the intervals often got disrupted by character photos and water stops, especially in this later part.)
When we arrived in the Studios, we were very disappointed that they hadn't rolled out the red carpet for us like they did when we ran the marathon five years ago. We had been looking forward to that…it felt SO good after running on pavement! There were quite a few characters backstage for us, though – we did our best monster impression when we posed with Sulley.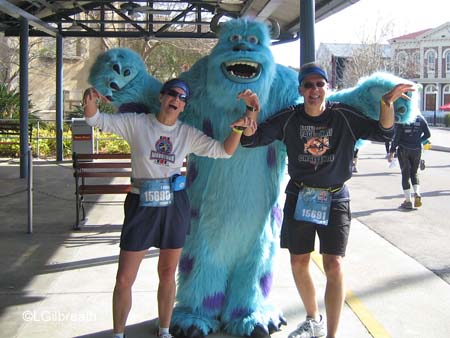 At this point we were past mile 23, and it was only about 3 miles to the finish. We knew we could do it, and also knew we had a chance to finish in under 5:30, which would be a real accomplishment for us.
There were two groups of AllCheers people along the Boardwalk – they helped keep us going. We got back into Epcot just before mile 25, and found a rather lonely Princess Aurora in France – everyone was anxious to finish and was just running by her. We didn't, though.
We got to the mile 26 marker – only .2 to go!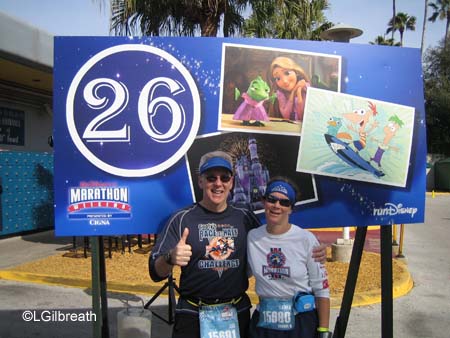 I really didn't have much left for a sprint, but did the best I could to try to keep up with Lee (he slowed down for me) and we crossed the line together – 5:23:25. WAY better than I was expecting to do!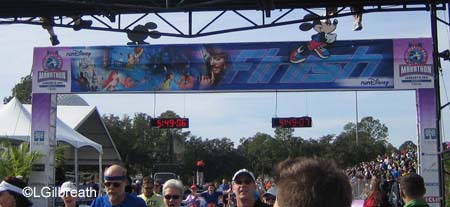 It was a cooler day today, so the emergency blanket was very welcome, and the Mickey Marathon medal even more so. There was a special area for "Goofy" runners, and that's where they put that lovely Goofy medal over our heads. Woo hoo – we did it!!! (This picture was actually taken in the Race Retreat – because we had three medals the photographer asked Buzz to hold one of Lee's medals and Jessie to hold one of mine.)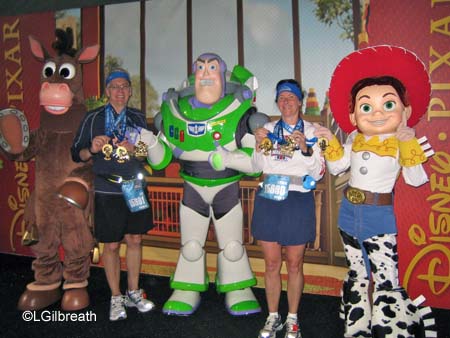 Today we were able to meet up with our Terri, our fellow West Coast Roadrunner – she did the Goofy Challenge last year, so she knows what it takes. It was really nice to see her.
We went to the Race Retreat where we had some hot food – in addition to eggs and potatoes they also had a vegetable bean soup. It was pretty salty, but after all that running that actually tasted pretty good. We got our picture taken with our medals, as you saw above. I wasn't up to walking back to the Boardwalk today so we took the bus – our timing was good because it was almost ready to leave. We did get off at the Swan and walk back to the Boardwalk, so we got in a little bit more of a walk.
Tonight we actually feel pretty good – tired, of course, but it's a good tired. Once we get moving we can walk pretty easily, and without pain.
We had a lovely dinner at Kouzzina, but I'll write more about that separately. (Thanks to AllEars reader Gail for coming up and introducing herself!)
How do you like my collection of bling from this weekend? I'm very proud of it!