This was Challenge #49:


And here's the answer: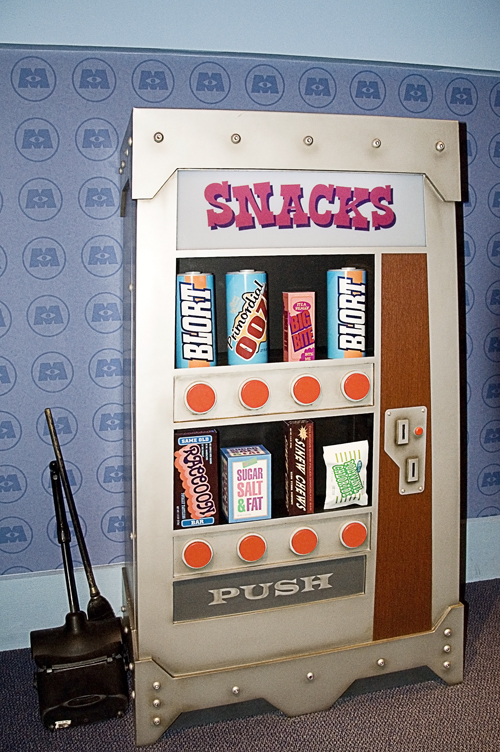 Copyright © 2007 Barrie Brewer, Nikon D50, 18-200VR, 1/60s shutter, f5, ISO 400
Hi everyone – I'm back! Thanks for putting up with my extended vacation. The last Where in the World photograph that I left you with was a can of Blort. I don't know what Blort is exactly, but I'm sure it's quite the tasty treat. You'll find it in this vending machine in the queue of Monster's, Inc. Laugh Floor Comedy Club. Mike Wazowski is the one-eyed monster host of this show, located in Tomorrowland at the Magic Kingdom.
Kevin Cowdell was the first to send in the correct answer this week! Congratulations to Kevin and all the readers who got the answer right: Cheryl Costello, Sherry White, Neil Taylor, Sharon Dale, John Dupre, Carrie Butcher, Debbie Hudson, Deb Ragno, Brian Yesutis, Laura Dawson, Jen Cox, Jennifer Bourg, Holley Blyler, Regina Reed, Jessica Reed, Patty Lue Roosa, Kevin Toomey, Theresa Rucando, Austin O'blenis, Chloe', Nick Straka, David And Melissa Lizewski, Kelly Jean Clarkson, Bob Kowalski, Maria Madsen, Maria Madsen, Jeff Christiansen, Vivian Abraham, Kristen Gainey, Angela Brown, Linda Mac, Melina Hillis, Craig Webb, Trish Babler, Dave Cole, Clarissa M, Kameo Crea, Sharon Lee, Kevin Scharf, Cam Lange, Irene Kleintop, Becky Terjung, Chris And Alison, Paul Ignudo, Jr., Rob Stewart, Melissa Mathias, Pat Moritz, Jean Scanlon, Emma Poprock, Bryan Henshaw, Shane Stack, Emily Pickle, Jamie Poynton, Pollyanna , Sara Lewis, Anna Keene, Willie Tople, Emily Nussbaum, Jeremy Hardy, Aruna Mohan, Bryan Timko, Glenn Meyer, Jerelyn Flores, Michael Pyle, Heather Fresa, Heather Coursen, Marita Sarad, Suzanne Queen, Victor Gonzalez, Rachel Law, Katie Whitehurst, Marcie Soderlund, Jennifer Smith, Noreen Rachuba, Christine Bishop, Krista Penno, Tim Rachuba, Melissa Rebelo, Scott Estabrook, Nicole S., Beth Dye, Michelle Castro, Nicole Lopresti, Stephanie Visco, Heather Timko, Jeff Dunn, Sharon Andersen, Chris Bertelmann, Catherine Chiarello, Angela Horan, Allison Caputa, Baines Family, Angie Young, Jeremy Coto, William Reed, Cindy Dore', Bic Bakkum, Julie Fahrner, Lee Anastasi, Deborah Shauan, Tom Koval and Alecia Brown. Each of you will be entered in the August winners' drawing.
_______________________________________________________________________
Challenge #50: Where in the world is this?


Do you know? Do you have a guess? Send in your answer, before the end of the day on Thursday, August 28, by clicking HERE!
_______________________________________________________________________
Everyone who sends in a correct answer to a Where in the World Challenge this month will be entered in a drawing at the end of the month for some special AllEars® goodies and a copy of PassPorter's Walt Disney World by Jennifer Marx, Dave Marx, Allison Cerel Marx!