Thought I'd post a trip report from my day trip to Disneyland on Thursday – I went up to spend the day with my "Evil Twin" Pam and her son Mark. (No, we're not really twins, but we look like sisters – so we say we are twins separated at birth – separated by several years, different parents and birth places on opposite coasts, that is. Oh, and by the way, SHE is the "evil twin". 🙂 )
Left San Diego at 6:35 and had NO traffic, which really surprised me, so I was parked in the parking garage by 8:00, and back at Space Mountain by 8:15 where I met my ET and her son.
I thought the park might be fairly crowded since this is the first week that those who have the Southern California Annual Passes have been able to return to the parks since June, but the park was pretty uncrowded for the first couple of hours. We pretty much walked onto Space Mountain, Buzz Lightyear, Pirates of the Caribbean, and Haunted Mansion. We
wanted to ride Indy but it was down. 🙁
We also went over to Pirate's Lair, since Mark and Pam hadn't been there yet. We hung back at the entrance to Dead Man's Grotto and let everyone else go in first so that we could take our time going through there, and play with the special effects, like the chest holding Davy Jones' heart and the treasure area with Pintel and Ragetti's pop-up head and swing-down arm and eye. Mark and Pam found some things I hadn't noticed before – down at kid's eye level there is a "cursed treasure window", where you can see a box filled with gold coins until you reach in to touch it, and then it disappears. And there's another view into a different treasure chest which has a genie in a bottle. Fun stuff. 🙂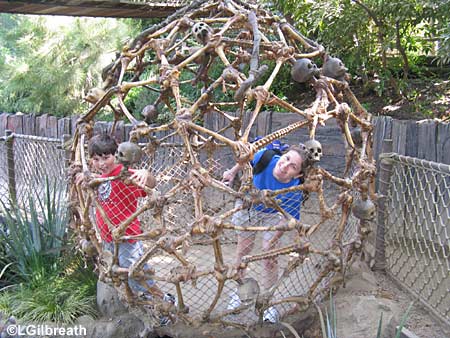 Jack Sparrow was not in his usual meet-and-greet spot, but when we left the island he was waiting to board the raft to go across.
After a late breakfast (Mickey pancakes!) at the River Belle Terrace we went over to DCA – both Mark and I really wanted to ride Toy Story Mania. He'd done the one at Walt Disney World earlier this summer. Unfortunately when we got back there the line was 70 minutes long. Why, oh why did Disney NOT make this a Fastpass attraction??? Seems like a really bad decision to me.
So we did a couple other things – Orange Stinger and Mulholland Madness, though MM went down for about 10 minutes while we were in line. I still say that's the scariest ride in the park – every time we go around one of those 180 degree turns I have visions of the car flying off the track. <shudder>
We'd gotten Fastpasses for Grizzly River Run and Soarin' on the way in,
and it was time to use those. Mark got pretty drenched on GRR – he was sitting right by one of the openings in the raft. Pam and I were in the middle and not quite so wet, but we were both glad we had quick-drying shorts on!!! (I always feel sorry for the people who wear blue jeans and ride GRR – they end up having to walk around in wet jeans for the rest of the day!) The Fastpass line for Soarin' was all the way up the ramp almost to the building entrance, so
even with the FP we had a 15-20 minute wait. The standby time was posted at 35 minutes – I'm not sure I believe that.
For "lunch" we had ice cream from Bur-r-r Bank Ice Cream – yummy. Mark was pretty tired (they had had a long day the day before, plus early entry already) so we went back to their hotel, the Howard Johnson's Anaheim.
I'd read a lot of good reports on this hotel, but I'd never been there…I'm happy to say that it seems to be just as nice as they say. The room was on the order of a Walt Disney World moderate, I would say – except that not many moderate rooms have a view of fireworks, and a
number of the HoJo rooms can see the Disneyland fireworks – including their room. Earlier this summer the hotel opened a new water park area called Castaway Cove – it has a number of water features including a spiraling water slide. Mark had a lot of fun there, and the water
seemed to revive him.
We went back to DCA later in the afternoon. At the information booth at the front of the park I asked the wait time for Toy Story Mania – still 60 minutes. So we went to Monsters, Inc. instead, which had only a 5 minute wait. I pointed out the Attention All Monster Passengers sign,
which I think is really funny, but most people seem to miss it. And we also took a look at the
Harryhausen's menu that is posted on the wall – how does some Yukitori or Ice Scream sound to you???
We got about 3/4 of the way through the ride when it stopped. And after a couple of minutes the lights came on. And then we were told that there had been an automatic shutdown of the ride due to proximity sensors on the cars (people weren't loading/unloading fast enough, apparently), and they walked us out of the ride. Which was kind of
interesting for me, but I felt bad for Mark and Pam since this was their first time on the ride. No "sorry for the inconvenience, here's a Fastpass for you", either – just a "try back later" attitude. (If you're counting, that's three rides so far that had problems…and they'd had an issue with Space Mountain the day before.)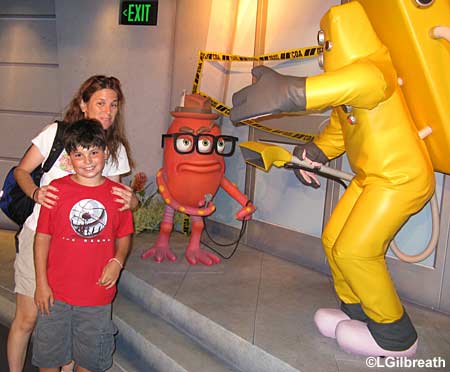 By the time we got out of there the Pixar Play Parade had started…but we were hoping to get around it to get back to Toy Story Mania, thinking the line might be a little shorter. The parade seems to be back to its original version – the stilt-walking chefs and bungee-jumping rats in the Ratatouille segment are back, as are the twirling acrobatic cowboys on the Toy Story float. When we were there a few weeks ago I saw that the "bug's life" float was back to its original configuration with the flower swinging bugs in the center – that was taken out of service not long after the parade started because one of the swings broke during the parade. Hopefully the original parade has been running all summer – I haven't seen the full parade since early May, when it was still missing the more acrobatic elements.
It took a while to make it back to Toy Story Mania, and the line was
down to 45 minutes by then. The CM told us we'd picked a good time – that once the parade ended it would be over an hour again. The line kept moving well, and we were on the ride in a little less than 45 minutes.
Man, that ride is a lot of fun!!! Mark and I rode together and he beat me by a substantial margin (31,000 points), but he was nice and didn't gloat *too* much. 🙂 He noticed that at the end when your scores come up, if you keep shooting, it shows up on the screen as confetti.
We had dinner at the Farmer's Market – they still have the California Wrap on the menu from the Food and Wine Festival. (Other restaurants that have kept the F&W menu items are Pacific Wharf Cafe and Award Wieners.) The wrap seemed smaller to me, though. For $7.99 it wasn't very much food. I really wanted to eat at the Pacific Wharf Cafe, but as usual the line was ridiculously
long, and it's always very slow moving. (And they also replaced my favorite salad – the Nicoise – with the F&W festival Mandarin Chicken Salad. Which is good, but the Nicoise was better!)
I needed to get on the road after that, since I had to drive home and go to work the next day. Pam and Mark walked me to the tram, and we said goodbye, though I'll see them in San Diego, too.
Other random observations from the day…
I saw the new Mark VII Monorail Blue go by a number of times – but never
when I had my camera out, of course. It looks very swoopy and modern.
The weather was GREAT – a summer day in southern California just doesn't get any better! It really wasn't too hot at all.
The parks were not as crowded as I expected – though Pam told me DL was really busy when they went back after I left. Soarin' never had more than a 45 minute standby wait posted – and it's usually an hour – same for Grizzly River Run. I think Toy Story Mania is pulling a lot of people back to Paradise Pier and off the other big rides.
And a few things Lee and I noticed on our visit several weeks ago:
Award Wieners has a new seating area – they took out the outdoor section of the Muppets Inc. queue and put in tables and chairs. Still left the Muppet stuff there, though. It looks like there's quite a bit of shade there.

The parking lot trams have a new seat – it's more of a rubberized surface than the slick fiberglass, and not so slippery.
As I mentioned in my Toy Story Mania blog entry there are two new food stands on the Boardwalk – Hot Dog Hut serves (surprise!) hot dogs, chips, and drinks, and Don Toma's offers turkey legs, chimichangas, and drinks.
The Snow White 75th anniversary exhibit has been removed from the Animation Building, and the animation screens have returned to running the various clips from classic animated movies. I missed those during the Snow White exhibit.
Thanks to Mark and Pam for sharing some of their vacation with me – I had a great day.
Have you visited the Disneyland Resort recently? Share your experiences in our Disneyland Rate and Review Area!