Recipe Smoky Portobello Mushroom Soup Artist Point Wilderness Lodge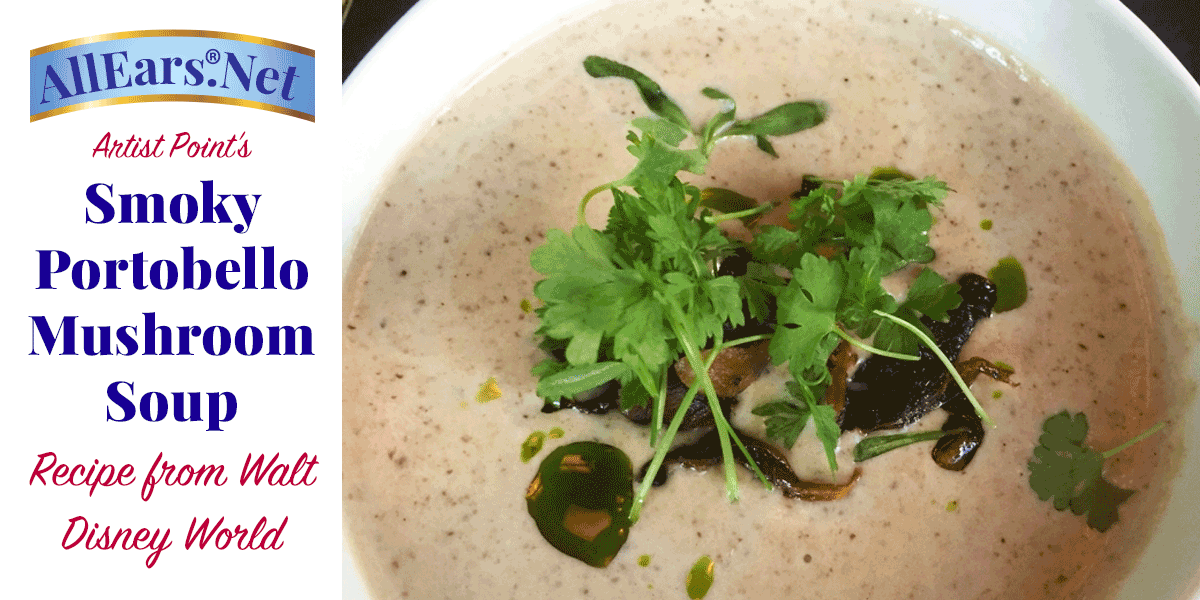 Yield: 64 ounces; 8 servings
Ingredients
6 each Medium Portobello Mushrooms
3 each Medium Smoked Portobello Mushrooms (see instructions)
1/2 cup Sweet onions
1 cup Chardonnay
2 quarts Heavy Cream
24 ounces Chicken Broth
1 1/2 tablespoons Garlic, chopped
1 1/4 cup White Roux (equal parts of butter & flour; cook slowly over low heat)
To taste Salt & pepper
Croutons (see recipe)
chive oil (see recipe)
roasted shitake mushrooms (see recipe),
chives cut for garnish
Procedure
1. Clean the Portobellos by wiping them with a damp towel (do not
wash!) Remove the mushroom gills (the slats on the underside of the
caps.)
2. Sauté the Onions lightly (to sweat.)
3. Add the unsmoked Mushrooms to the Onions.
4. Add the Garlic when the Mushrooms are almost cooked.
5. Add the smoked Mushrooms.
6. Add the Chardonnay and reduce by half.
7. Add the chicken broth and bring to a simmer.
8. Place in a blender or food processor in batches.
9. Add the Heavy Cream slowly and continue to blend.
10. Season to taste.
11. Place the mixture back into the pot.
12. Add the Roux and let simmer for 20 minutes.
13. Serve hot and garnish with Croutons and Roasted Shiitake Mushrooms,
a dollop of Sour Cream, drizzle with Chive Oil, and cut Chives.
Smoking Portobello mushrooms
* in a home smoker, place thick slices of Portobello mushrooms on the rack and cold smoke for one hour
* we use oak chips for our smoker
Croutons

1. Pre-heat the oven to 325-350 Fahrenheit
2. Cut 6 slices of your favorite bread into 3/4" squares.
3. Toss in a bowl with 1/4 cup melted butter.
4. Place on a baking sheet and season with salt and pepper to taste.
5. Bake at 325-350 Fahrenheit until brown.
Chive Oil

1. Place 1 cup of light olive oil in a blender and add to that 1 cup of chives
2. Blend for 30 seconds and let rest for 1 hour
3. Strain through a fine sieve
Roasted Shitake Mushrooms
1. Thinly slice 2 cups of Shitake Mushrooms.
2. Toss with 2 Tablespoons of Olive Oil and a little salt and pepper.
3. Place on a baking sheet and roast in the oven at 375 Fahrenheit until crispy and golden brown.
4. Cool and set aside.
Sour Cream
1. Place a little sour cream in a bowl and whip it up by hand until smooth.
2. Set aside.