HOLIDAY DECORATIONS AROUND THE *RESORTS*
Just like each person has his or her own personality, so does every resort at Walt Disney World. Each has its own distinctive design, style and feel, defined by its decor and furnishings — its so-called "theme."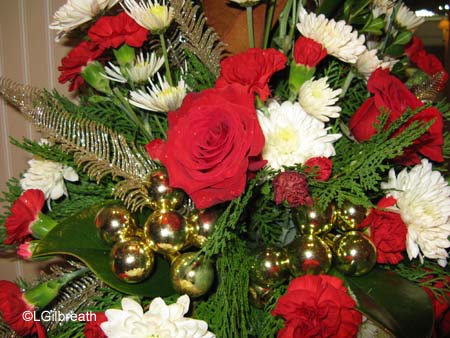 The holidays are the perfect occasion for the resorts to express their themes in their own unique ways — and to ensure that this goes off as flawlessly as possible, Walt Disney World employs a Christmas Decorations staff of more than 20 full-time, year-round cast members, with additional part-time staff added during the holidays! This staff is responsible for scattering 1,200 Christmas trees throughout Walt Disney World, as well as draping 5.2 miles of garland and decking all the halls with 130 truckloads of decorations.
Although all parts of the resort are especially lovely this time of year, some of the Decorations Staff's most creative work can be seen in the resorts.
Jambo House at Animal Kingdom Lodge has a beautiful tree in the lobby adorned with unique themed "ornaments".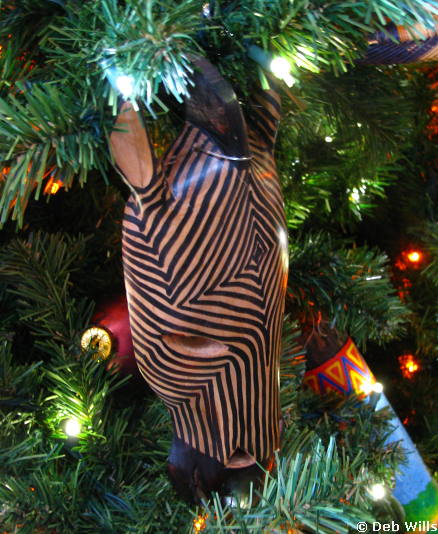 Ft. Wilderness offers perhaps the most unique collection of holiday decorations, those provided by the campers! It is a long held tradition that folks staying at Ft. Wilderness during the holidays put on an amazing display. From the simple to the sublime, you can see it all by touring Ft. Wilderness in the evening!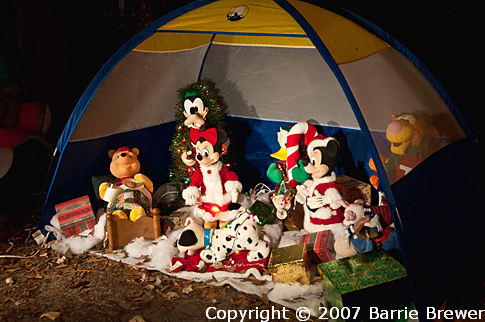 The southwest theme of Coronado Springs is also enhanced by its holiday decorations in muted earthtones. The main lobby's tree, festooned with yellow, peach and soft red balls, white doves and silvery stars, stretches gracefully up to the painted and mosaic tile sky of the dome. Similarly decorated mini-trees line the hallways leading to the resort's food court and nestled in a niche near the kitchens is a smallgingerbread village with miniature railroad.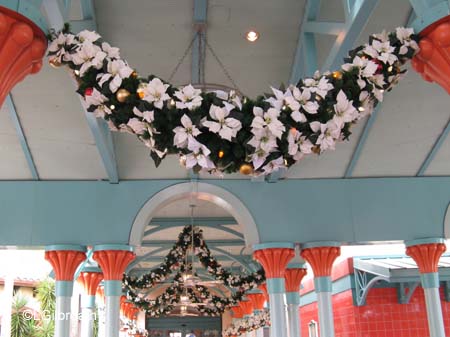 Over at some of the Epcot resorts, the decorations take a more traditional holiday approach, while still retaining each resort's distinctive feel. At the Yacht Club, for example, trees are accented with small sailboats and a quaint, old-fashioned general store is spotlighted in the lobby. Meanwhile, at the Beach Club, poinsettias and artificial snow , as well as a happy snow family, grace the seating area. The Beach Club also features an impressive carousel made of gingerbread, with gilded horses and Disney characters. Not to be outdone, the Boardwalk also houses a mouthwatering gingerbread creation — a gazebo held together by snowy royal icing and covered with gingerbread cookies and hard candies. The tree and garlands draped over the fireplace can't be overlooked, though — barely a bit of green shows through the many old-fashioned whimsical glass ornaments and twinkly lights!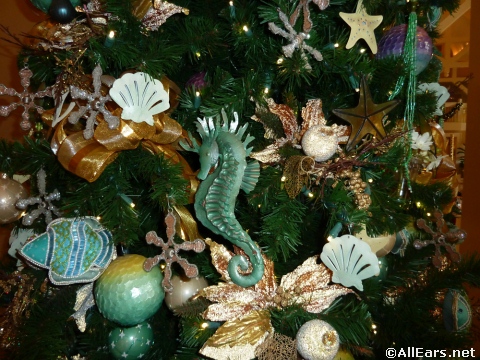 The Walt Disney World Swan Resort has an all-chocolate Santa display that's not to be missed!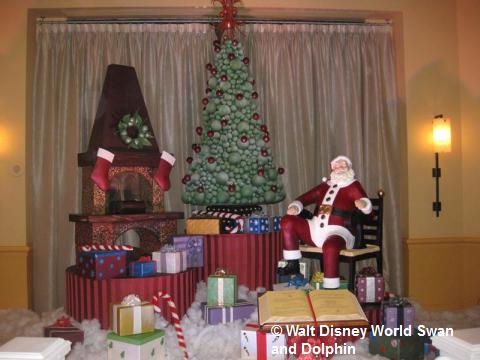 Wilderness Lodge and its Villas take a more earthy and natural approach. A multi-story tree fills the space in the Lodge's main lobby that was specifically designed and wired for that purpose, with all needed plugs in the floor. That main tree, which takes 18 hours to erect and decorate, sports miniature tepees and ornaments with a Native American motif, while smaller trees are detailed with small berry-bearing plants and what else? Antlers! Wreaths accentuate the Lodge's stony walls, and if you look up you're treated to small wildlife displays above the entrances.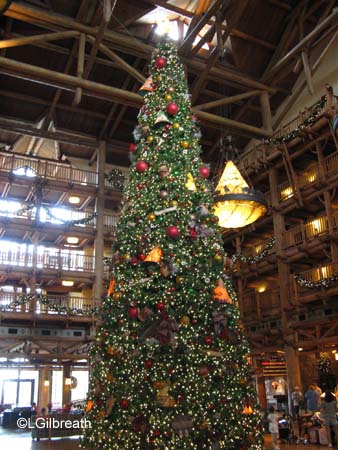 If there were an award given for most impressive holiday decorations, though, it would have to go to the amazing Grand Floridian, which upholds its reputation for doing everything in grand style. The moment you walk into the lobby, the five-story tree commands your attention. Festooned with shimmering white lights and sparkling mirrors, the tree dwarfs everything and everyone around it. Up on the mezzanine, a gingerbread doll's house and miniature railroad (complete with Santa pushing a handcar ) delights children of every age, who find it difficult to resist taking a swipe of the fluffy frosting . Downstairs, in the full-sized gingerbread house , nearly a replica of the upstairs dollhouse, you can finally buy the sweets and treats that have been tempting you as you've made your way around the resorts.
If you have the time to drive around, the resorts are truly a great way to immerse yourself in not only the holiday spirit, but that attention to detail that makes up the Disney magic!