Debra Martin Koma Features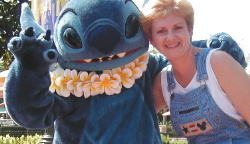 Debra Martin Koma (not to be confused with Deb Wills, AllEars.Net founder) is a freelance writer and mom who has written about food, travel and lifestyle issues for a number of local and national publications. She fell in love with Walt Disney World on her first visit there — when she was 34! She's returned to her Laughing Place more than four dozen times in the ensuing years, and enthusiastically shares her passion with readers of AllEars.Net and AllEars®.
Deb is also co-author (along with Deb Wills) of PassPorter's Open Mouse for Walt Disney World and the Disney Cruise Line, a travel guide designed for all travelers to Walt Disney World who may require special attention, from special diets to mobility issues.
If you'd like to contact Deb, her email address is [email protected]