Walt Disney World Chronicles: The Presidential Inaugural Parade at Walt Disney World
by
Jim Korkis
Feature Article
This article appeared in the February 2, 2021 (#1122) edition of ALL EARS®
Editor's Note: This story/information was accurate when it was published. Please be sure to confirm all current rates, information and other details before planning your trip.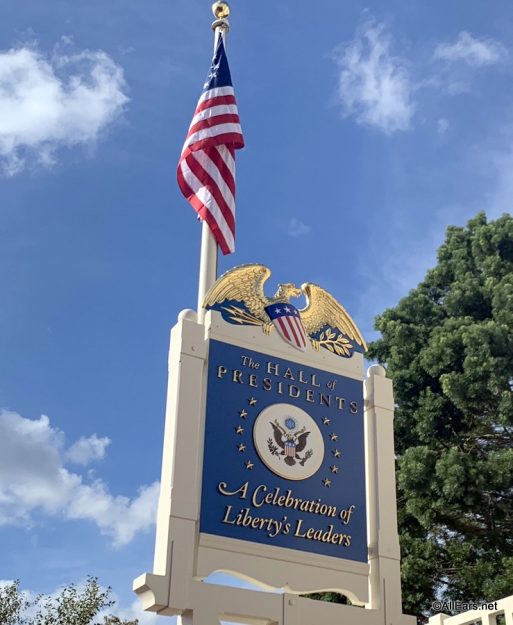 Walt Disney World since it opened in 1971 has hosted every American President while they were in office except for Gerald Ford and Donald Trump.
Ford did visit Disneyland in Anaheim in 1975. Trump was scheduled to host a Republican fund raiser event at the Grand Floridian December 2019, but it was relocated to Miami.
Of course, the Magic Kingdom is home to the iconic Hall of Presidents attraction. One of those audio-animatronics figures is one of Walt Disney's personal friends, Ronald Reagan who was also one of the television hosts for the opening of Disneyland in 1955 and was responsible for helping a U.S. commemorative postage stamp honoring Walt be issued while Reagan was Governor of California.
When he became President of the United States, Reagan visited the American Adventure at Epcot on March 8, 1983. He viewed the attraction which depicts the creation and growth of the United States in one of the most elaborate audio-animatonic attractions of the time.
After the presentation, the President visited with students participating in the World Showcase Fellowship Program, an educational and cultural exchange program that no longer exists at Epcot but was designed to enable outstanding young adults to represent their various countries for one year in the pavilions of World Showcase. That concept evolved into the College and International Program.
President Reagan spoke at 1:52 p.m. in the outdoor American Gardens theater outside the American Adventure. He addressed outstanding math and science students from the Central Florida area, the Fellowship students, and guests of the center, after an introduction by Dick Nunis, who was then executive vice president of Disney Enterprises.
President Reagan began his speech with the following comments:
"Well, I'm delighted to be here. I'm especially pleased to acknowledge the presence today of a group of students from eight countries. They're participants in the World Showcase Fellowship Program which Disney World has generously established as part of EPCOT. This excellent program brings young people from Canada, China, France, Germany, Italy, Japan, Mexico, and the United Kingdom to EPCOT. It gives them the opportunity to experience American culture firsthand, to learn and, even more important, to teach.
"Let me say I'm convinced that people-to-people programs like World Showcase and the International Youth Initiative are one of the best ways to build real understanding in the world.
"I just watched a program — I don't know just what to call it — a show, a pageant with several hundred of my junior high and high school friends here, and I'm pleased to announce I didn't get hit with one spitball. [Laughter] But this program does capture the vitality of what we represent as a nation.
"And as I'd started to say earlier, I was going to remark that earlier — for those of you who haven't seen it — at one point in the movie Mark Twain, speaking of America, says, 'We soared into the 20th century on the wings of invention and the winds of change.' Well, in a few years' time, we Americans will soar into the 21st century and again it will be on the wings of invention and the winds of change."
President Ronald Reagan's second inaugural on January 21, 1985 had to be held indoors in Washington, D.C. The outside temperature at noon was only 7°F. President and Mrs. Reagan and Vice-President and Mrs. Bush greeted the thousands of people who came to Washington, DC to participate in the parade inside a sports arena just outside the city.
Instead of an outdoor parade, the President and first lady presided over a hastily organized miniparade in the Capital Centre sports arena, some ten miles outside the city in Landover, Maryland. Only five of the 50 bands originally scheduled to march got to perform for the TV cameras.
Several months later, in a precedent setting move, President Reagan accepted an invitation for a smaller version of the inaugural parade with the disappointed bands that were unable to participate to be staged on the promenade of World Showcase at EPCOT at Walt Disney World. He was brought in by helicopter that landed behind the American Adventure pavilion and taken to a small reception inside the building.
The Secret Service was not a fan that the location received such advance publicity (especially with WDW promoting it with posters proclaiming, "Be a Part of History" and to see the President's Inaugural Bands Parade) and the fear connected with the botched assassination attempt by John Hinckley still on their minds.
Disney Security had to defer to the Secret Service in all planning. Disney guests who stood around the World Showcase Lagoon had to go through multiple security checks.
Only 18 of the original 50 bands were able to participate. Osceola County served as the official sponsor and put up $150,000 to help stage this event as well as defray the transportation costs of the 2,800 student performers who eventually attended.
The Walt Disney Company contributed an additional $350,000 to help cover cost of food and housing. Several other Central Florida businesses made donations to help out with additional incidental costs. Even then, many bands were unable to raise the money for the transportation to participate but still performers from sixteen different states showed up.
After a drive in a limousine around the World Showcase Promenade so he could see and acknowledge each of the bands, The President spoke at 12:41 p.m. on May 27, 1985 from a reviewing stand resembling a huge plexiglass bulletproof box with air conditioning but with an exterior designed to resemble the colonial stylings of the surrounding architecture.
Disney CEO Michael Eisner addressed the crowd: "I was in Washington 105 degrees ago. It was minus 20 degrees at the Inauguration and it's 85 here today. Even though this isn't the official inaugural parade, it's the first time since 1789 that it's not been in Washington. I just want to say that — if Walt Disney were alive today –he'd be proud to be standing where I am, with the President of the United States. And I welcome him with Lillian Disney (Walt's) widow to the founder of our great wonderful company here."
Here is an excerpt of President Reagan's speech where he references Walt Disney:
"Well, indeed it is an honor for me to be here today to receive a magnificent gift that I received on a second and very much warmer Inauguration Day. I understand that in preparing for this event more than 2,500 young people worked with sponsors in the private sector who donated food, transportation, and lodging. And each of you who helped to make this private sector initiative possible has my heartfelt thanks.
"Today we take for granted so many inventions that inspired wonder not long ago — the polio vaccines of Dr. Jonas Salk and Dr. Albert Sabin; television, first in black and white and now in vivid color; drought-resistant seeds and cold-resistant grains; computers in the workplace and the home; spacecraft that can orbit the Earth for days and then land gently on a desert runway. Despite the predictions so many made during the Great Depression when I was a young man, life in America today is not worse — it's far better. And let us ask, then, what made it so? Was it government directing our daily lives?
"During these past five decades the Government has indeed provided vital services and helped improve life for many people. No one doubts the necessity of a strong national defense or the role our military has played in keeping us free. Likewise, no one doubts the importance of the government safety net for those in genuine need.
"Yet our national experience shows that when government grows beyond these two limited duties, when government lays claim to more and more of our resources and begins, through massive regulation and high taxation, to impinge on our individual freedoms, then our economy grows not more prosperous but less so.
"In this setting, one story of a private initiative is particularly appropriate. Back in Missouri in the early 1900's there lived a farmboy who discovered that he had a knack for drawing barnyard animals. As an adult, he began to put his animals into cartoons, and he became convinced that he could entertain people by telling stories about a little creature with a high voice, red trousers, and yellow shoes and white gloves.
"Professionals in the field made fun of the idea, and to produce his first cartoons the young man had to sell or pawn virtually everything he owned. But today, 57 years later, this man and his creation have become permanently fixed in the history of our popular culture. His name was Walt Disney; his little creature was Mickey Mouse.
"The determination that each of these heroes of progress demonstrated came from within. Yet in each case it was crucial to the success of their efforts that they were operating in a climate of economic liberty — in a free market where they could make use of pooled resources, experiment with new techniques and products, and submit their plans and hypotheses to the test of practical experience.
"My friends, thank you again for the gift of this magnificent inaugural parade. May you enjoy all the blessings of a free and bountiful nation. Thank you all, God bless you, and now, let the parade begin."
A star-and-stripped costumed Mickey Mouse (who had previously posed for photos with the president and even giving First Lady Nancy a kiss on the lips) led off the parade with the combined Osceola and St. Cloud bands.
The bands were followed by a spectacular daytime firework display, the release of 15,000 balloons, and a flyover by four F16 fighter jets. The President reboarded the Marine One helicopter and was off to Miami for a Republican fundraiser at the Omni Hotel.