The Times They Are a-Changin'; Taking Tweens and Teens to Walt Disney World
by Alice McNutt Miller
AllEars® Guest Columnist
Feature Article
This article appeared in the April 13, 2010 Issue #551 of ALL EARS® (ISSN: 1533-0753)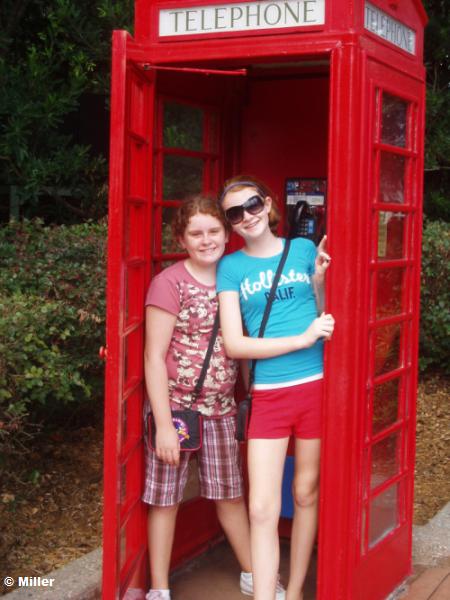 On our first trip to Disney World, our two daughters were 1-1/2 and 3 years old. We have made numerous trips since then, and the girls are now 12 and 15. I was just thinking the other day how much our trips have changed during the intervening years. We used to be concerned about nap times and early bed times. Now we are concerned about nap times (OK, that hasn't really changed) and late bed times. We used to worry about rides being too scary for the kids, now we worry that they might be bored. We used to worry about losing the kids in the parks, now they worry about losing us! Here are some of my observations about how our trips have changed since the kids were toddlers, and how to keep things fresh for tweens and teens.
1. We still like having larger accommodations, but for different reasons. When the kids were going to bed at 8:00 and we still wanted to stay up for a few hours for grown-up time, a glass of wine, a movie, etc., we found that suite-type accommodations were perfect for us. I remember several occasions, when we were all staying in one hotel room, where my husband and I perched on the toilet and the edge of the bath tub, balancing books in our laps, because we were trying to get the girls to go to sleep. Once they did finally fall asleep, we snuck back into the room, and tried to watch a movie with the sound turned down very low. No dice. Little eyes shot wide open, and we were back where we started, miserable, in the bathroom. Once we joined the Disney Vacation Club, we got used to having one bedroom villas, where we could put the girls to bed in one room, and stay up later ourselves in another.
Now, the issue is not so much widely varying bedtimes as it is privacy. Tweens and teens like to have their space, and their privacy. We find that our one bedroom villa accommodations continue to offer that needed space. (I'm always amazed at how much STUFF comes out of one roll aboard suitcase, and ends up on the hotel room floor.)
If you can't stay in a villa or suite, you may want to find a room that offers some additional privacy (the curtains between the closet/ bathroom and bedroom areas of some of the Moderate resorts, for instance), or (as we often do, even when staying in a larger villa) plan to be out of the room for a few minutes while the kids either finish getting ready to go out in the morning or to go to bed in the evening. If we are staying at the Villas at the Wilderness Lodge, my husband and I will walk over to the Roaring Fork for coffee in the morning, or stop at the Territory Lounge in the evening to give the girls some time and space. (And yes, when they are this age, you CAN leave them alone in the room for a few minutes.)
2. We used to seek out parks with morning Extra Magic Hours, now we avoid them. When the kids were younger, they used to wake up every morning at the crack of dawn. Even when we were on vacation (I guess their internal alarm clocks had not gotten the memo). Therefore, it made sense for us to plan things so that we could visit parks on days where they had morning Extra Magic Hours. We were already up, so there was no reason to lollygag. Boom! We were in line at 7:30, past the rope at 8:00, and had done 10 rides by 10:00.
Now? Well, let's just say that the kids are not popping up like spring daisies quite so early in the morning. Teenagers are just in a different time zone. Since when we are on Disney vacations my family is required to adhere to my "be in line at least half an hour before the rope drop" rule, I now AVOID parks with morning extra magic hours to give the kids an extra hour to sleep.
We still don't do Evening Extra Magic Hours. We don't tend to stay late in the parks. I do not have the words for the "Wishes" song memorized because I have only seen "Wishes" about two times. Not sure why, but even my teenagers are not really night owls. I'm assuming, however, that the Evening EMH strategy would work for families that just can't drag their teenagers out of bed to be at the gate for the park opening. If someone could try this, and let me know how it works, I would appreciate it.
3. You STILL may not be able to get your kids to go on the scary rides. My 12-year-old still refuses to ride the Twilight Zone Tower of Terror or Expedition Everest. No amount of pleading or wheedling on my part, or of attempted embarrassment on her older sister's part, will get her to go on either of these rides. I've finally given up. We will get four FASTPASSes for each ride, and older sister rides twice while my husband and I take turns waiting with younger sister. Oh, well.
4. You may have to bribe them to go on the classic, "tame" rides. When the girls were younger, we always did Fantasyland first at the Magic Kingdom. Now, they head straight for Space Mountain. They probably wouldn't care if we skipped Fantasyland altogether. This kind of change makes me confused and upsets my equilibrium. I like starting the day in Fantasyland, then moving clockwise through the rest of the park, ending at the train station in Frontierland, with the last ride of the day being the short train ride to the front of the park. I found a brilliant solution last summer when we took my sister, her two sons, and son #1's fiancée to the Magic Kingdom with us. Several of them had never been before, and the others not for a long time. I reasoned with my children this way: "If it is someone's first visit to the Magic Kingdom, you HAVE to start in Fantasyland. That is the way that it is done." Amazingly enough, they agreed, AND they thoroughly enjoyed showing everything off to their aunt and cousins.
5. You should occasionally give in and let the kids do what THEY want to do. You'll probably end up enjoying yourself. I'm not sure exactly why, but my girls still LOVE to spend a lot of time in the Innoventions attractions in Epcot. It is probably because they get to DO things, rather than just SEE things. I have to say though, that we have all been pretty pleased with the newer attractions in Innoventions, especially The Great Piggy Bank Adventure and the Sum of All Thrills. The girls also keep nagging me to go to DisneyQuest in Downtown Disney. Maybe next time.
6. Planning for evening activities changes. When the girls were younger, we made good use of the kids clubs at the various resorts so that Mom and Dad could have a well-deserved night of fine dining sans kids. Now, we don't really want to leave them behind, and they are too old for the kids clubs, so we try to make dinner reservations that will make everyone happy. No Victoria and Albert's, the girls wouldn't appreciate it, but just about everything else is fair game. After a nice dinner, we may find ourselves shopping in Downtown Disney, or even taking in a Cirque du Soleil show. Or, if we are very tired, it is still nice to sit together and watch a classic Disney DVD (the original "That Darn Cat" with Hayley Mills is a fave) back in the room.
7. The kids may want to venture out on their own. This is one of the scarier changes, and one that parents may not be prepared for. It all depends on how mature your teens are, but in the age of cell phones, we have found that we can let our kids spend some time by themselves (it helps that they have each other) without Mom and Dad hanging around. The first time we let go, we were at Disneyland, having dinner with a lovely family that we had met a few months before on another vacation. After dinner, the kids wanted to run off by themselves, so we set a meeting time and place, and sat back and enjoyed a long post-dinner coffee with our friends. Yes, it was strange letting them run off by themselves, but they were SO proud of themselves for being at the appointed meeting place on time. One of the reasons we so enjoy our Disney trips is that we get some wonderful time to spend together as a family, but as the children get older, I find that it gives them a great sense of empowerment to let them spend some (controlled) time on their own. It's all part of growing up.
=-=-=-=-=-=-=-=-=-=-=-=-=-=-=-=-=-=
ABOUT THE AUTHOR:
Alice McNutt Miller is a lifelong Disney fan whose fondest childhood memories include "The Wonderful World of Disney" on Sunday nights and her first trip to Disneyland when she was 10 years old. Alice and her family are Disney Vacation Club members, and have visited Disney parks all over the world. They live in Vienna, Virginia.
=-=-=-=-=-=-=-=-=-=-=-=-=-=-=-=-=-=
RELATED LINKS:
Other AllEars® articles written by Alice McNutt Miller:
The Tyranny of the Spreadsheet http://allears.net/ae/issue504.htm
Time for…? Answer to Tyranny of the Spreadsheet: http://allears.net/ae/issue515.htm
Ten by Ten — a Park Strategy http://allears.net/ae/issue533.htm
It IS a Small World After All: http://allears.net/ae/issue542.htm
-o-o-o-o-o-o-o-o-o-o-o-
Editor's Note: This story/information was accurate when it was published. Please be sure to confirm all current rates, information and other details before planning your trip.